Nintendo sold its 30 millionth Wii console in the U.S. earlier this month. The popular motion-sensing game hit 30 million units in just 45 months, making it the fastest-selling console in video game history.
To address the exploding gaming market, Hooker now offers over a dozen options in gaming furniture  in a variety of styles, finishes and sizes. Our goal is to enhance your experience of gaming by helping to organize and streamline your systems and integrate gaming with a complete home theater experience.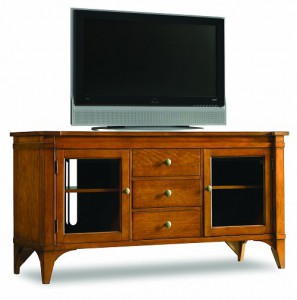 While our gaming furniture  is loaded with function like drop-down drawers with outlets and wire management for storing gaming systems, controllers and media, gaming consoles are more stylish than they used to be. They're so stylish that they're moving out of the recreation room and kid's bedroom to family rooms. The trend of gaming consoles moving front and center in the house even caught the attention of The Associated Press and ABC News, with a recent article, Gaming Furniture Moves Into Family Rooms.
Gaming furniture  has become so much in demand that we just kicked off our first ever National Gaming Furniture Event. Now through September 13, we're offering savings of $50 to $200 on gaming furniture solutions. For extra fun, we're even offering you the chance to win one of three Wii gaming systems! You can enter to win here.