As a magazine editor, I know how important The Three F's are when it comes to making any interior look inviting. What are The Three F's? FLOWERS, FRUIT, AND FABRIC! What would we do without them?  Here are some ways to take easy furniture decorating steps:
• FLOWERS: Fresh flowers, either from the supermarket or your garden, are a statement of your taste. Do you favor a mixed bouquet with colors blended the way nature does? Or do you tend to like flowers of all one kind—the way the French do? If you select yellow tulips over red ones, or soft pick roses over white ones, you're telling yourself and others something about how you want your home to look.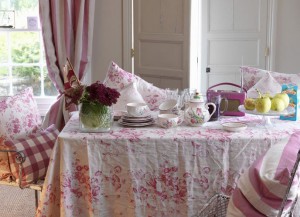 Flowers do wonders to make a home welcoming. (And so do plants if you have a green thumb.) Vases and pots have lots of inexpensive options. You don't want to look like a greenhouse, but a few bouquets or well-selected plants are a decorator's standby. A full bouquet as the centerpiece on the dining room table or a few selected cuttings from the garden rosebush on a living room table, make a house a home in no time at all. I've never seen an editor show up at a photo shoot without plants or flowers.
• FRUIT: A home without a bowl of apples? For me, it's just not possible. And they are good for you to eat, too. So encourage your family in healthy snacking while you display one of nature's most luscious accessories. If fresh fruit isn't a good idea in your climate or in certain seasons, then look for ceramic, glass, and any number of options. They are inexpensive and make a nice statement–a shallow piece of pottery from a local fair with white ceramic fruit on the coffee table or sideboard is a nice decorating touch.  And notice in your books and magazines what a mainstay fruit is—either real or artistic.
• FABRIC: That old standby—the throw pillow—never loses its punch. Stitch them yourself or shop for the myriad of choices in shops now. I love the term throw because it suggests a casual and somewhat noncommittal choice. You can decide to use all one color and different textures or combine themes like ferns or flowers. Aha—this does involve choice for those of us who have trouble making choices, but how far wrong can you go with playing with fabric?
When you've mastered throw pillows for your bedroom or living room sofa, you can move on to making fabric selections for upholstery, either on dining chairs , or other spots in your home. And then there is the very temporary fabric choice—table cloths. In just about an instant you can make a room elegant or casual by your choice of table covering. And of course you can move with the seasons. 
Framing a wonderful piece of fabric is also an inexpensive way to decorate that bare wall that keeps staring you down. Maybe it's something from the family or a piece you found at a flea market, or perhaps a remnant of expensive upholstery goods. You can change the fabric in the frame just about as easy as you whisk the cover from the hall table.
I hope you have fun with The Three F's—and that you are enjoying decorating and your home even more. Leave a comment and let us know if you find another way for one of these three best friends to give a lift to your home.