This November, Linly Designs furniture showroom in Clarendon Hills, Illinois had to host two separate Christmas Open Houses to accommodate the hundreds of customers lined up to see their famous holiday decorations.  The high-end furniture and interior design store has turned its new 7,400 square foot showroom into an enchanting winter wonderland with a Tuscan Old World theme in shades of gold, bronze, copper and rust.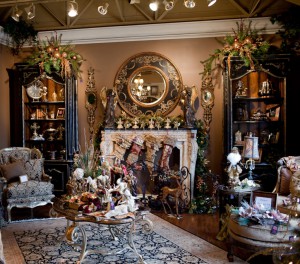 Every November, the merchant goes all out for the holidays, decorating four large trees, creating elaborate mantle décor and adorning furniture credenzas & chests and bookcases with holiday accessories, wreaths and ribbons.
"The decorations bring the credenzas and bookcases to life, and people want to buy the furniture because of what is on top of it…the decorations make the furniture look like a million bucks," said Janet Linly, who owns Linly Designs along with her husband Tom. Along with decorating their showroom, Linly Designs also decorates homes in the community, including a 20,000-square-foot mansion. "Decorating is a passion for us and it is a big part of building relationships with our clients," she said. Linly Designs' main vendors include Hooker Furniture, Marge Carson, Taylor King, LaBarge, Heckman and Maitland Smith. The store is a success story recently listed as one of the top entrepreneurs in the U.S. by the American Chronicle.  Founded in 2002, Linly's interior design services were so well received that the company opened its first showroom in 2007, followed by its newest 7,400 expanded showroom in Clarendon Hills. Arranged in room settings including a complete living room, family room, powder room, foyer, dining room and study, the store features four-inch, hand-scraped hardwood floors and a beautiful English walnut front counter to welcome guests and clients.
For more information about Linly Designs, visit http://www.linlydesigns.com/.