[Editor's note: Meaghan, a senior interior design major at High Point University, had an epiphany about the true meaning of home as she visited family over the recent Thanksgiving break and looks forward to more time at home over the Christmas break)
It is amazing what a few days away from our normal routine can do to clear our minds and illuminate our priorities. I'm a senior home furnishings major at High Point University, and recently spent some time with family in Tennessee over Thanksgiving break. In reflecting on my senior year of college, I realized that I have been hustling to and fro and I have failed to stop and appreciate all of the wonderful things I have in my life.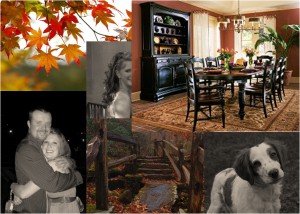 Being with family at home makes me realize how wonderful it is to have a home that is filled with friendship and happiness, both of which are sources of my inspiration to keep climbing during the tough times. As the holiday season approaches, I challenge each of you to look around at the wonderful things you have in your life. I challenge you to immerse yourself in the joy of precious things and relationships. I challenge you to think of the dining room or kitchen, not as a place to eat, but as a place where the most important conversations and connections in our lives take place. I challenge you to overlook the clothes in the floor and the dusty cabinets and enjoy each second you have to spend with your friends and family. Find inspiration in the strength of the loved ones around you and leave the rest of the world to run about like a crazy person.