The holidays are supposed to be about celebrating and sharing special moments with your loved ones. But with the endless list of things to do, presents to buy, visitors to entertain at home or coordinating travel plans, the holiday season can sure pile on the stress as well.
Whether you're hosting a big family gathering or just decorating your house and furniture for yourself, here are some simple guidelines to help keep your holidays merry and bright.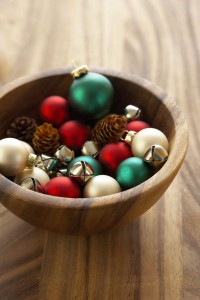 Plan ahead
Don't wait until the last minute.
Do start early and have a plan.
Yeah, I know. Of course this needs to be first on the list, but who doesn't wait 'til the last minute to do anything nowadays? However, it's always a good idea to first take inventory of what you have and what still works from last year. Then make a list of what you need before you go to the store so that you don't get overwhelmed or overspend.
Create a colorful focal point
Don't just scatter decorations everywhere.
Do take the time to create a memorable focal point in your home.
Rather than trying to decorate every room of your house with a few items that are randomly scattered about, focus your efforts in one or two specific areas of your home that will have the most guests (such as the family room and kitchen). Consider re-arranging the furniture or taking out a couple of pieces to make room for the tree and to cut down on clutter. Then arrange the sofa and chairs around the focal point to draw more attention to the tree and holiday decorations.
For a finishing touch, add a few holiday accents to the half-bath or powder room downstairs by incorporating colorful ornaments, soaps, towels and holiday scents.
Be careful about going too "out of the box."
Don't think everything has to be red or green.
Do be careful about changing the entire color scheme.
Yes, there are plenty of new and untraditional colors used in holiday decorations, from purple and turquoise to black and white. It's fun to switch it up and try something fresh, but as color trends change, you may end up spending a lot of money on a style that you'll be tired of by next year. If you're looking to jazz up what you've already got, think of adding metallics and glass to the mix — lots of gold or silver accents will make your other colors shimmer, and the light reflecting off the metallic colors and glass will add lots of sparkle.
Make room for the decorations
Don't just pile on holiday decorations with everything you already have on display.
Do put away some of your everyday items to keep the focus festive.
Change the everyday into the special — remove all regular pictures, knick-knacks, plants, and so on to make way for all your holiday pictures, treasures and decorations. And when guests arrive, have sugar cookies or gingerbread men handy on your coffee table, end tables, or other gathering areas. Not only are they festive and delicious, but the smell of cookies is enough to put anyone in the holiday mood.
Use what you have on hand
Don't spend a bundle to create a cozy, holiday atmosphere.
Do get creative and use items you already have around the house.
Gather all of your candles into one vignette and place them in a central area, such as on a mantel in your living room or coffee table. Get out all your children's Christmas books, your Christmas craft books and holiday magazines and display them on coffee tables, shelves, in bathrooms, etc. Wrap some empty boxes with leftover wrapping paper to use as decorations, along with some special ornaments — perfect for an entryway tabletop.
Enjoy yourself!
Don't get so caught up in decorating that you forget to enjoy the holidays.
Do take time to sit back and relax.
It's easy to let holiday activities overwhelm you during this busy season, but don't forget the best and most important part of the holidays — getting to see the people you love, having a great time together and counting your blessings!