As a magazine editor, I have trimmed many a Christmas tree. However, the ones I hold in my heart are the ones from my childhood and the ones from our home over the years.  We have gathered Christmas decorations through the seasons of life, beginning with tiny china angels from my husband's Iowa childhood.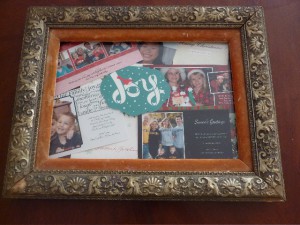 Of course, there are the framed photographs that really add to the heritage of the tree. Especially delightful are the childhood portraits of parents, as well as photographs of our son's first Christmas and the stuffed Santa from that Christmas past. Such mementos, like the collection of toy soldiers that began for our son when he was a toddler, make my tree very personal. You can, of course, do the very same thing to create a heritage tree. Beyond the bows and glass balls are the glistening memories that make Christmas so special.
How to display those Photo Christmas Cards
One display I love to assemble includes remembrances of the children of friends–the photo cards that come as Christmas greetings over the years. I take an old picture frame, place it on a table or server, and beneath the glass assemble a collage of beaming faces. What joy to see the youngsters as they have grown over the years. This doesn't require any talent–just arrange and place the frame over them. Of course, if you have a lovely old frame, it will be that much more meaningful.
Merry Christmas to all…