[Editor's note: Designer Anne Smith makes accents, wreath and floral arrangements from her home studio near Cincinnati through her Everything Floral business. Here, she gives step by step instructions for creating your own wreath]
Ornaments are a hot Christmas design item this year- they're showing up in all kinds of holiday décor. You'll find them tucked into gorgeous centerpieces, filling up glass vases, even hanging from mantels with tiny chains. Stores are stacked with ornaments of all sizes and colors. You can pick from hand-blown, old world, modern, shiny or matte, sophisticated or juvenile, vintage, beaded or sparkly – the sky's the limit when it comes to ornament design.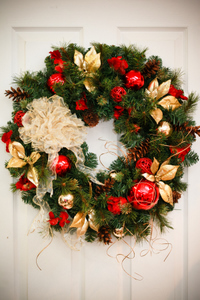 Here's a fabulous way to display those wallflower ornaments. Design and create a unique ornament wreath for yourself with just a few materials. And what a super gift this would make! Consider creating a keepsake ornament wreath for your newly-married daughter using some of her childhood darlings. Or purchase an assortment of styles of one-color ornaments and make a bold statement. Once again, the sky's the limit!
Make this Gold and Red-themed Wreath, or choose your own color-scheme and accessories.
Here's what you'll need:
20″-24" pine wreath with attached pine cones
1 large bow
5-small poinsettias, flower clusters, gold curlicues
Ornaments
Sharp scissors
To attach items use thin wire or a hot glue gun
To create this wreath:
For an updated look, take the bow and cut each ribbon loop at its fold, then fluff them. Tie the bow snugly to the wreath using the attached twisty or wire. Snip off 2 of the 4 tails, wire or glue them together and attach them south of the bow. Space the 5 poinsettias around the wreath. To make the small poinsettias simply snip off the bottom layer of petals. Place your ornaments, starting with the largest and balancing their placement around the wreath. Don't set them too even-steven, a bit random looks more artistic.
After separating the flower head into clusters, tuck them in around the wreath. Don't forget the inner and outer edges. Make this as full or simple as you like. If you want to make a wreath that can be added to every year, be sure you take that into consideration in your spacing.
For your finishing touch, group 4-5 curlicues, measure how long you want them, glue them together and tuck them into the greens as shown on the finished wreath. Tuck some above and below the ornaments.
To store your new wreath after the season, simply place it in a plastic bag, tie it closed, and hang it or lay it flat. Enjoy all the compliments you get on your creativity and style! Please visit my shop at www.everythingfloral.etsy.com. Follow me on Twitter @annesmithdesign.