Rare art collections aren't the only way to create a unique, stylish home. Personalizing our homes simply means using furniture with personality… and placing it where it's sure to be used. So why not consider accent furniture with personality as a "gift" to your home? In honor of Valentine's Day in February, Hooker Furniture is encouraging us to love our homes. What better way to show the love to your home than with a new accent piece that will give your room a lift?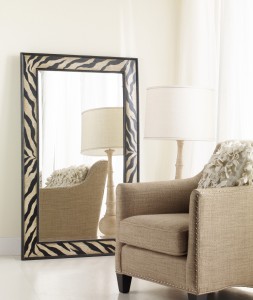 A one-of-a-kind piece of furniture, such as what's available in Hooker Furniture's Mélange Collection is one of the most memorable gifts you'll ever give or receive. It's as personal as it is versatile – able to be placed in any room and moved where needed. That's not to mention how beautiful and conversation-worthy it will be!
A few ideas!
Artistic qualities (like a French script fabric!) add unexpected style to the Mélange Felicity chair, making it the perfect companion next to a desk, sofa or bed. A unique chair can also be paired with a tall floor mirror to create a pretty dressing area.
The Mélange Glamour Mirror opens to reveal velvet-lined storage shelves and hooks inside! Floor mirrors add instant glamour and personality at home… especially if they're injected with a unique finish or splash of exotic style. Surrounding a large mirror with a bold zebra print frame makes it unforgettable, while the simple two-tone color scheme keeps it versatile enough to go with any color scheme.
Unique home furnishings don't have to be old or antique to add personality. But they do need to be carefully chosen, much-loved and well-used! In honor of Valentine's month, Hooker Furniture is offering a chance to win a $300 Visa gift card as a little spending money to help you refresh your home!