Can high-tech and high-taste really co-exist in home office furniture?
After a long "attraction" from afar, we think these " opposites" have finally come together in a marriage of form and function in our Mélange home office collection. Four Mélange home office furniture desks and a lateral file are set for introduction at the spring 2011 High Point Market. This high-tech/high-taste truce also features three new TV consoles.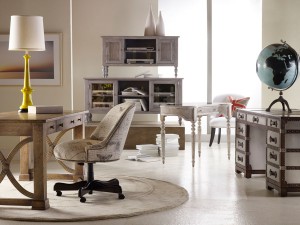 Leading the way is a glamorous (we're talking Hollywood) fluted kidney-shaped desk with a soft silver metallic finish. The drawers are lined with exquisite silver floral wallpaper, and there's even a deep purse drawer along with a utility file drawer.
The idea of Mélange Home Office is to bring designer looks, trend-forward style and feminine appeal to this functional category. Since the Mélange home office collection is designed by two young women, they know how to give a feminine touch to these utilitarian pieces.
That's a good thing, because women make up a large portion of the more than 34 million U.S. adults who telecommute at least occasionally from home, according to a recent Forrester Research study. Add the self-employed and those who set aside work space for online shopping, bill paying and schoolwork, and the home office has become an indispensable part of the American household…and how women organize those households. So desks are more likely to be in public areas like kitchens, living and dining rooms.
How splendid if they can look as good as they work!
The Mélange home office assortment employs complex neutrals in a variety of designer finishes, mixed media, vintage elements and chic style motifs like bun feet, fluting, cane and some custom hardware. Like the inspirational Mélange Accents Collection, these desks and consoles blend colors, textures and materials in unexpected ways and are inspired by trends in apparel, art, textiles, jewelry and house wares.
Along with the kidney shaped desk, there's also a desk and lateral file in the style of the top-selling Mélange trunk cocktail table, a vintage white cane desk with an antique mirrored top and an architectural desk with classical motifs. Truly an inspiration to anyone's work!