Is there a home in America that does not have a shell or a pebble as a sovenier from a stroll on the beach? We Americans have had a love affair with the sea since the Mayflower moored on the Massachusetts coast. If you have dreamed of bringing the calm and fresh air of a beach house to your own home, here are some furniture and decorating suggestions that will have you breathing in salt air no matter where your home is: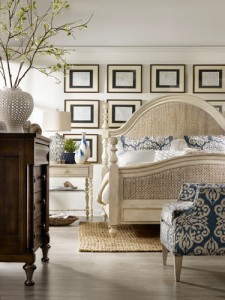 A Casual Nonchalance: Beach houses give one a lot of freedom. Sneakers with sand in the toes kicked off on the porch, a yellow slicker hung at the back door, and a pail at the ready for a clam dig–all are images that come to mind. While you might not have the sand or the sea in  your backyard, you can achieve the feeling of home as the most comfortable place in the world. So look for furniture with finishes that don't require a lot of care.
Your beach house will want lots of clean, open spaces with carefully selected furnishings like cotton rugs, easy-care bed linens, and a few favorite things on display–like large glass vases filled with shells from that walk on the beach.
Don't forget that guests are as much a part of a beach house as the rafters or the French doors open to vistas of the sea. You'll enjoy them the most when you have a home that is "fuss free."
Invite Nature In: Imagine a cool breeze coming off the ocean on sunny afternoon, let's say in Nantucket, when you have your feet up and your hair, just wet from a swim, pinned back. Call it bliss–and in your home you can achieve this kind of environment by selecting furniture that respects nature as much as you do.
Choose linen fabrics for chairs and sofas and pure cotton for window treatments.
Seek out such unique materials as woven water hyacinth–a stunning  contemporary look standing in for where wicker or cane might once have been. This organic material is used in Hooker Furniture's Harbour Pointe collection, being introduced this week during the High Point Market. Handwoven water hyacinth is used on Harbour Pointe's panel bed, (as shown in the blog photo) and on a woven host chair and oval framed mirror.
Look to sand, sea, and sky for your color selections: seashell white, soft greens, and blue as flighty as a sky infused with wispy clouds or deepened by the shades of a restful night time. For Harbour Pointe, Hooker chose a dramatic indigo blue and white ikat pattern for the club chair and accent pillows, with a nuetral linen body cloth for the sofa & chair.
New England Roots: Our seafaring ancestors loved quality and the craftsmanship in furnishings turned out by cabinet makers. Contrast the natural hues you've selected with the touches of history that will ground your home.
Rich dark tones on chests fashioned from age-old designs will give the impression of having been in the house for ages; summer after summer, serving generations of the family. Look for cabinet maker details like bowed fronts, plank-like bead boards, and details like mouldings that would make any New England crafter proud.
Chairs and beds, too, borrow from the past and the relaxed comfort that a sea captain expected after a rugged voyage.  Wings are not just for the birds that streak across sand and sky, but look for these forever images of comfort on chairs and  beds. Once they sheltered from the brisk sea breezes, but now they put their arms around us in a shelter from the often too busy lives of today.