Even though she is "land-locked" where she lives in Yukon, Oklahoma, her home has the serene and sunny vibe of the beach. "I use a lot of light colors like cream and ivory with blues like robin's egg blue and turquoise, mixed with dark floors for an elegant beach feel and the look of water," says Reesa Hembree. "We've picked up that style by vacationing a lot in the Florida Panhandle area. So even though there's not a beach within hundreds of miles of our home, we can still have the feel of a beach retreat here."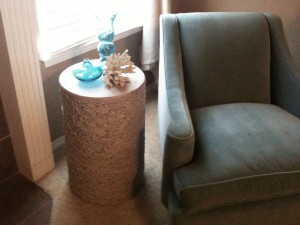 That's the magic of decorating and design. Through interior decorating, you have the ability to transform your environment and transport yourself to any location in the world. In so doing, not only do your surroundings transform, but your state of mind transforms as well.
Reesa and her husband Mike were the recent winners of the Mélange Flowered Drum Table from Hooker Furniture. "The Mélange table is simply gorgeous!" she said. "It really fits in with the elegant beach look. What I like about it is the textured surface. It is also small and the perfect size for fitting in next to my favorite turquoise chair for holding a magazine and drink."
Reesa and her family, which includes three school age children, are excited about building a new home and are now meeting with the builder on a regular basis to finalize plans. While the home will have a French Country exterior, the interior will be transitional with clean and airy lines and the elegant beach vibe. "The Mélange drum table is definitely part of the vision for a comfy corner in our bedroom. For now it has a home next to my favorite chair in the living room that needed a table too."
Just for fun, Reesa snapped a photo of the "temporary" home of the Mélange table here in her living room.