Are you ready to be refreshed by the latest home décor and furniture fabrics?
If the recent international fabric fair, Showtime, held twice a year in High Point, N.C. is any indication, the newest fabrics are delicious, vibrant and anything but expected in their range of design.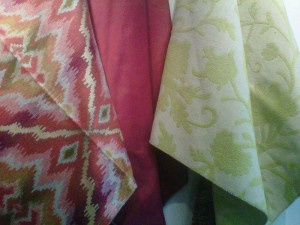 Our Director of Merchandising for Hooker Furniture Upholstery, Sandi Teague, had some delightful observations from the recent Showtime event about emerging colors and styles in fabric. She pointed out several emerging color palettes. My personal favorite is "Bloom," a refreshing combination of pink, honeysuckle and watermelon tones paired with citrus greens and sunny yellows. Now if that doesn't brighten your spirits, what will? Here are a few of the other color palettes she observed:
Patriotic hues of red, white and blue (just in time for Independence Day), often used with script patterns
Graphite mixed with golden green-yellow
A myriad of colorations in the hues of bird plumes and butterfly wings (and both bird and butterfly patterns are prevalent)
Plum and cordovan
Blues for everyone! Peacock, turquoise, crisp nautical blue, retro blue, minty blue, mid-tone blue and slate blue.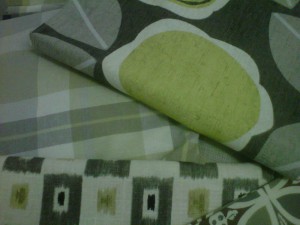 Sandi coined several catch phrases to describe some fabric style trends that are emerging:
Hippy Chic. This look features shapes within shapes – elongated diamonds, Ogi shapes, starbursts, lace, graffiti, script, scribbles, scrolls, pop-art florals and even numbers. This trend goes from elegant to hippy, depending on coloration.
World Trekker. Fabric influences come from around the world, with a twist. There are ikats, flamestitch, batiks, paisley, kilum rug looks and embroidery, with a burst of color including blues, tangerine, citrus green and peacock.
Menswear influence. Masculine colorations and textures – houndstooth, plaids, stripes and velvets abound, along with natural elements like linen and jute. Colors here include charcoal, gray, cognac, slate blue, ebony and straw.