The family room of today is a window on the world, a multi-media entertainment zone and a hub for multi-tasking.
Sure, there's the occasional nap on the couch for relaxation, but most family room time is  spent in a myriad of activities. While one person checks Facebook or email or surfs the web on their laptop computer, another may be playing video games, watching movies or TV…and eating dinner in the process.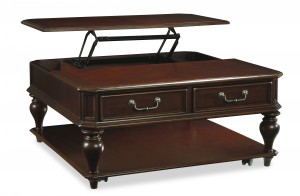 The thing about all this activity is that it demands a lot of stuff which creates a lot of clutter. It was all that flurry of activity and clutter that Hooker Furniture had in mind when we developed the functional square cocktail table with lift-top.
This is a piece of furniture that invites you to "bring on" all the multi-tasking you can give it!
The roomy hidden storage area beneath the lift lid is the perfect place for storing the remote, video games, CDs and DVDs, game controllers, magazines, books….you name it. A hinge system allows you to lift the lid up to lap height, creating a perfect surface for snacking, writing notes or working on your laptop or tablet computer.
Our functional living room table is part of the new Moccato Collection.  Moccato is a blend of modern and casual classic styling that features a deep, dark and inviting finish. The sparkle of satin nickel hardware against this deep finish creates a simple but striking design statement.
To celebrate the debut of the Moccato collection in retail stores across the country, we are offering a chance for you to win one of these multi-tasking wonders, the Moccato functional cocktail table. Visit here to enter to win and to browse our entire Moccato collection!