As you plan for the arrival of your holiday guests over the next several weeks, here are some special touches  to help transform your guestroom into a personal cocoon for your visitors. While many master bedrooms may have expanded space and sitting areas, the guest room or spare bedroom can be on the smallish size.  As you plan for the arrival of your holiday guests, it can make for a design challenge as the occupants may also vary.  It does help to know who will be the most frequent, overnight visitors.  This allows you to design around functional needs and age appropriate aesthetics.  My own clients' guestroom uses have varied from children's slumber parties to corporate visitors and everyone else in between!
To help you begin the process, imagine yourself in your favorite bed and breakfast or hotel.  What resonated strongly enough with you to keep this destination on your return list?  I'll bet you could create some easy checkpoints, while drawing inspiration from the location as well as the amenities.  Need more ideas?  Just read on!
A Cheerful Bedside Spot:

Sprinkle a little holiday magic on your guestroom bedside table.  On mine, I might just leave some jingle bell ornaments along with some guest soaps as a welcome gift.  Fresh apples could be nested in a bowl for a midnight snack.  Select a stylish bedside table with a good-sized top to give ample room for a lamp and fresh foliage.  An e-reader, loaded with a great selection of books and magazines, will minimize clutter.  If you have the room, add in a side chair.  Voila!  You've created a cozy guest corner.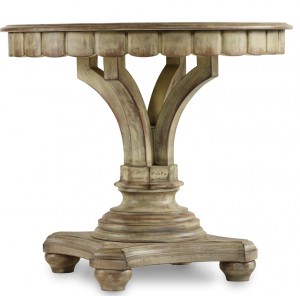 The new Primrose Hill Collection, from Hooker Furniture, offers this gorgeous table for bedside placement. The elegant base provides a stunning architectural accent to any room.
Focus on Sleep Surroundings:

Not only does the bed make the ultimate fashion statement, the bedding materials can make or break a good night's sleep.  A good quality, medium-firm mattress will fit a lot of body types.  Offer silky lightweight layers that can be folded back or pulled up, depending on the individual's internal "thermostat".  Natural fibers are more comforting to the skin's surface, too.  I also love using decorative pillowcases and duvet covers for a pattern focal point.  They can be changed seasonally, as well as for age and gender preferences.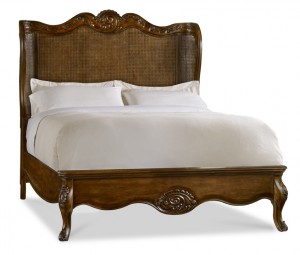 As the wing chair has resurged, we're also seeing this form in other furniture designs. The Hooker Furniture Primrose Hill Shelter Bed is a fine study of this style. (Coming soon!)
Capture Extra Space:

Since guest room sizes can be less generous, let the bed be the central point.  You'll need just a few other pieces to finish off the room and it will feel more open.  The Primrose Hill bed, shown above, is a perfect example as its higher headboard brings your eyes up, while the curves "landscape the horizon" rather than cut it off.  With no protruding footboard, it opens up the end.  The base is so beautifully finished, there's no need for a bedskirt, which also keeps the view expanded.
A well-rested guest is a happy guest and will be sure to put you on their destination list for a return visit!  Sweet sugar plum dreams and cozy nights to all!