If you're like me and millions of others who work from a home office, you probably spend many of your waking hours in your office, but very little time decorating your work space for the holidays. Of all the rooms in the house, I would venture to say the home office may be the most neglected this time of year.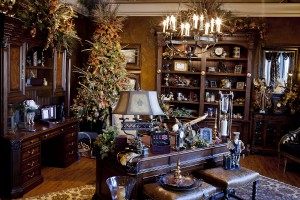 Leave it to the designers of Linly Designs to transform a home office into a festive but functional holiday haven in a Tuscan Old World style donned in the sophisticated color scheme of gold, bronze and other rich neutrals. The Clarendon Hills, Illinois furniture and interior design store has become famous for its Christmas Open House event held each year the first weekend of November. This year, the 7,400-square-foot showroom is featuring four large Christmas trees, two small trees and numerous room settings in breathtaking holiday décor that drew around 1,000 guests for this year's open house.
Guess which room setting is the very first one in the decked out Linly Designs showroom this year? "We've never featured a home office in our Christmas Open House, but this year we decided to show our clients how to make the home office an elegant space for the holidays," said Jennifer Smolik, showroom manager. "So many of our clients have home offices but they don't give a lot of thought to decorating them this time of year."
The Linly Designs home office even has its own Christmas tree, with elegant but earthy décor of stems and pine cones, topped by the custom Linly Designs gold leaf stem topper with copper leaf accents. Linly Designs shows that the European Renaissance Bookcase from Hooker Furniture presents a great opportunity for Christmas décor. "Our approach was to pop in a few Christmas swags on the shelves and to use a large swag topper on the bookcase," said Smolik. When you think about it, a bookshelf or bookcase offers the perfect mantle-like surface for Christmas accessories and swags.
Speaking of mantles, check out Linly Design's Christmas mantle décor: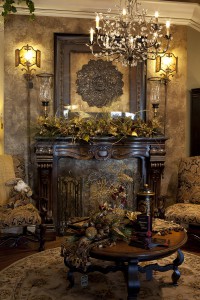 Ah, there's nothing quite like a mantle to get the creative Christmas juices flowing.
And we can't think about Christmas get-togethers without thinking about Christmas dining. The Linly Designs dining room setting is something to behold…an enchanting winter wonderland in inviting and serene colors of silver, white and gold. Now that's a dining room I'd never want to leave on December 25!