I have to say that this is just about my favorite time of year, and has been for as long as I can remember. Certainly I am looking forward to spring time and warm weather, but that's not why my excitement level rises exponentially, just about … now.
It's March Madness! As the Men's College Basketball NCAA Tournament kicks off this weekend, game day parties — and favorite team colors and décor — will liven up homes across the country.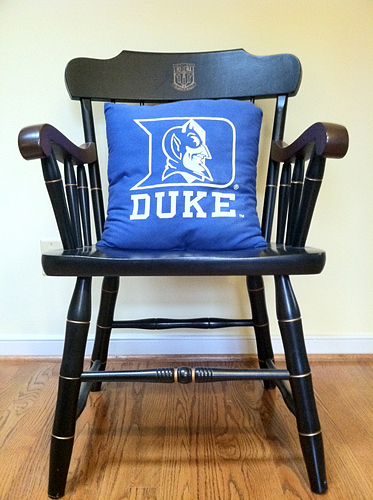 Growing up, it was all about wearing your team colors, sweat shirts and hats. Today, loyalty to your team and your school is a part of home décor as well.
Remember when flying the flag was simply patriotic? A drive through neighborhoods right now will offer a glimpse of collegiate flags proudly on display. Whether the flags are UNC, Duke, NC State, Kansas, Florida State or several dozen others – these homeowners are serving notice that they too are experiencing March Madness.
While most fly their team flags in the front yard, my friend Laura Greeno flies her Ohio State flag inside her house on a 2 story wall in her family room that I think would be perfectly suited for perhaps a lovely tapestry or quilt. This is the place, however, that Laura and her husband have chosen to hang their very large Ohio State flag. I'm sure it adds to the excitement at game time. It could be argued that Buckeyes are the most avid and dedicated fans, so making the flag a point of interest does make sense.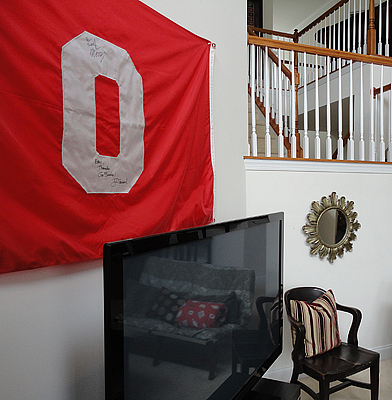 I got to wondering about the term, "March Madness." It seems that an official with the Illinois High School Basketball Association first penned the expression back in the 1930's. It was CBS sportscaster Brent Musburger who first referred to the NCAA Tournament as March Madness in 1982 – and the name stuck.
I'm a Dukie, which means that things hopefully rise to a fever pitch as March progresses. I do confess I'm a bit superstitious at game time. I never wear team apparel or colors. When I do – they lose. I do have a Duke Alumni chair in my den. It has a black satin finish with cherry arms. The Duke shield is printed on the top in gold. It's surprisingly comfortable and goes well with the décor.
My guess is that most March Madness fans, like me, have their favorite place to sit or  lounge while watching the games. Let us know what you prefer…do you like cozy "group seating" on a sectional, or would you rather have your space on a leather recliner, chair, or couch?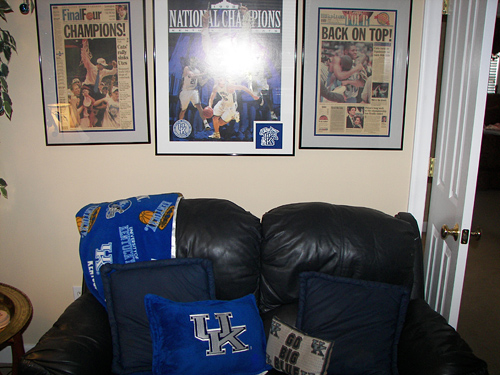 I do have one wish each year: At the tip off of the Final Game, I want to be sitting in that chair, cheering Duke on to victory.