Part II of a 2 part series
Maybe it's our English roots or our enchantment with everything from British accents to British royalty. Whatever the subliminal influences, the dream home visualized in the minds of many Americans is an English Country House. This infatuation with grand English Country style has been flamed by the many layered, opulent and gracious interiors seen on the set of the TV series Downton Abbey.
On Tuesday, I began sharing with you the main elements you can incorporate in your own home to achieve English Country House style. The first two were: 1) Mix styles and periods to give the feel of a home evolved over time and 2) Use plush upholstery with sink-down comfort and classic lines in covers such as leather, velvet and floral chintz with layers of pattern and texture. Tailoring details such as the tufting in the Bradington-Young leather club chair pictured above are also a plus.
Here are the remaining four English Country House style tips:
3. Personal collections are a necessary component to the English Country House Style.
Go wild here.  You want things to be pleasantly cluttered.  A touch of eccentricity is a plus.
Feel free to collect most anything, including porcelain or other ceramics, botanical or nature prints, or relics such as trophies that suggest the former glory of the British Empire.
This great gallery wall of nature prints in the next photo of the Primrose Hill cane shelter bed by Hooker Furniture suggests how a personal collection can be displayed to great effect.
Moreover, the artful mix of finishes and fabrics on the furniture from the Primrose Hill collection demonstrates how to create a layered effect in a space.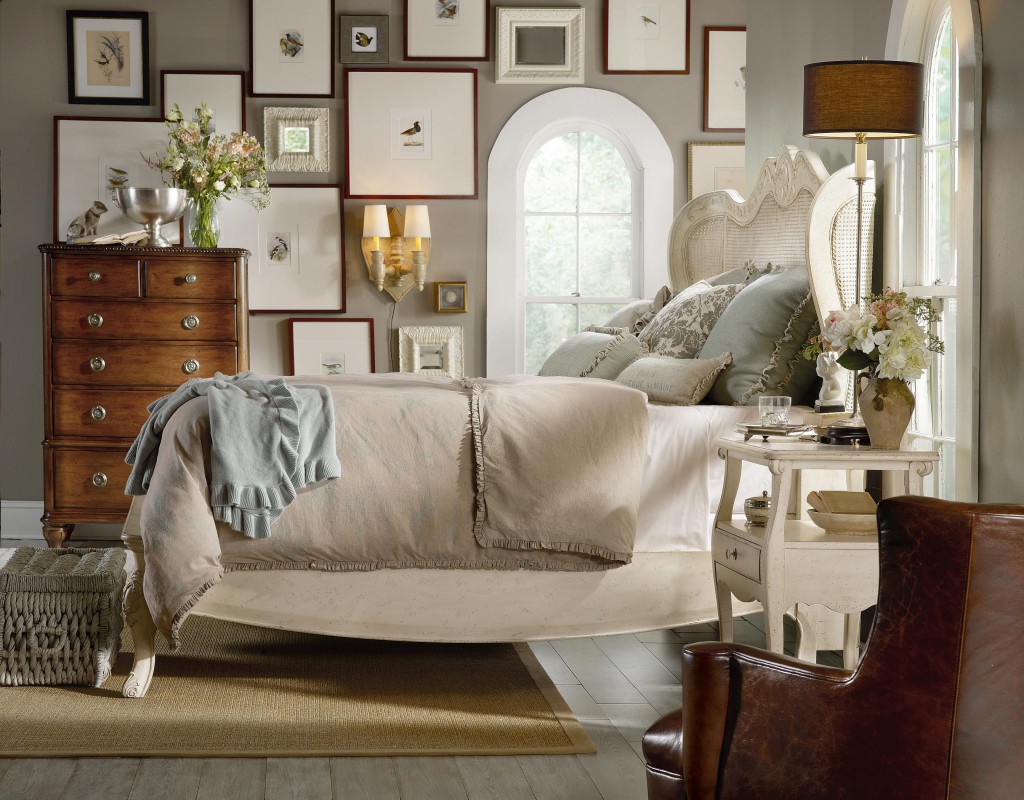 A room with such nuanced layers suggests that it evolved over time, even if it didn't.
4. To be most successful, the English Country House Style requires that you dress your windows with generous curtains or shades.
You can either use the same fabric as your upholstery or a complimentary fabric.  If you want to add another layer of pattern, combining a stripe fabric with a floral fabric is usually a safe bet.
Need inspiration?   Check out this decadent balloon shade by John Fowler, followed by the more tailored fringed curtains in the dining room on the Downton Abbey set.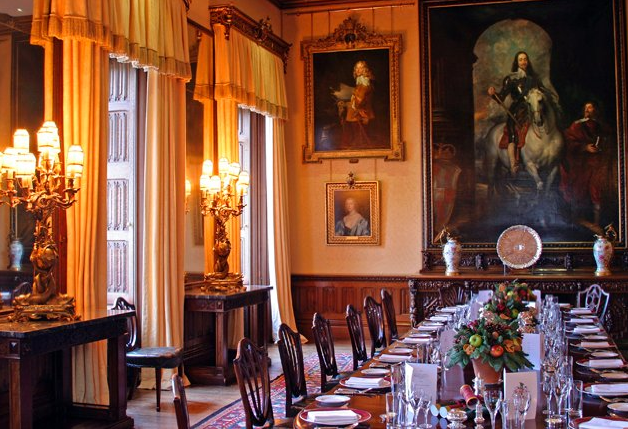 5. Lighting should be traditional.  This is not the place to throw in a modern touch.
6. Finally, cover your floors with oriental rugs.
Estate sales can be a great source for them— a rug that shows somewear lends that air of wealth accumulated over time. You are the lord of your manor after all.
Now if you could only hire a butler!