Last week, I had the opportunity to visit premarket at the High Point Market in High Point, N.C. It's the early showing of the newest looks and styles from today's top furniture makers, held about one month before the huge international Fall High Point Market that opens on October 13 this year.  I was excited to see a rainbow of colors and was dazzled by all the new shades of blue. They ranged from indigo to cobalt, powder blue to ink blue—with a good mix of aqua and teal as well.
While I love the updated shape of this contemporized wing chair from Sam Moore and its modern legs and nail head trim—it is the vibrant blue color that wows me. I'm glad to see the color blue raise its profile in home fashion and furniture this fall. Blue consistently tops the list as "America's favorite color" for a reason. Blue is a relaxing, upbeat color that blends beautifully with so many hues and is possibly the most "gender neutral" color there is, equally embraced by men and women.
Here's a look at some of my top blue picks from the High Point furniture premarket:
One of my favorite combinations is blue mixed with white. This combo provides a crisp, refreshing feel, and the white gives the eyes a place to rest.
I fell in love with this ottoman and the pattern Sam Moore created with the stripes. Together with the pillows, it dresses up a neutral sofa and gives a room personality.
If you're not ready to embrace blue in a big way, pillows with a blue pattern can help you get started, like on the new Tallyn sofa from Sam Moore.
On the wood furniture side of home fashion, accent furniture such as chests, consoles and living room tables is a great place to add a splash of color.
This stunning new Regatta Blue Bombe Chest in Hooker's Melange collection features lovely shades of blue, both outside and in.
Hooker believes the Regatta Blue Bombe will be a rising star in much the same vein as their Turquoise Crackel Chest which is now the 2nd best selling piece in their entire Melange collection.
The Turquoise Crackle Chest is an amazing statement in blue. In addition to its cool color, I love its curvy front and hip hardware, and especially its wallpaper-lined drawers.
If you love wallpapered drawers as much as I do, take a look at the lovely blue patterned paper inside the new Pippa Bombe Chest introduced by Hooker Furniture at premarket last week.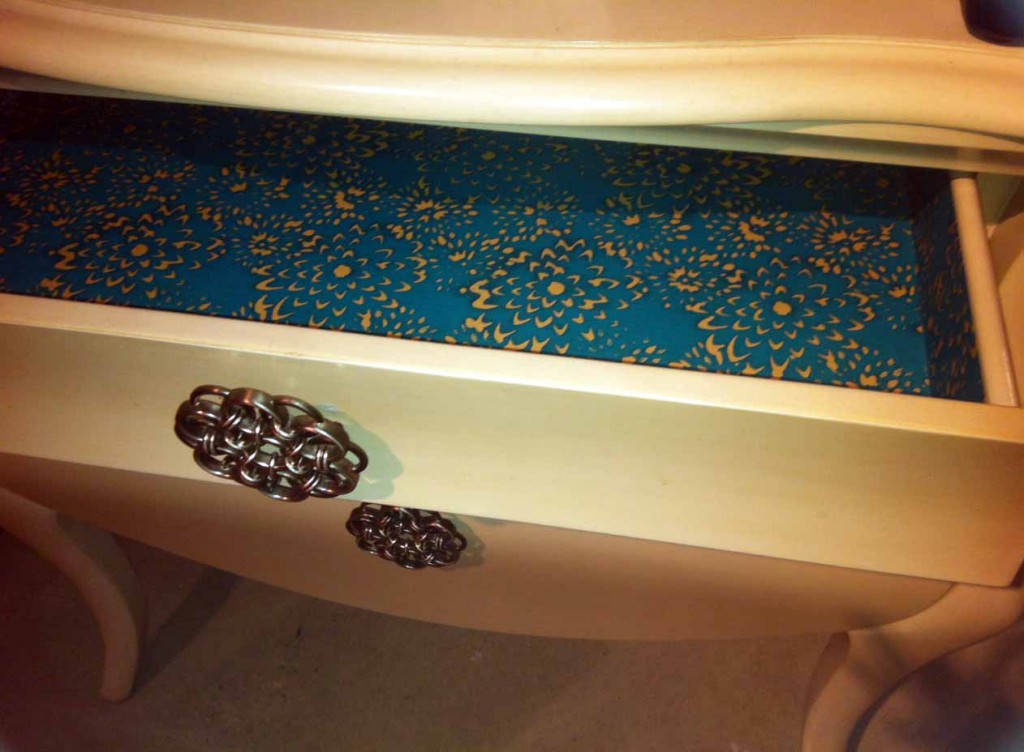 For more dreamy blues, just lie back on this gorgeous chaise and close your eyes.