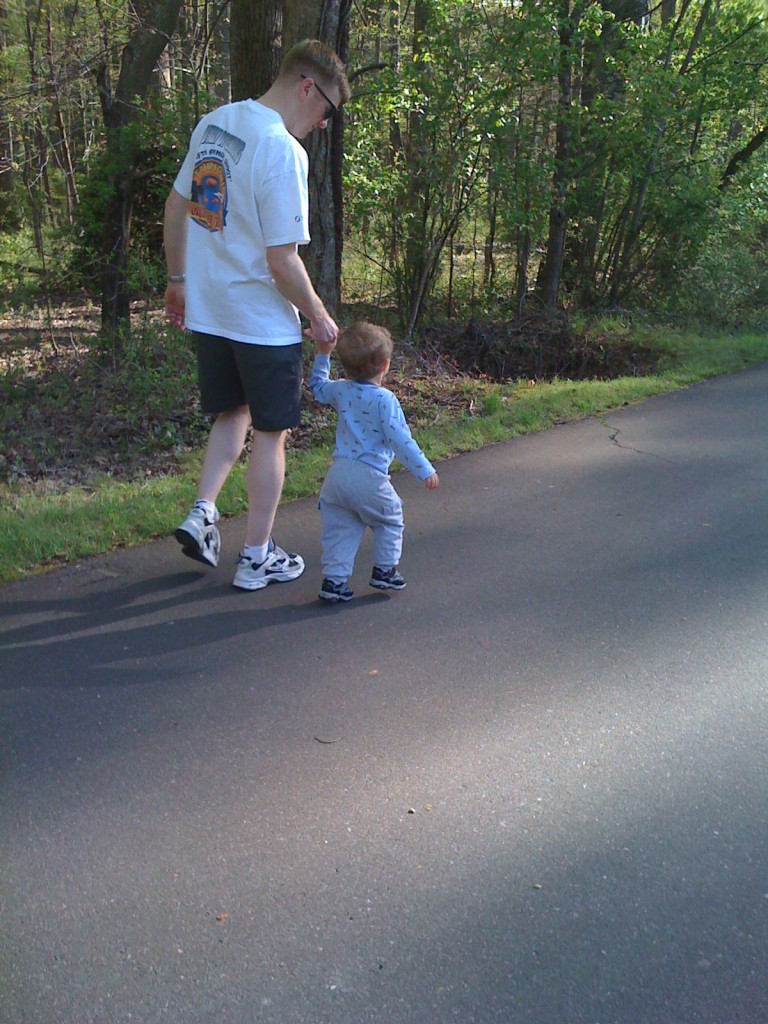 Todd & Holden take a father-and-son stroll at the park
Father's Day is quickly approaching and as with many holidays, I find it difficult to find a good gift for my husband. My young children make great homemade cards, but it's up to me to do the shopping. My husband is an excellent dad and I want him to feel appreciated.
While he'd accept them graciously, I'm not sure that a gift card, necktie or sleeve of golf balls expresses my appreciation adequately. I want to recognize not only what he does for our family, but his amazing attitude and work ethic. What I'd really like to give him is the gift of relaxation.
I wish I could giftwrap a long walk in the mountains, a sunset on the beach, an afternoon in a comfy hammock, and unlimited naps for the next year. I bet he'd also love a new recliner and the time to relax and unwind there.
Knowing him, I think he'd choose a leather recliner—something comfortable but masculine, like the Satchel lounger from Bradington-Young. It has a timeless, traditional appeal.
Knowing me, I'd try to guide him toward something more stylish, such as the Sadler recliner. Its distressed leather is just the right shade of brown, looks very touchable, and is reminiscent of a bomber jacket. It also has a sophisticated shape and contemporary feet.
Now if it was Mother's Day and someone was looking for the perfect gift for me, I'd direct them to a stylish chair upholstered in fabric that just happens to recline.  I would have one in every room if I could.
I love a tufted back chair, so the Annick from Sam Moore Furniture would be my first choice. It has a classic look that would fit in nearly any room of my home. But I wouldn't choose white—because it wouldn't stay that way for long in our house.
Now for a more sophisticated look, the Zephyr is perfect. I love the way it combines fabric and wood. It just looks like a really stylish chair, so the fact that it reclines is icing on the cake.
And for a big dose of style, I'd choose Zizi. Even the name of this chair is unique. I'd love to have two of these (upholstered in a modern patterned fabric) sitting next to my fireplace. Not only does this recliner have a beautiful silhouette, its beautiful shape is outlined by stunning nailhead trim.
Put simply: I think Father's Day and Mother's Day both boil down to appreciation. Appreciating what you have and showing that appreciation to someone. That's always the best gift.