Summer picnics, lazy walks and beach parties are great fun. But as the days grow shorter and we approach the last "official weekend" of summer, these fleeting days of leisure are not only a great time to dip into the pool, but a great time to dip into a really good book. Here are some suggestions to afford you a true "getaway" for the long Labor Day weekend, whether or not you are able to escape for one last weekend at the coast or resort. There is a lot to be said, after all,  for enjoying that novel or story of your choice in the comfort of your own home.
Many of us have either read or seen the film Message in a Bottle.
This tale is set in the outer banks of North Carolina and brings those very ocean breezes to your own living room.  Sparks has written 17 books! You might start your own Sparks reading marathon or begin with the latest, a romance-suspense thriller called The Best of Me. What better place to relax and read an engrossing novel than in a chaise by Sam Moore like the Chloe chaise.
The Romantic poet Elizabeth Barrett Browning could not have made a better choice. With head back and feet up, delve into this story from Sparks, a beloved storyteller, of two North Carolina teenagers, who, like Romeo and Juliet, have a love that is not blessed by the circumstances in their small North Carolina town in 1984. But 25 years later, the two return to their hometown to discover the answer to the question, "Can love rewrite the past?"  You'll enjoy the read and your chaise-time.
Roehm is famous for her elegant style, but this book introduces you to her spectacular photographic skills. Starting with the cover, the book is a journey into one woman's garden–and the knowledge she is pleased to share with others.
Flowers is a magnificent book worthy of a spot on a cocktail, sofa or coffee table, like this rectangle coffee table from the Chic Coterie collection.
While this book is somewhat pricey, it can bring bouquets of information into your home.
This is truly a garden in a book. Roehm lets readers share in the mistakes she has made in her gardening, as well as the triumphs in her Connecticut landscape. Look for hours of pleasure as you turn the pages that include 300 images.
You might want to make this very useful book a staple in your dining room.
Consult it often for ideas on how to create fresh, imaginative, and unusual arrangements for your furniture for dining room, like this Grandover collection pedestal dining table.
But don't stop at the dining room for the floral recipes so very well depicted in this book by two friends: Alethea Harampolis and Jill Rizzo combined their talents to operate Studio Choo (find out the story behind this intriguing name). They share step-by-step information to create knock-out flower arrangements for your home. Why not transform an old tin can into a "vase" for a special arrangement?  There are 400 photographs filled with inspiration and the credo of the writers: Yes, you can.
You might want to read this Shannon Hale novel before watching the newly-released film. For those of us who adore Jane Austen novels–and everything Austen–it's a bit of a cautionary tale that passions can go overboard.
Living the Jane Austen life in an English establishment sounds delightful. But is it? Plump up your pillows on the padded headboard of the Estate four-poster bed and enjoy your fantasy trip back to the England of Jane Austen today.
And have at the ready, in the drawer of the nightstand, Hale's latest—Midnight In Austenland.
Author Ranson Riggs takes you to a remote Welsh island with tales of invisible boys and levitating girls. Called "near perfection" by critics, the book also contains fanciful photographs to go with the story's premise. The resident in the room with this delightful Claire bed from Opus Designs may find the grownups in the family "borrowing" the book.
The lovely English writer, Susan Hill, lets us in on her discovery: rereading the books on the shelves in her home in the Cotswolds.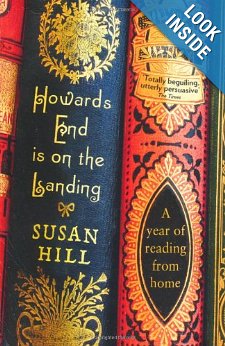 Vowing not to buy a new book for a year, she meets old literary friends–ones who informed her life and her writing. This might inspire your own journey through your library shelves. And perhaps to fill a new home office furniture bookcase, like  the Telluride bunching bookcase with doors with your very, very favorites.
If you are thinking of moving, this is an exercise you'll find productive in other ways–sending books to a new generation of readers and not having to pack books!
Sum: Summer days give us the pleasure of time off. As Labor Day weekend approaches, even if you aren't able to get away for the long weekend, you can still take the  opportunity to find a restful spot in your home to read and relax in the company of good stories and enterprising authors, sharing their thoughts and talents. Enjoy this selection and seek out books that fulfill your dreams and interests.