It's hard to believe that the summer of 2013 is waning. The good news is that the change in seasons brings with it a reason to shop and get organized: back to school. Whether you're a student, the parent of a student or happily graduated from those days, there are plenty of stylish home furniture and other fun items designed to help you celebrate the back to school season. Here are my four top ideas for getting organized for fall—perfect for households with students and those without.
1. Sit like a rock star!
Why shouldn't a chair be as fun as it is functional?
I love the fluffy and furry options of Pottery Barn Teen's Rockin Roller Desk Chair. An oversized, super-soft ball set in it its own base—well that's just fun. Fun to look at, fun to sit on, and fun to share.
The same goes for the charming Cypris cube from Sam Moore Furniture. The cube allows you to prop your feet and add extra seating to a room.
When searching for multifunctional seating, definitely consider cubes, benches and ottomans. These appealing pieces can double as an ottoman for your chair or provide an extra seat. On the Cypris cube, the cowhide print gives it flair, while its 30-inch square footprint ensures it will fit anywhere—from a dorm room to in front of the fireplace.
2. Store it in style
If organization is the key to productivity, then stylish storage for home office furnishings is even more valuable. Hooker Furniture's Chic Coterie collection offers a chic home organizing station that looks like it belongs with the rest of the home.
Hooker Furniture's Chic Coterie collection gets it right with its Home Organizer Console and Hutch. From bills to schoolwork and everything in between, it's never been easier to camouflage clutter in style. And it includes thoughtful details such as a drop-front drawer, a power bar, USB port and task light.
3. Make it timeless by design
Finally, someone has created bins that look suitable for something other than toys.
While storage bins have been popular for years, these stylish fabric ones are relatively new on the scene. In addition to fashionable fabrics and handles, they fit many standard storage bin holders. And they're made in colors that complement home décor and furniture.
4. Find the perfect pail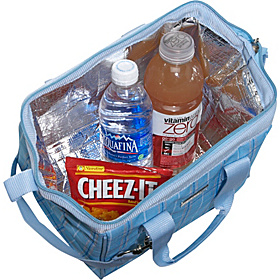 Whether you're headed to school or work, carrying your lunch offers another opportunity to express your personal style. Find bags like these on ebags.com.
Lunch bags have come a long way from brown paper sacks. Today's options range from bento boxes to old-school metal lunchboxes featuring classic TV heroes. Here's one of my favorites: it's an insulated lunch bag, but it looks like a cute purse or tote.
School house what? Who recalls the unforgettable tunes from School House Rocks?
And finally, if the "School House Rocks" phrase is familiar to you, you were probably a child (or the parent of one) who grew up in the late 70s. I'll admit that all this talk about going back to school makes me nostalgic for my childhood. Which is what got me thinking about my favorite Saturday morning cartoon: School House Rocks. I also remember being really excited to shop for new school clothes, a lunchbox and backpack at the start of every school year. I guess some things never change.