All across the United States, temperatures have dipped to record lows for the most frigid January in a century. Never have the comforts of home been sweeter. The best answer to harsh weather conditions is to COZY UP at home. Here are some ideas to do just that:
1. First-impression Foyer: Nothing says, "welcome" more than sharing your own personal touches. Creating a wreath that's unique to your home as the first note to greet guests is a sure way to say "Welcome!"  Country Living magazine has some wreath ideas to inspire you, including the family picture wreath, above, and a seasonal birch-bark leaf wreath.
Place the wreath above the foyer's credenza, like this thin ebony console from the Sanctuary collection with four useful drawers in a friendly oak finish.
Wreaths looks very festive hung over a mirror.
You might want to take your winter coats and boots from the hall closet and stow them elsewhere, leaving extra room for guests' outerwear. And thinking of lots of wet feet coming and going, put down an inexpensive indoor-outdoor rug for the winter. It's a good idea to keep a few extra scarves and mittens at the ready for guests who need to borrow a little more warmth.
This pillow is one of a series of feather motif pillows silk-screened on organic hemp from an original photograph by Michelle Pattee. JCPenney has a wide selection of pillows online, and inexpensive enough for you to be overly generous.
For a special winter sentiment, Lexington's "Welcome to the Cabin" is fun and cheery.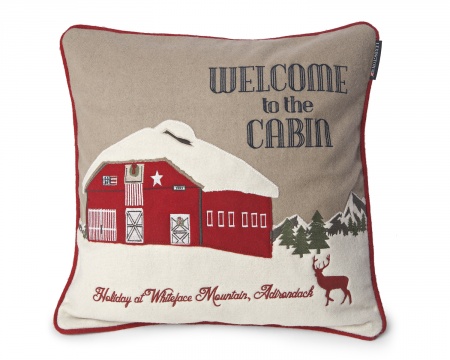 Guests will be encouraged to linger for quiet times in the living room when the coffee table has a good assortment of books to peruse. This Copper Ridge metal and copper coffee table has a spectacular top.
The table top offers a warming appearance all by itself.
The bonus is an open grill shelf for stacking not only books, but also perhaps family albums so guests can get to know you and generations of the family. And the table is the perfect spot to put out an assortment of goodies to munch on.  Bake yourself, if you like, or rely on Mt. Baker from Harry and David for a yummy assortment of cookies and all manner of goodies beautifully arranged.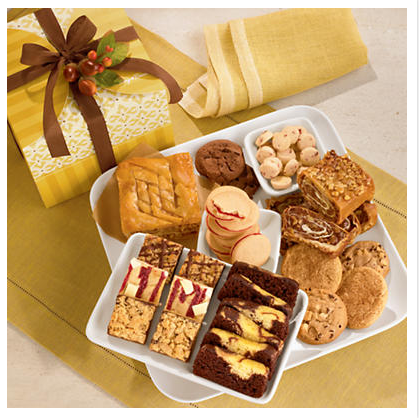 3. Dine with Delight: Setting a welcoming table is something many of us relish. If this is a challenge, why not ask advice from experts like Kim Freeman, who offers a wonderful service to create a "tablescape" for you? Kim will use your special objects in new and novel ways.  For inspiration and more, check out Kim's website. She might suggest beautiful feathers rather than flowers on dining tables, which tend to be laden with wonderful dishes and have limited space for décor.
Clinton Kelly, sponsored by Epicurious, has wonderfully practical ideas about setting a buffet table, ensuring that your guests have extra ease at this more casual meal. His videos are fun to watch and very helpful. You might even pick up how to arrange flowers from one of them.
For dining room decorations, consider doing a low arrangement on a tray, basket, or wooden box of an assortment of small plants. They're cheerful, will last longer than flowers (which can be mixed in them as you wish), and are less expensive. VivaTerra will create one for you of fern and moss.
For something more dramatic, the Olive & Cocoa catalog offers Bianca Grace–exotic fresh flowers arranged in a long narrow wooden box that ships in a day.
You might also want to carefully arrange candles in this way–either by themselves or with your plants. Such an arrangement will last all through the winter and beyond.
Dining is especially cozy when upholstered dining side chairs surround the table.  Extra chairs can flank the credenza in the foyer or be used in the living room for extra seating when folks gather after dinner.
You might even bring a larger upholstered wing chair into the dining room–at the head of the table–if you need to stretch your seating. How cozy will the dining room chairs be with the addition of an accent chair with a document fabric covering? It'll also move about the house, making comfortable seating wherever it lights.
4. Really Warm Guest Room: The casual style of Hooker's Corsica panel bed starts out with a finish that exudes the spirit of the sun-drenched Mediterranean island for which it is named.
To keep a winter guest toasty, make up the bed with Lexington Company's checkered flannel bedding. And for that afternoon nap or extra frosty night, toss a faux fur on the foot of the bed.
For the adjoining bath, keep up the European theme with Gianna Rose's olive oil soap made with pure olive oil. Wintery skin will be soothed by its magical mix of oil, florals, and herbs. To keep towels toasty warm, you might want to add a towel warmer to your guest bath's features. Many hotels and spas in Europe have warmers to pamper guests. And keeping a spare hair dryer in the vanity drawer will be truly appreciated.
Sum:  A cozy home makes guests feel relaxed and in a festive mood. And you too will enjoy your home even more when you've made it a place where friends and family love to be. Remember, the best welcome for guests is a happy and relaxed host.
Stay warm, and keep your home cozy!