Unless you live in the sunniest extremes of the United States, or in some tropical location, this seems to have been the longest winter on the record books.  Even in my area, where winters tend to be milder, Mother Nature has been at her grumpiest.  Rumor has it that even early spring may see a bit more of her tantrums.  I think it's time to take us all away for an escape, don't you?
Put on your travel fantasy hats, for a moment, and become transported to one of the most beautiful spots in the world . . . the land of Corsica.  It's a French Island, in the Mediterranean Sea, and because of its location near France and Italy, it carries forth both influences in architecture, culture, and food.
After doing some research, I could definitely include this island on my top spots for a get-a-way.  The topical geography is so varied, from the typical Mediterranean climate to the temperate elevations of the mountains, even including an Alpine zone.  While tourism is their main industry, they've kept good portions preserved for the protection of rare animals and plants.  Of course, being steeped in the history of different cultures, the architecture would capture a great deal of my attention.  I'm always so inspired by my surroundings, as a designer.
I do believe stunning destinations can play a huge role in determining home furnishings and furniture preferences.  While scrolling through the pages of images and shapes, I found myself thinking of the perfect Hooker Furniture Collection to convey this lifestyle to your interiors . . . The Corsica Furniture Collection!   The wire-brushed, Acacia wood with an artisan finish brings to mind the lifestyle of casual strolls through ancient homes and soft, sun-washed beaches kissed by the curves of the shoreline.
The arches of the churches and buildings have been translated into a statement piece in this round dining table. It gives one pause to stop and experience its beauty.  The varying natural tones of gray remind one of cliff stones found in the Corsican mountains.  The western island side consists of a backbone of granite, which is utilized in some of the lovely structures.
Rounding out the Corsica dining room: the Oval Back Arm Chair and the Oval Back Side Chair. Ahhh . . . the sea breezes!
Now that I've got you wistfully thinking of planning your next escape, I've got one more temptation for which you can take action . . . .
Hooker Furniture Corporation has put together an exciting sweepstakes where you can enter to win either the Corsica Collection piece of your choice, as the Grand Prize, or you may win a special second or third place prize option!  Just click on the image, below, to take you to the details on the many ways to enter.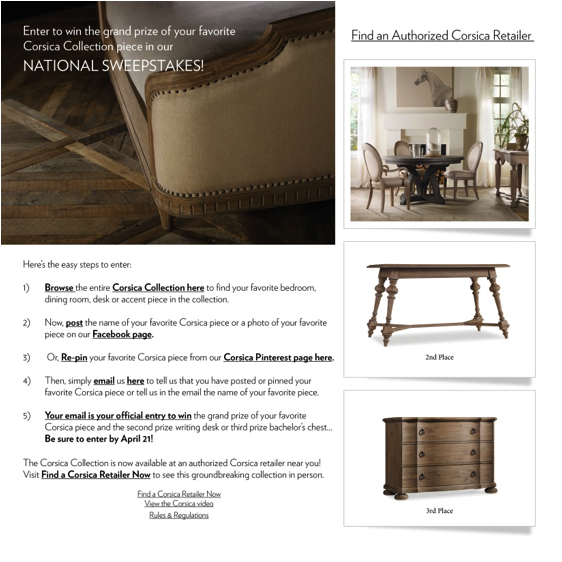 While travel certainly brings with it memorable life experiences, don't forget to plan for great escapes in your home, too.  Beautiful furnishings wrap us in comfort and style and without the need to update our passports.  I feel well-traveled just watching this luscious video for the Corsica Collection. Add a little vino and fromage and you're already there!