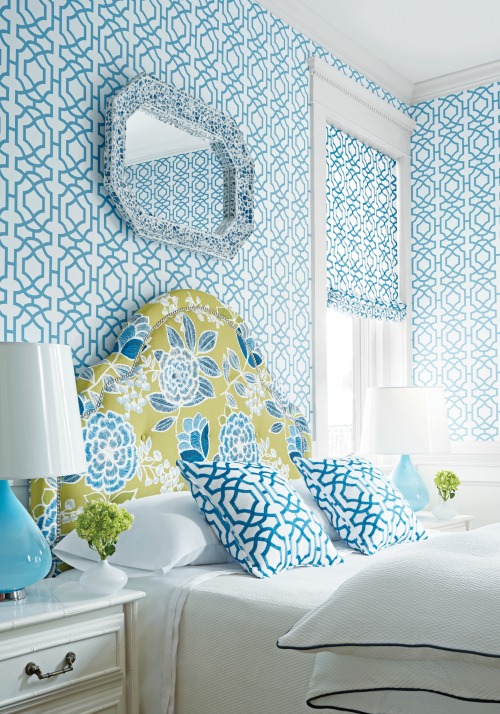 There's nothing quite like the fabulous look of fretwork. While it's most often seen in furniture and originated with intricate carvings in wood and metal, today the pattern inspires everything from textiles to rugs to wallpaper. Here's a peek at the freshest looks in fretwork for the home.
Fretwork in the Foyer
A pearl essence finish picks up the highlights of the delicate fretwork over the antique mirrored front of this Sanctuary chest perfect for an entryway or foyer.
Fretwork Dreams
The fretwork of the Rhapsody bed makes it the star of this dreamy bedroom. Its shapely design and scrolling curves add elegance and style, all in a trend-forward champagne-colored finish.
Fretwork Walls
A graphic interpretation of fretwork, Thibaut's wallpaper pattern offers dramatic visual interest.
The Freshest Fretwork
These dining room chairs from the new Sunset Point collection (in stores this fall) look fresh with fretwork detailing on the chair backs and a St. John Blue finish.
Modern Fretwork
On this Ludlow entertainment console from Hooker Furniture, fretwork gives a hip new vibe with walnut veneers and uptown styling.
Fretwork on the Floor
Homeware Terrace Black and Cream Indoor/Outdoor Rug
Fretwork Reflections
The delicate tracery of this Fretwork Mirror adds style and dimension to this accent.
From subtle details in furnishings to a room-changing pattern on floors or walls, fretwork is fun and fresh. Designers love this pattern for its ability to lead the eye around the room in a unique and engaging way.
What room in your home would look best with a little fretwork?