It's hard to believe that August will soon be here, bringing with it shorter days, cooler nights and the last of carefree getaways before the more demanding routines of fall begin. School openings are just around the corner, and the displays of autumn are becoming more abundant as I browse through gift shops.  But before we all hang up our gardening gloves or put away our sandals, let's revel in a few more weeks of the season and consider how to capture the glorious colors in our homes!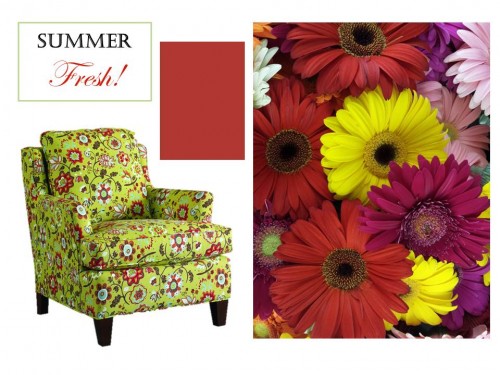 I can't help but think of flower power when I see a bevy of Gerbera daisies in mass.  A visit to our local florist had me whipping out the camera to capture the beauties, above.  It was total serendipity when I spied Sam Moore Furniture's Columbia Club Chair, as I was preparing for this post.  It was as if the chair fabric was inspired by this very bouquet.  When colors are put together in nature, they often work in one's home, too.  Who says you can't mix reds and pinks, together?  A splash of sunshine yellow or citrus green makes it all come together.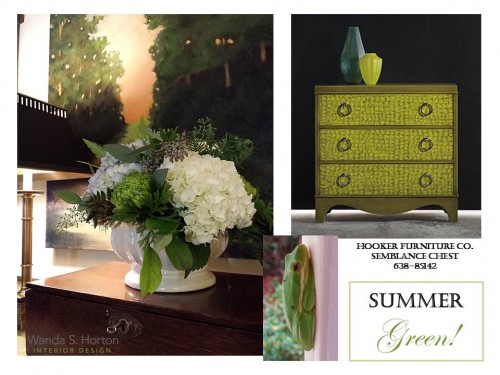 One of the reasons I stopped by the florist was to select some arrangements for a photo shoot.  Not only do I hire a professional photographer; I make sure all of the florals are professionally arranged, too.  It makes all of the difference in how it showcases my design work.  It's also a lovely perk when I can bring them home, afterwards, to enjoy.  While I caught a glimpse of these hydrangeas, paired with green spider mums, it reminded me of the green in the little tree frog I recently saw resting on our porch picket.  His leathery texture then took my mind to the Semblance Chest by Hooker Furniture, in green, of course!  See how the mind tends to wander when it has time to relax?  The most inspired thoughts come to you when you're open to them.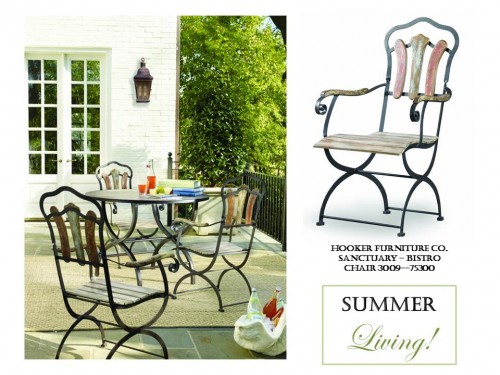 Dining al fresco is a favorite summer past time, when the weather allows.  Sometimes the humidity and nature's "visitors" can chase us indoors.  One of the reasons I love these Bistro Chairs, from Hooker Furniture's Sanctuary Collection,  is how they bring that weathered, garden-like experience with them.  The finish has the perfect patina with a touch of color.  They offer an eclectic solution to a casual dining space and would fit beautifully with a vintage family dining or kitchen table.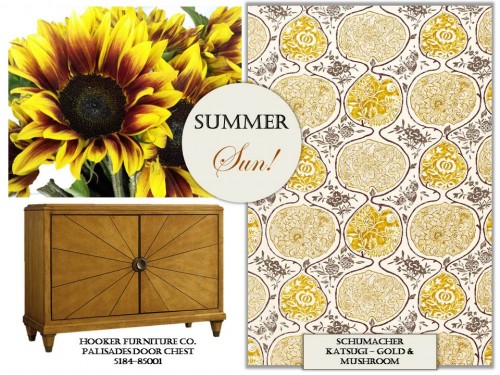 There's certainly no lack of sunshine, when it comes to late summertime. The Palisade Door Chest seems to radiate with a soft glow.  Can you see the motif of sun rays, originating from the center?  I find it to be a mesmerizing design . . . very soothing and calming.  In the case of a rainy forecast, it provides a great optional use as a TV cabinet stand, for indoor entertainment.  Pair it with the fabulous Schumacher print, on some accent pillows, a vase of sunflowers and you're still going to have a happy, sunny day!  No sunscreen needed.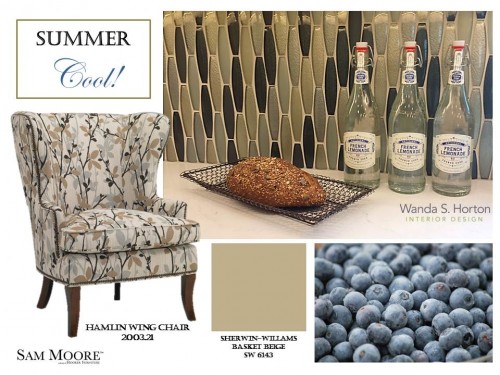 If your preference leans to the softer, quieter hues, don't feel pressed to bring in all things bright.  Think of frozen blueberries, to cool things down, with perhaps a splash of French Lemonade.  The glass tile backsplash showcases easy, breezy tones of blue.  It's in one of my client's kitchens, in a home very much designed to reflect her love of the ocean side.  (Have you ever collected sea glass?  This tile reminds me of that texture.)  Toss in a bit of sand-between-your-toes and it rounds out for a beautiful scheme.  I even think the Sam Moore Furniture Hamlin Wing Chair's fabric harkens back to sea oats on a dune, don't you?
I hope you've gotten some great ideas for creating your own summertime retreat or for adding to your year-round residence.  Enjoy the rest of your summer . . . there's inspiration everywhere!