Our need for tranquility and peace has never been greater. The world gets busier every day, as we're harried and rushed and running about managing our lives, jobs and taking care of family. We're constantly checking our smart phones and email.
This growing need for a respite from the pressure and frenzied pace of life was the inspiration for  the introduction of the Sanctuary Collection by Hooker Furniture five years ago.
In introducing Sanctuary, our desire was to help you create a tranquil space for your home that exudes a peaceful calm and grace, almost like a weekend retreat or a resort vacation space.
Five years later, Sanctuary is still our best-selling collection, which we hope is an indication that Sanctuary has indeed inspired you and helped you create more tranquil spaces.
In celebration of five fabulous years, we are offering 75 new "anniversary" pieces, including 20 accents, in two lifestyle looks, Brighton and Bling, at the High Point Fall Furniture Market in October.
With the new introductions, we're paying tribute to some of our best-selling pieces by doing fresh interpretations with a flair for color.
A relaxed country manor home lifestyle, Brighton offers casual forms with a charming English country pedigree and multiple finishes—even an edgy Ultra True Red that picks up on today's popularity of chalk-painting and re-purposing vintage furnishings and décor with splashes of color.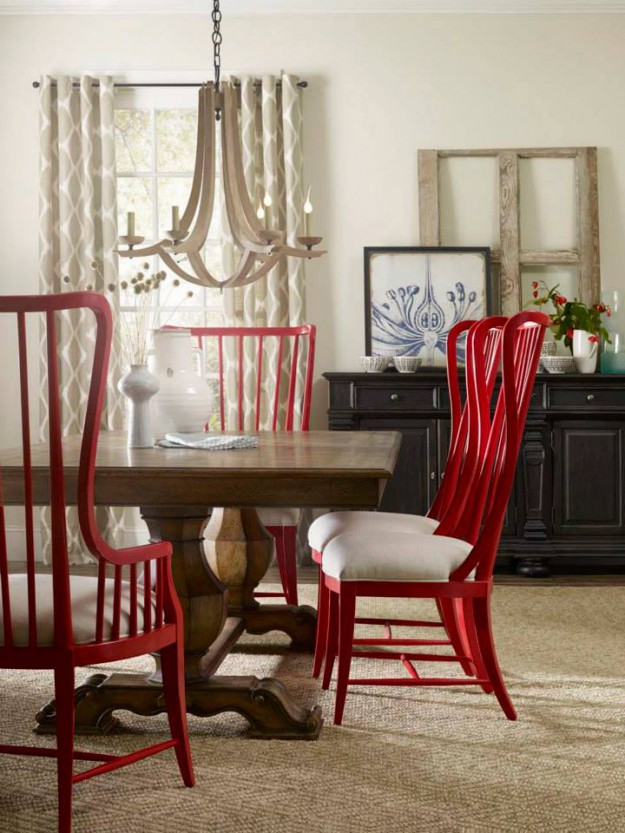 The Ultra True Red Chair is inspired by Sanctuary's best-selling Rakeback chair, shown below.
The newer, brighter Rakeback chair in the Ultra True Red has more modern, sleek lines than the original chair.
The classic lines of the original chair will be offered this fall in updated finishes such as Antique Seafoam and Antique Hickory.
Another best-selling piece from the original collection is the Poppy Red Three-Tier Accent Table.
Who wouldn't want to warm up their room with a dash of red?
With this market, the same table will be offered in new finishes such as Antique Seafoam, shown above in the third photo.
When Sanctuary was first introduced, some pieces really "pushed the envelope." One of Sanctuary's qualities–the addition of sparkle and light and bling in a selection of mirrored and metallic pieces–seemed edgy. For example, when this tufted, sculptured bed with a mirrored and metallic border (affectionately known as the 'bling bed') was introduced, furniture retailers shook their heads and wondered if anyone would buy something so audaciously elegant and feminine.
In honor of the now-iconic Bling Bed and the bling pieces that followed, we are taking bling to a whole new level at the upcoming market with two over-the-top luxurious looks in true Hollywood Swanky glam, Bardot and Avalon. The Avalon bedroom, shown below, is presented in a clean rectilinear shape featuring a mirrored bed with a diamond metal overlay and upholstered headboard in a semi-modern feeling with clean case pieces in mirrored frames and reverse sliver leaf accents.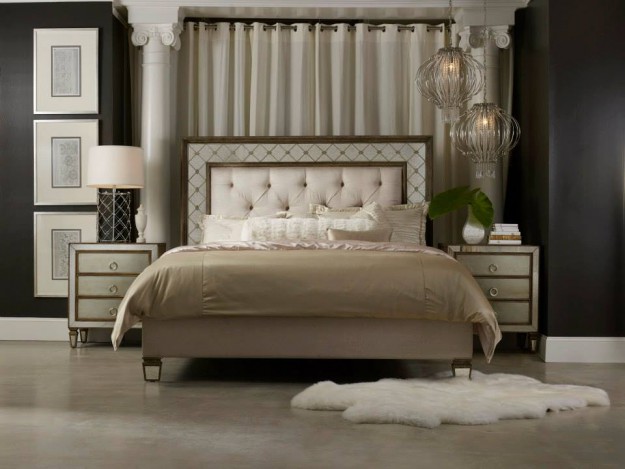 Our hope is that the Sanctuary Collection will continue to help you create tranquil spaces for many years to come.