Fall means a fun change of accessories for any home.
Now is the time to bring the warmth of fall colors and textures indoors through layering.
Layering the items in your home creates an extra level of coziness! Let's begin in the entryway…
Start by making sure you have a place to stash umbrellas and hang coats by the front door. Extra baskets for shoes, snow and rain boots will come in handy. Having plenty of space to hang cooler weather coats, raincoats and fleeces will become a necessity.
Either a standing rack, as above, or a wall rack, as below, will work nicely.
The living room is a perfect space for layering to create a haven for cozy afternoons and evenings by the fireplace with a great book or cup of tea, or watching sports or movies.
Adding a warm throw blanket and even a basket full of them is a great way to start. Have one for each family member so no one gets left out in the cold. Layer a warm hued carpet over a neutral one to add some more texture to the room. Bring in a pouf or ottoman for some occasional seating.
An oversized pouf, cube, bench or ottoman, such as the one used above with the Sam Moore Rita sectional, is great for stashing magazines and newspapers, snacks, your laptop or tablet–and especially good for kicking your feet up!
A fuzzy pouf like the one above is extra cozy near the fireplace, and the Sam Moore Banner Ottoman below is chic with its nailhead trim and hexagonal shape.
The quintessential piece for an inviting fall living room is the comfy leather sofa such as this Etosha Halali leather sofa, draped with a contrasting throw. The warm leather is just asking for your to curl up and read a book.
The companion chair and ottoman is an even cozier place to snuggle, and creates the layered look you are after.
In your kitchen and dining room, you can focus on accessories to create the layered look. These are the spaces in which you can take a more creative and personal approach. Display the apples your family gathered at the orchard. Change out your dish towels for some warmer fall tones. Put away your lightweight throw rug from the summer and roll out a thicker one for the fall.
Add some branches or a bowl of vegetables and fruit as a centerpiece, bringing the changing foliage indoors.
Instead of using flowers for a centerpiece for fall entertaining, make your arrangement from fruits and vegetables in the earthy colors of fall. For more ideas on autumn arrangements, visit here: Autumn Entertaining Party Ideas from Traditional Home.
Your bedrooms are some of the easiest places to layer in some fall. Add an extra blanket at the foot of  the bed. Change your lightweight duvet or comforter for something a little more substantial. Add some pillows, the more the better! Choose fabric with colors and textures for the season, like warm reds, oranges, greens and dark blues.
Create a warm, layered look in your master bedroom and guest bedroom. An upholstered, tufted headboard like on this Palisade upholstered shelter bed creates just the look and feel you're after.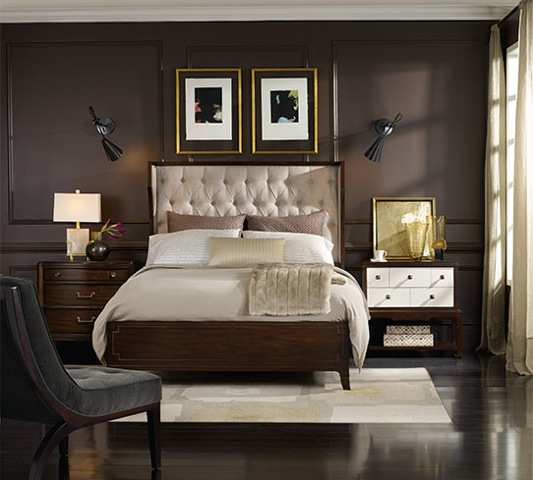 The two-tone finish on the Palisade nightstand above adds to the layered and dimensional look.
Layers are easy to add and take away for each season. Changes in colors and textures keep your home feeling fresh and new. A new look indoors is a fun approach to decorating and a great way to keep up with the change of scenery out of doors!