As I began gathering my special place settings for our Thanksgiving dining table, I realized what a bounty of different pieces we've collected over the years.
 I'll admit, it's a little bit of an affliction – or as I prefer to say – an "affinity" for lovely china and dishware. I often ask new clients what they might consider to be a luxury wish-list space in their home. For me, it would be a china room. Not a closet, not a piece of furniture or a cabinet, but an honest-to-goodness china room. Perhaps it might not be as grand as the one at the White House, but it would be such a practical space for anyone who loves their collections. Imagine being able to stage out a table to see what works, prior to a party.
My collections began quite by happenstance. Of course, as a young bride, I selected both a formal and casual pattern. As my taste evolved, so did my acquisitions. As you read further, you'll get to enjoy some of those pieces. My particular favorites are English transferware.
Living in the southern part of the U.S., snowy holidays aren't something we often get to experience. My 'Frozen Up' pattern, by Johnson Brothers, brings the words of a carol to life, "Over the river and through the woods . . . the horse knows the way to carry the sleigh though the white and drifting snow." I could get lost in the illustration on my turkey platter as it evokes visions of arriving at that cozy destination. It's referred to as a "polychrome" piece, meaning it has more than the two colors, often associated with most transferware. Of course, it couldn't be the only one. I had to find more!
My love of transferware began as I glanced through the pages of the book, above, by the late interior designer, Charles Faudree. While he often decorated with a French-influenced style, many of his rooms featured this lovely, English ironstone. They were not only used as place settings, but they also graced walls and other furnishings.
You can imagine my excitement, when I spied a country auction listing with many of the pieces you see displayed in one of his designs, above. A lot of the covered vegetable dishes are quite desirable. One in particular, the double vegetable set, has the patterned printed on the top of the lid, inside the lid and in the bottom dish. It allows one to use it in two different ways, either covered or separated. How clever when storage might be an issue, right?
I was determined to win the bid for what began my extensive collection of Mason's Vista in Red. To get so many of the major serving items, as well as the rarer sets, was a thrill!  I appreciate all of the fine details in the design and in the shape. I think the curves and scallops would be beautifully paired with the Hooker Furniture Co. Red Bombe Chest.
I do try to subscribe to the thought of "eat off the good china," even though showpieces, such as a really rare chowder tureen, will remain behind closed, glass doors. Since other collectors consider it to be the holy grail of Mason's Vista, I know I might not find another one. Still, as William Morris wisely counseled not to have anything in your home which isn't useful or beautiful, most of my collection gets swapped in and out of use. You'll find us enjoying our Thanksgiving breakfast muffins on the "everyday" 'Jenny Lind' pattern, (above), named after the famous Swedish songstress.
One of the challenges with being a designer, is pulling together completed spaces for show houses or photography. In order to get a cohesive image, we have to find accents to fill in gaps. Of course, if those trinkets aren't able to be returned, guess where they eventually land? That's right! You now know the reason I've got a small blue and white transferware collection brewing. They're so stunning; it's quite tempting to build a room around them. To keep the direction a little more casual, the slip-covered look of the Adele Swivel Glider from Sam Moore Furniture would be perfect, in a comfortable pair.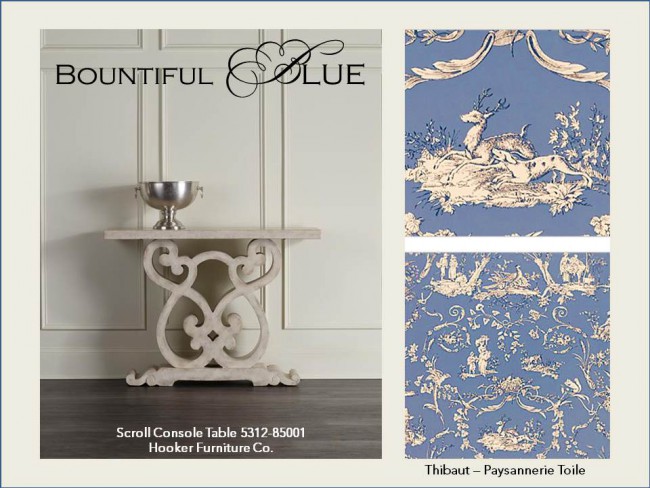 If you love the look of transferware, but prefer to keep your place settings neutral, consider adding a toile fabric or wall covering as the accent. Thibaut's Paysannerie Toile would complement one of my favorite pieces of accent furniture, the Scroll Console Table from Hooker Furniture.
If you prefer a classic design scheme, the black and white or brown and white ironstone would be a fabulous option. I'm rather amazed that I've managed to reign myself in from these beauties. Black is a go-to of mine for frames, shades and some furniture pieces. When a client mentioned she might like to do a wall with this in mind, my heart fluttered a little. A sigh of relief came from my husband as I'll get to live vicariously through her interiors. The Palisade Server, above, is stylishly compatible.
You can view the entire Hooker Furniture Palisade Dining Room Collection > Here.
This neutral palette is simply lovely with elements of nature incorporated. Cones, twigs, moss, squash, pumpkins or berries can be woven in and out for a textural effect.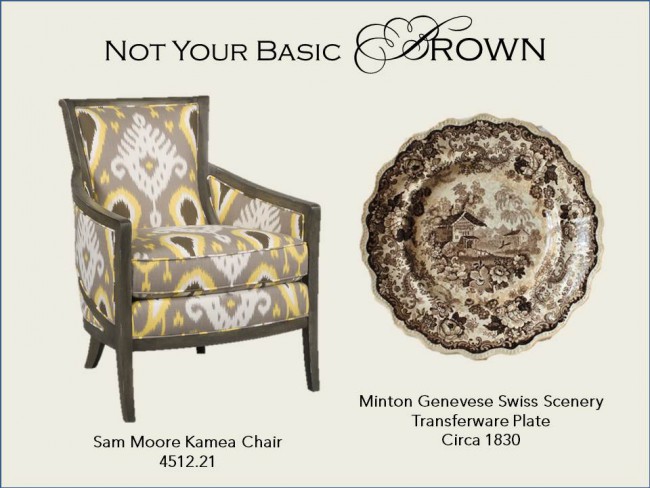 I love putting together unexpected combinations. What allows this Sam Moore Kamea Chair to work with an 1830's brown plate is the Ikat fabric pattern. Both arrive to the present from a historical past.
Of course, no proper place has been set without a little welcome to the table. Here's a great collection of place cards and tokens for your guests to enjoy or to guide them to their seats.
As you begin to dress your tables or homes for the holidays, be sure to savor the moments of putting it all together. Reflect on the memories of how your collections came to be. Often it's not just about the obtaining, it's about the journey. Think of where you were, who was by your side and the fun of discovery. That's the good stuff in life.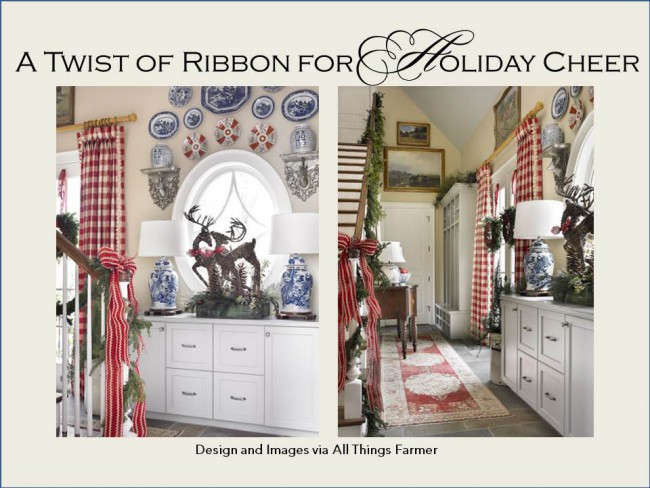 Remember, if you decorate with the things you love, it only takes a few twists of some ribbon and a few sprigs of green, and you're all set to go for the next big holiday!
Happy Thanksgiving to you and yours from Hooker Furniture!