Good ol' Santa. He can always be counted on to keep the North Pole toy factory churning throughout the year while making his list and checking it twice. Then after a long winter's nap, Santa whistles for his reindeer and speeds around the world in a single night, sliding down chimneys (and the occasional stove pipe) to leave gifts beneath our trees for Christmas morn. 
The big guy in the red suit works super hard all year.  Isn't it time we surprise him on Christmas Eve with some chic treats for his fireside break?  At my house, we'll be whipping up a batch of Almond-Pistachio Nougatine from "À la Mère de Famille: Recipes from the Beloved Parisian Confectioner" by Julien Merceron. For over 250 years, Parisians have enjoyed treats from the legendary À la Mère de Famille confectionery, so why shouldn't Santa satisfy his sweet tooth in ooh la la style, too (especially when this recipe is so easy to make!)?
Almond-Pistachio Nougatine
Makes a 12 x 12-inch square; Preparation Time: 20 minutes
 Ingredients:
3/4 cup sugar
1/3 cup light corn syrup
3/4 cup plus 2 tbsp sliced almonds
1/3 cup chopped pistachios
2 tbsp unsalted butter
Making the Caramel:
Put the sugar and corn syrup in a medium saucepan make a light caramel: Place saucepan over medium heat. The sugar will melt and start to caramelize. When the mixture is pale brown, add the almonds, pistachios, and butter. Mix well to coat the nuts in the caramel and toast them lightly.
 Making the Nougatine:
Working quickly, turn the mixture out onto a sheet of parchment paper or onto a silicone mat. Place a second sheet or mat on top, then roll out the nougatine very thinly with a rolling pin. To finish, cut out the desired shapes using a knife or a pair of scissors. If the nougatine hardens too much to cut, reheat it in a 275ºF oven for 4 to 5 minutes to soften it a little. (Store in an airtight container, away from moisture, for up to 1 month.)
Variation: Dipping the nougatine into some chocolate will make this confection even more indulgent. Or process it into crumbs and sprinkle over a summer fruit compote or ice cream.
 In the midst of a hectic night of global travel, Santa's eyes will twinkle at the sight of the Aegis Glove club chair. Hand-crafted of exquisite leather, this spacious chair -with its deep seat and button-tufted high back- is so comfy Santa just may take a quick snooze before heading out again.
We all know how important it is to have your phone fully charged during long journeys, especially those from the North Pole.  Do Santa a favor. Tuck the Home Office E-Charge Center next to his chair so he can recharge his electronic gear while recharging himself with snacks and a cold milk chaser.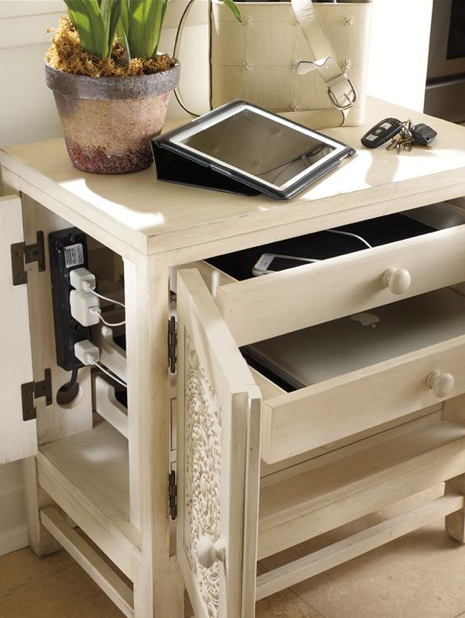 Christmas Eve is coming. How chic will your Santa stop be?