When it comes to the Christmas season, a great source of design and creative inspiration always comes from a holiday home tour. 
Recently, I had the good fortune to tour not just one but two lovely Southern towns. Their graceful, historic and storied houses did not disappoint. In fact, I could share so many photos that it might feel as though you had embarked on the day-long visits with me. For the sake of time, I've combined both Camden, South Carolina –an antebellum beauty in the middle of the state — and Concord, North Carolina — the city where my mother and her family grew up–into one lovely collage of images.
Pour yourself a cup of hot tea or cocoa and enjoy touring these Southern holiday gems with me!
The inviting front porches adorning many of the homes present a wonderful place to catch a breeze or be protected from the elements.
One of the days was rather rainy and cool, so we appreciated a nice wait station as we arrived.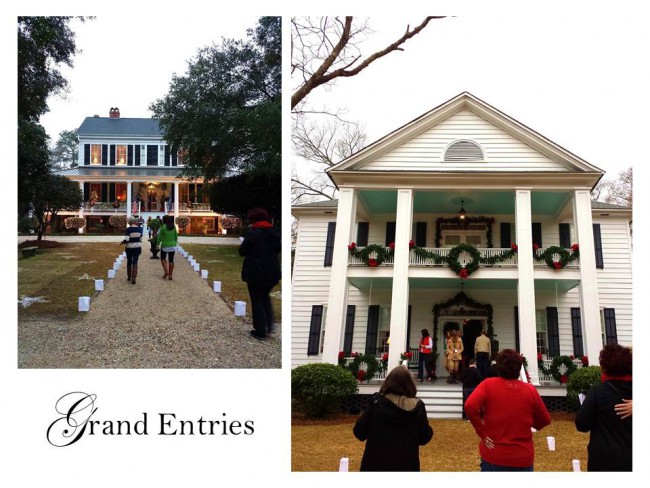 Notice the aqua blue color under the porch roof in the photo on the right, above. There's a reason this is a popular color for porches in older Southern homes. (And it's not about the bugs.)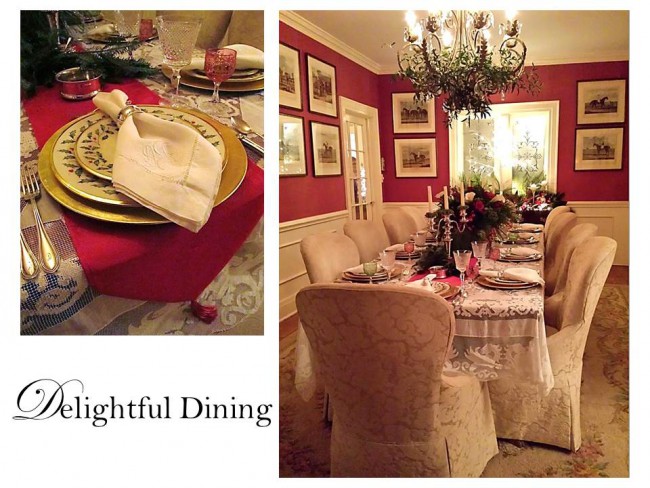 Each home had grand-sized dining rooms for entertaining guests. While this one fell into the formal category, I felt as if I could enjoy sitting for a while in the comfortable chairs for great conversation and merriment. The chandelier was covered in fresh greens and the table was set with monogrammed silverware and napkins. Oh so southern!  
One of the aspects I loved about touring these old home places were all the stories that took place within their walls over the years. There was a tale of a newly engaged ingénue testing the validity of her diamond against a dining room window pane. It passed her test because her initials and the date are forever etched in the glass! The dining room, in this Concord home, has furnishings which were used on the set of the movie, "Lincoln." I zeroed in on the red and white transferware, as it's the same pattern I collect. They placed snow villages throughout the table top and it was spectacular!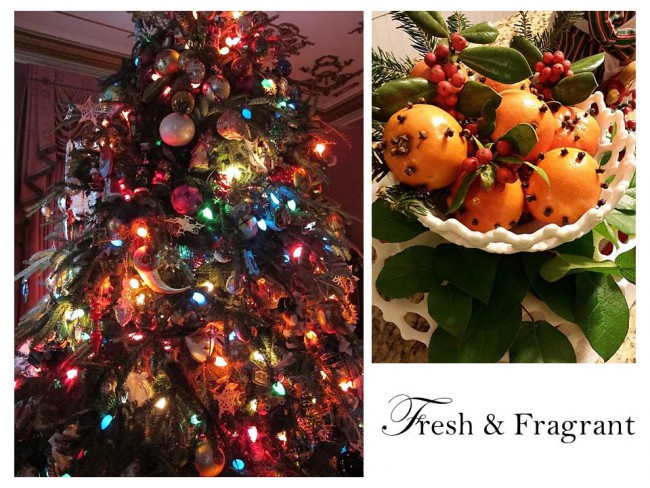 Many of the homes featured all fresh arrangements and trees. The fragrance could have guided you from one space to the other, even with your eyes closed. Of course, who would want to miss every delightful sight? Even simple greens and oranges took on an elegant air, placed in stacked milk glass pieces. The tree was chock-full of family heirlooms.
Camden is a place with a love for all things equestrian. You can see the influence in the designs of stunning fences and special posts, even with grass in the place of sidewalks. It's easy to hop on your horse and pay a visit to the neighbor. In this instance, where there wasn't a worry of an indoor pet, the tree skirt was replaced with a bed of poinsettias. While it's striking, be sure not to do this if you have "children" of the furry type or a toddler who likes to test out different tastes. They are poisonous to ingest.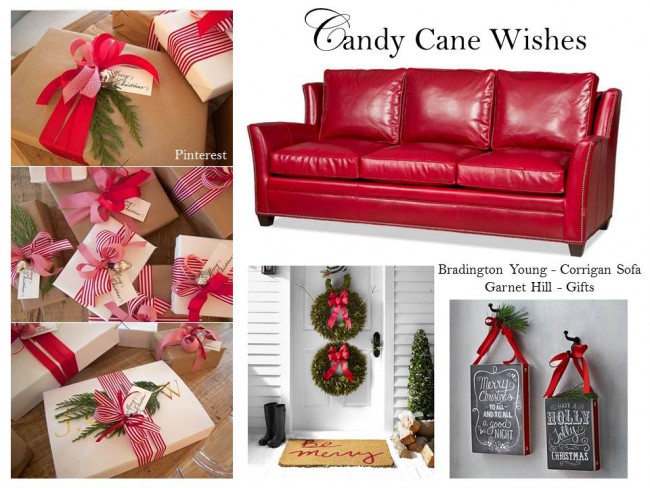 Even though many of the homes had cozy dens, the crowds prohibited me from capturing good photos, so I'm sharing my inspiration board for one. The Bradington Young Corrigan Sofa would make for the most cheerful of spaces. Who says you can't enjoy the Christmas color palette, year-round?
One of the things I'm often asked about when it comes to holiday décor, is how to pull it all together when folks have collected or been given a "mish-mash" of ornaments. My biggest tip is to fill in with ribbon and simple balls, which are all color-coordinated. It helps to unify the look while allowing the treasures to shine through. If you look closely, the tree, above, plays off of the mantel as they weave similar ribbons and balls back and forth.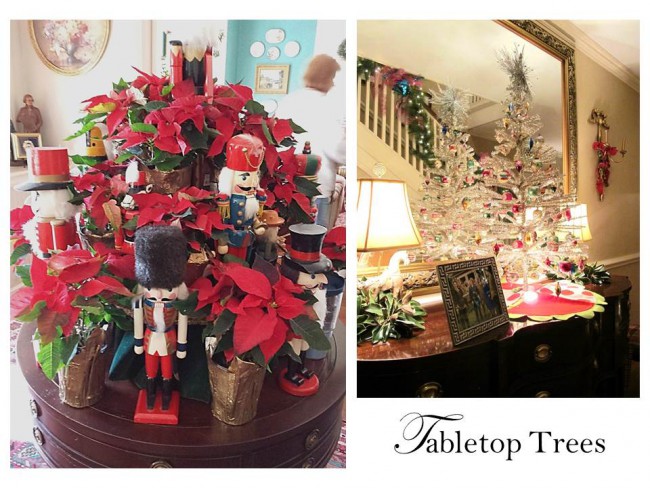 Many of the homes had soaring ceiling heights, some elevated up to fourteen feet. Many of us may be in older homes, too, but they could be either a ranch style or a condo or townhome with limited space. I love how the tabletops or sideboards were graced with smaller tree versions. The tiered poinsettias, paired with the nutcrackers, were absolutely adorable. The miniature version of a tinsel tree captured the evening glow and sparkled in the mirror.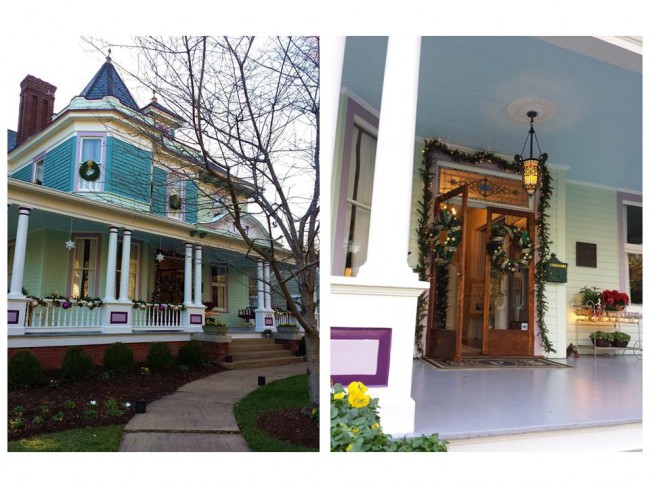 This grand Queen Anne beauty in Concord had just received some fresh paint, and I was excited to see something a little different. Turquoise, lavender, jade and deep plum accents were frosted with touches of white.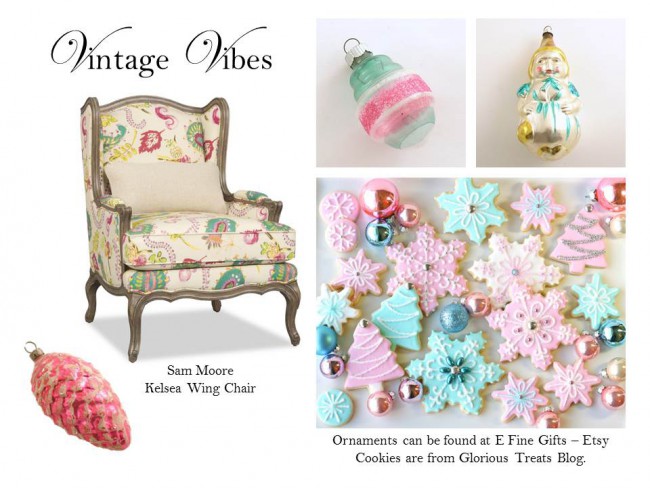 I could just imagine finishing off the interiors with a pair of these Sam Moore Kelsea Wing Chairs! The owners were a young couple with a playful sense of design. I'd top off their tree with some pastel vintage ornaments. A cookie swap of snowflakes would make for a festive event at their home.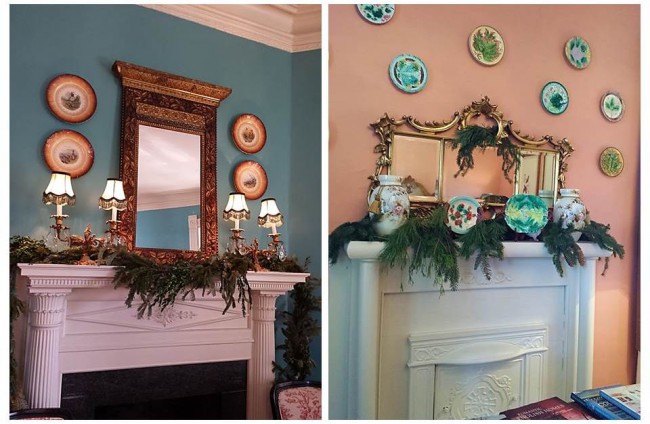 No historic home would be complete without a bevy of fireplaces and mantels to be decorated. The carvings and the mirrors, along with all of the everyday decorations, were offset with simple greens. Sometimes you don't need to overdue what's already so perfect. Lots of Easter egg colors make for a different season of bright.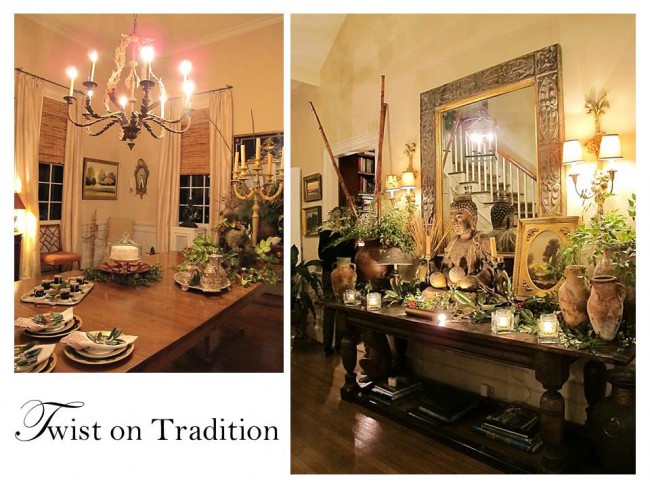 For some of the homes, it was all about the golden glow. In fact, this particular family collected pieces on their travels, which might not fit into the category of a traditional spread. I loved how they kept it all intact, while adding nandina leaves and berries on a dramatic, Asian alter table. Working with the things you love makes it less stressful to decorate.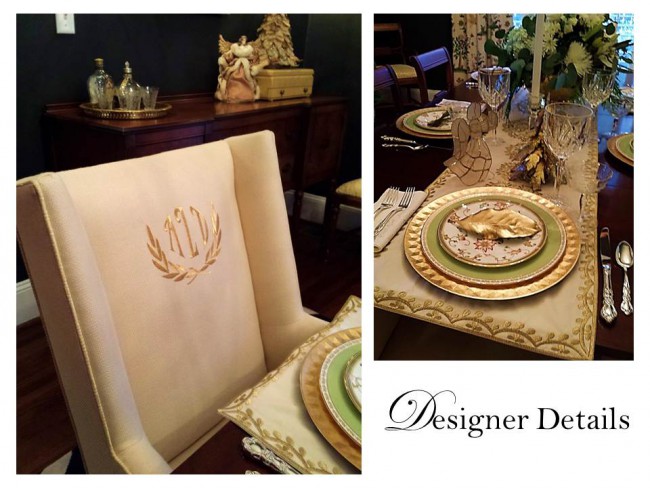 More golden neutrals were found in this home. A little bit of embroidery, in the form of a dining chair monogram and in the table runner went a long way in adding fabulous style. If you don't have the ability to redo your chairs, just consider making a back flap of fabric to attach and put your initials on them for a personal touch. You could change them seasonally with color, too!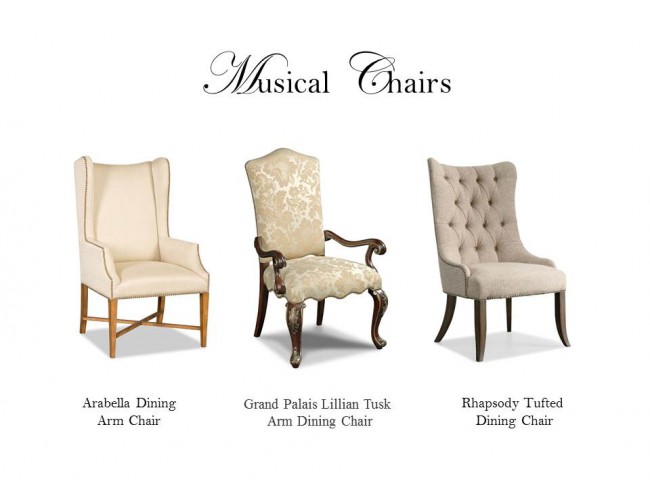 As I went through the homes, I noticed how many of the dining chairs were upholstered. Like a beautiful chorus, they all "sang" to me in different ways. Here are some wonderful options from Hooker Furniture Co., which are similar to the ones I've shared: Arabella Dining Arm Chair, Grand Palais Lillian Tusk Arm Chair and Rhapsody Tufted Dining Chair.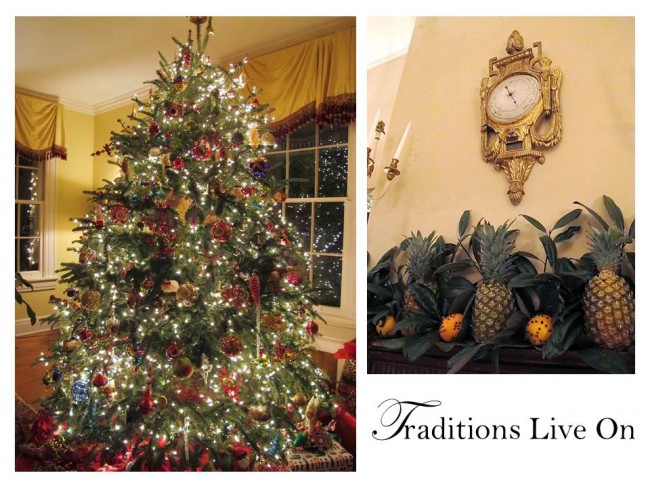 No matter where you live or celebrate the holiday season, the one common thread is how traditions are honored. Sometimes they are passed down, from generation to generation, and other times they are reinterpreted. For me, it was a comfort to see these homes are still intact, with the care and love of the families who live in them. They are truly a valuable asset with a connection to our history and to the people who lived before us.
Much of design is based on the beautiful architecture and the elements which have been preserved. Be sure to look into your local historic societies to see if there is a tour and to help keep these old beauties vibrant.
And may you and your family enjoy celebrating the most meaningful traditions this 2014 holiday season!