Meet Designer and Author Tricia Foley
The holidays have come and gone at Tricia Foley's heritage home in Yaphank, Long Island, New York–and the landscape has changed somewhat. But Tricia still has the tree up beside the boat house, and the paperwhites that were placed on mantels and table tops all during the holidays are still hanging on to their fragile blossoms.
Tricia–Trish to her friends and colleagues — is the doyenne of white: fifty shades of it, she announces with a touch of amusement. This interior designer and author has been a proponent of the simplicity of living with white in our lives ever since I have known her–and surely before that. Her credo of the calming effect of neutrals in one's home goes back to her earliest days–decorating her own bedroom as a girl, a close friend tells me.
Having been on the staff of several magazines including House Beautiful and Country Home, Trish was my colleague when I edited Victoria Magazine. I have admired her work from close up, and now from afar as she continues to share her vision with clients and readers. Among her books are Sailing Style: Nautical Inspirations for the Home, White Christmas: Decorating and Entertaining for the Holiday Season and The Natural Home: Living the Simple Life. A new book is due out this fall–and here she gives us a special sneak peek of what her love affair with white means to her, and what it can mean to her readers.
Enter Trish's kitchen with its spare wood-burning fireplace, and there is the large white table. It's old and salvaged from a barn. It portrays the essence of how she sees home. Every year, she paints it with a coat of white enamel paint, and it serves well against things like newspaper smudges and tea spills. "Just a wipe, and it's fresh and clean," she remarks. White is not only pleasing for its aesthetic qualities, but adds to the simplicity of living, which is another one of Trish's mantras.
One of her trademarks is white washable slipcovers–whisk them off, launder, and your home is immediately refreshed. I've followed her lead in my own home, and can attest to how refreshed you feel when you have gleaming clean covers. I had white slipcovers even when raising a small boy, much to the amazement of my mother-in-law!
Especially in January, Trish has the impulse to calm the spirit. To quote from her upcoming book, "White is basic and reassuring to me: it's always right, it always works…White represents serenity and calm in a busy life."
In the foreword to the book (as yet untitled), Trish's friend and neighbor Isabella Rossellini, actress of stage and screen, sums up what is so special about Trish's 'white life': "Everyone can have a beautiful home, because the secret is the simple touch."
Isabella goes on to say that she immediately relaxes in Trish's home–because nothing is off-putting and everything is so beautifully organized.
Here is a lesson on selecting the "whites" you might want for different rooms and situations, from Trish's new book: "In the kitchen, I want a clean, fresh white; in the dining room, a soft white backdrop for my china; in the living room, a warm, old-fashioned white for the bookshelves. In my bedroom, a calming white."
Another lesson from the Foley lexicon has to do with textures. Surely white is never boring when one includes in the home landscape baskets, branches, berries, beautiful stones, pieces of driftwood, and the like. There is also contrast–whites against the darkest wood finishes.
Of course Trish Foley has a talent and eye for décor, but it is one that inspires rather than intimidates. And while we are in a mindset to be inspired as I am, Trish offers another valuable lesson: "A Place for Everything." Isn't now the time to take heed that a certain order makes housekeeping, and hence life, a lot more manageable? Call it what you will but Trish gets a lot of pleasure from her string drawer! A lot of use too, I suspect.
I hope you have enjoyed this visit with Tricia Foley. She is one of my favorite people on all fronts! And as I look outside, where a tree branch is frosted with snow, I wonder, what would Trish make of that? I can see her salting away the image for another photograph, another book, another discussion  on how white informs her life — and how it can yours.
As you think about white for your home, Enjoy the pristine finishes of Hooker's Sunset Point Collection. You will be reminded year-round of wave-splashed shores and summer cottages basking in the sun. Its soft organic Cathedral White Oak Veneer finish makes you feel blissfully at home, in every season, in every locale.
 For an afternoon of quiet reflection, plump up the array of pillows on the Sunset Point Shelter Bed. When you have an impulse to organize things beautifully, the commodious, yet graceful, Display Cabinet will inspire you with its multiple shelves and drawers.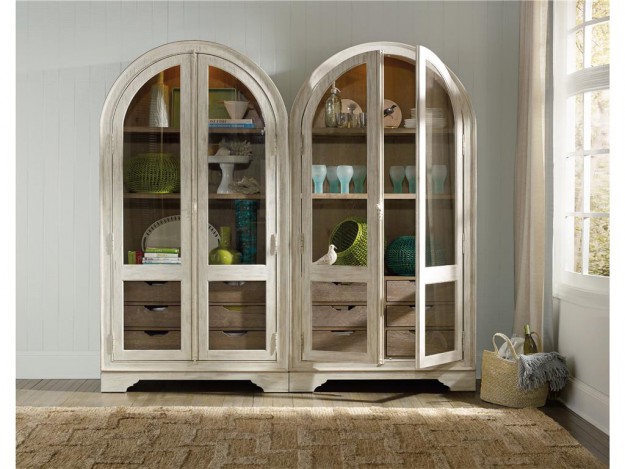 Use in the dining room for all your china and flatware, or anywhere in your home for sophisticated storage.
Enjoy more of the insight and vision of Tricia Foley's serene white world at triciafoley.com.