Romantic style doesn't just mean lovey-dovey.
First seen in the works of early 18th Century English poets Byron and Shelley, Romantic style celebrates nature's wild, exuberant side.
As seen in the Rafferty Console from the Melange Collection with its wonderfully organic-looking texture, you can easily capture this spirit and bring the great outdoors in.
My perennial favorite approach is to combine natural accents with furnishings that combine sinuous vines with rustic angles.
This romanticized view of nature was springing up all over the most recent High Point furniture Market, a trend that says we are looking for more organic shapes and soothing hues at home.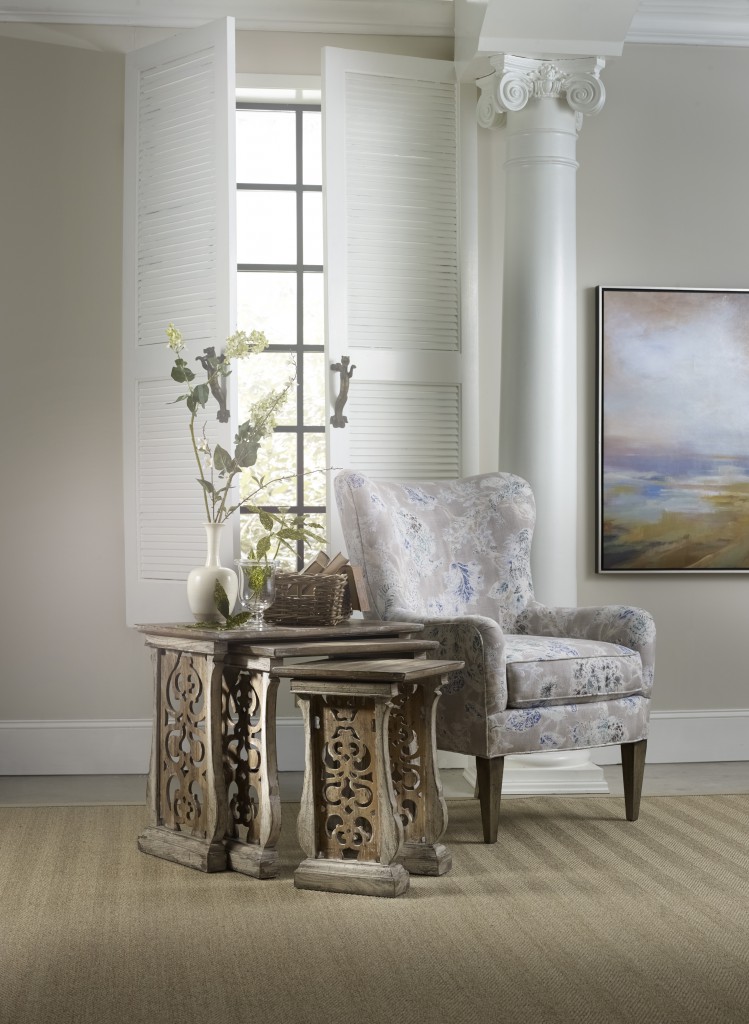 Hooker Furniture was ahead of this curve, with introductions such as the nest of tables, above, from their popular Chatelet Collection.
To create nature-inspired romantic style, combine delicate, cool colors and earthy natural motifs for a fresh-air feeling, even if you're stuck inside with the A/C cranked.
I find that when you anchor pale greens, blues and other pastels with branch-brown and earthy black, they're chic and timeless. Wood textures in pale washes and with curly tendril designs also invoke the spirit of growth.
The curvy-legged Sanctuary Round Cocktail Table carries the spirited nature-inspired romantic style theme year-round.
The 36-inch round Harmony Mirror is framed in rope. Organic and natural, it strikes a perfect chord in any decorating plan.
Nature-inspired pieces don't just add a fresh look to our rooms. Their deeper beauty can be in how and where they're made. For example, Hooker Furniture's family of brands has a strong Environmental Mission Statement and Goals and is committed to operating a sustainable, environmentally friendly business.