"Nothing gold can stay," wrote the poet Robert Frost.
While the golden edge of summer seems fleeting, you can make it linger longer with a few seasonal updates to your August and September decorating scheme.
You may enjoy the great outdoors on your porch even more as the humidity wanes.
First, say a fond farewell to crisp spring and summer colors such as bright white and hot fuschia, and replace them with richer tones of gold, russet, ivory, plum and deeper greens.
Bring in more copper and brass, especially in candlesticks and lanterns for extra evening warmth.
As your homegrown floral options dwindle, supplement them with the bounty of late summer harvests. I love to group fresh plums with red and purple grapes, and tuck in a few orange and yellow marigolds or mums in florist's tubes. They look regal in a copper compote or rustic in a wicker basket.
Golden and gray tones, as shown in the Webster sofa above, from Sam Moore Furniture, are elegant but easy to live with any time of year.
Updated Renaissance hues and motifs make outdoors a warm and elegant place in the late summer and early fall.
You know that mums come in so many hues, from pale blush (still in style this fall) and lavender to cinnabar and yellow, and you can use them to punch up any scheme.
But don't stop there. If your family isn't allergic, pick some feathery goldenrod, wild asters and tall, decorative grasses. If your living room or family room opens onto the porch or patio, pull all of these late-summer inspirations indoors, too.
As summer meets fall, let's just go with the flow, gracefully.
When the party starts heading indoors, ottomans are great for just a little more seating that's easy to move around.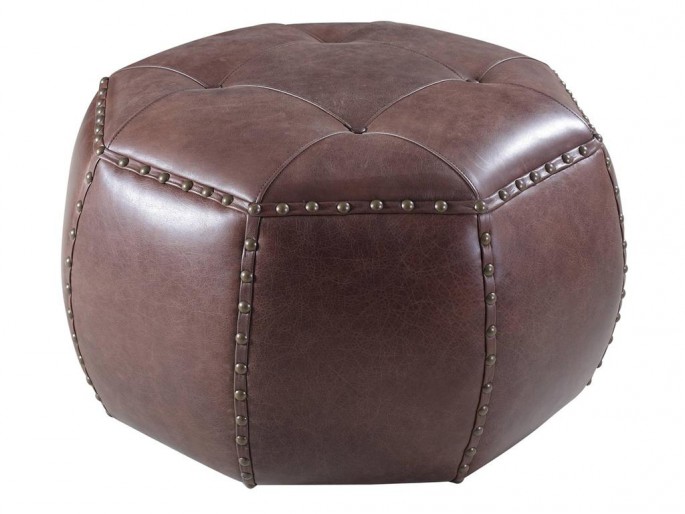 An ottoman in a handsome, hardworking leather and an eye-catching shape like the La Pedrera Octagon Ottoman is even better.
Cinnabar red is another go-to color for late summer and early fall, as shown on the pillows on the Crawford sofa above.
As your living spaces get busier in the late summer and fall, the better a round table like the Lorimer Cocktail  is to prevent bumps and keep the stuff of busy lives at our fingertips.
Capture the long, golden light of early autumn with accents in gold and brass, like the Deco Cots Console.
For instant impact and casual ease, swap in boho-inspired outdoor rugs and chair cushions in rich colors.
Oyster and spice upholstery hues balance cool and warm in style in the setting below featuring the Viewpoint round end table.
If you can't say goodbye to summer, this handsome chair will make it a little easier.
With its breezy open-arm design, dark wood and a pattern inspired by late summer's black-eyed Susans, the Sam Moore Metro Chair is the equivalent of a dark linen dress for late-summer chic that never ends.