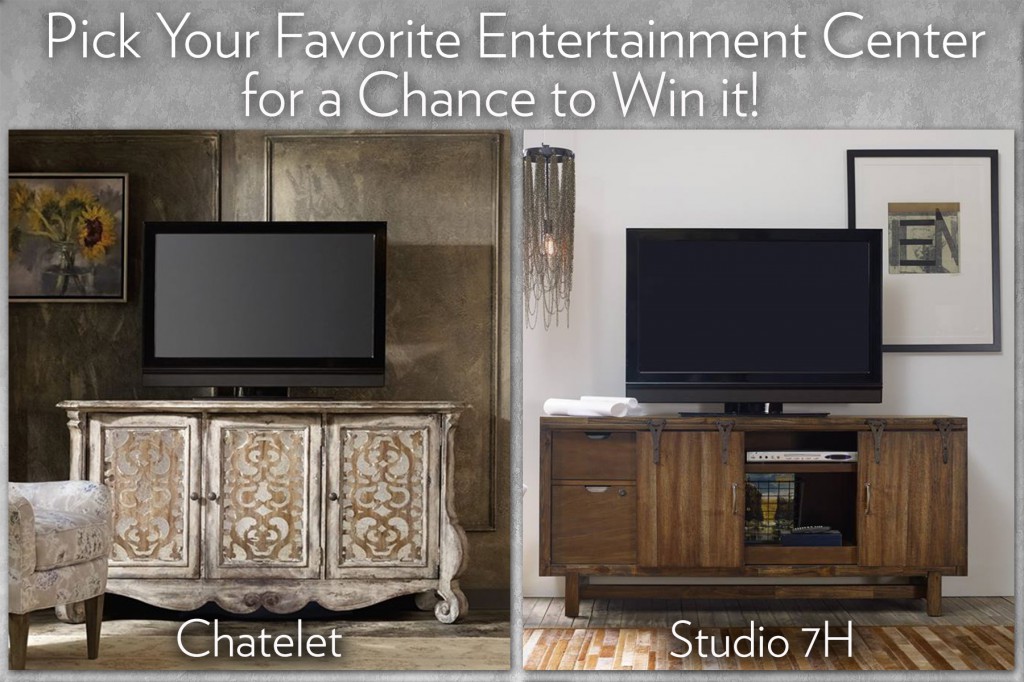 Our Studio 7H Glide Entertainment Center and Chatelet Entertainment Center  are blushing.
They are a bit humbled, but certainly flattered, by all the nice things you've had to say about them!
Once again, Hooker Furniture offered a product giveaway. We asked you to tell us which of the two entertainment centers you liked best and why that entertainment center was your favorite. You waxed poetic in your responses! We thought we'd share the love for these two distinct entertainment centers, beginning with the comments of the winner, Sherryl of Texas: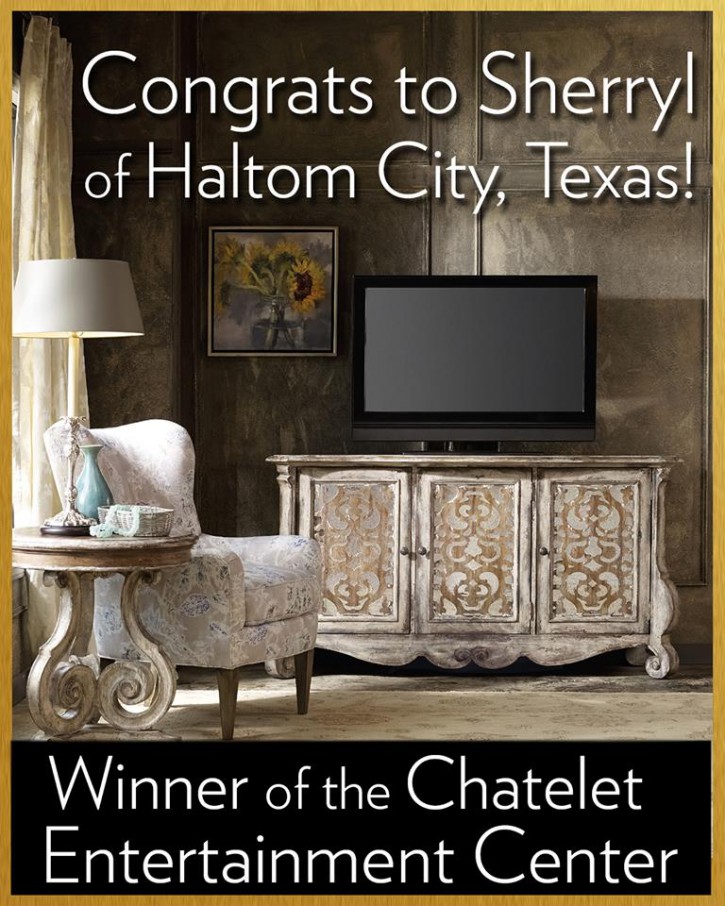 Sherryl commented that she absolutely loves the "elegant vintage Chatelet." Over the last 33 years of marriage, she and her husband have postponed nice furniture purchases in order to send their 2 children to college, and because of health issues. We are now ready to "make our home beautiful," she said. "We feel so blessed to start with the Chatelet piece!"
"I LOVE LOVE LOVE the Chatelet," said Sharon. "It speaks romance and history and fantasy; it reminds me of a castle piece."
"It has character, and it's curvy!" wrote Cheryl.
"Chatelet is stunningly beautiful and would offer a focal point for our rustic yet elegant cottage in Northern Michigan," wrote Kim.
"When I hear the word Chatelet, I close my eyes and see the streets of Paris!" wrote Donnell. "There are timeless corridors, landmarks and quaint café shops with wooden doors and scrollwork designs just underneath the slightly worn and chipped paint. I love the old world charm! I wouldn't be able to stop staring at the Chatelet entertainment center!
Studio 7H Glide Entertainment Center: Rustic Modern Appeal
While the Chatelet entertainment center awakens your romantic side, the Studio 7H Glide Entertainment Center was praised for its rustic modern look and its nostalgic appeal.
"Studio 7H without a doubt," wrote Annie. "Love the mix of Mid-Century Modern design and the rustic barn door hardware. It's a perfect piece for our eclectic décor and sturdy enough for our large family."
"I love the mix of simple lines and rustic wood grain," said Amanda. "I've already cleared a spot in my family room!"
"I love Mid-Century Modern, and Studio 7H is perfect!" said Donna. "It reminds me of the one we had when I was little. My mom played Elvis records on it."
Studio 7H also took Joan down memory lane: "The 7H is my pick because my stepfather had a big TV built into a unit like it. I was 9 and had not ever seen a color TV. It brings back a lot of good memories."
"The Studio 7H Collection is perfect for our home," said Elizabeth. "Since my husband and I have drastically different tastes, it's hard to find items we both can live with. I just showed him this and we both said, 'Bingo! That is a win in and of itself.'"