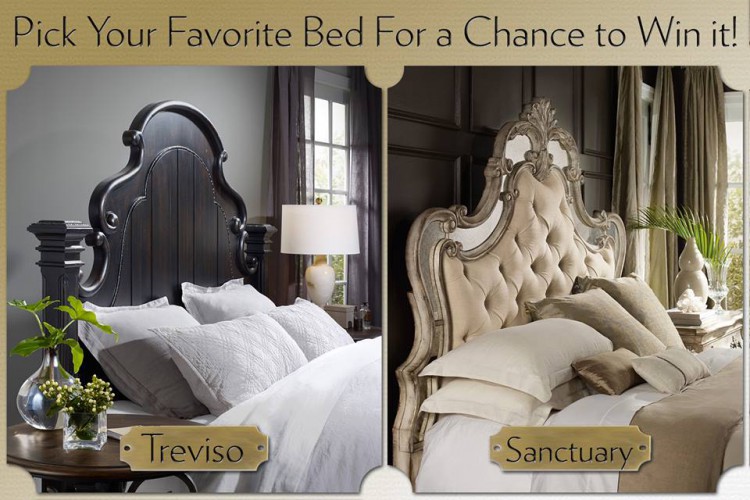 We recently asked you to pick from two of our most popular beds — The Sanctuary mirrored upholstered bed and the Treviso poster bed. One lucky person would win the bed they proclaimed as their favorite.
The fun part was, we asked for your comments about why the bed style was your favorite. Wow! Did we hear some compelling perspectives about the Treviso and Sanctuary beds! It was enlightening to see how your life  stories could be impacted and enriched by these furnishings. Your comments were so rich, that we wanted to share some with you, starting with the comment of our winner, Mary of Shelley, Idaho, who picked the Treviso bed.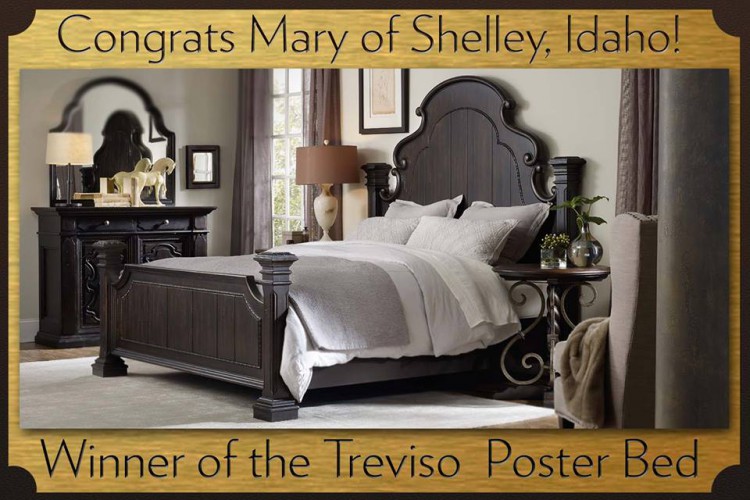 "Treviso!" she wrote. "I love it! I love the black! It would be so fun to redo our bedroom and update it, and to surprise my husband with this bed on our 36th anniversary." Now that the poster bed is on its way to Mary, she said she is "so excited to win this beautiful bed" and anticipates a special anniversary celebration.
Over 2,000 of you shared your love for the Treviso or Sanctuary beds.  Several interior designers weighed in on Treviso,  including Liz, who wrote, "As an architectural and interior designer, I can appreciate the simple clean lines, with the little flirty and curvy details at the top, as well as the dark, rich color."
The Perfect Blend of Feminine and Masculine
Several of you commented at how well balanced the Treviso bed is between feminine and masculine styling. Liz the designer said, "The Treviso bed is a perfect combination of clean masculine elements with soft and feminine elements. " Frank agreed, saying, "It is a beautiful bed with just the right amount of elegance to make the wife happy yet manly enough for me to sleep in."
Heather said "Treviso is fit for a queen and man enough for her king!"
Others appreciated the bed's Italian inspiration. "The Italian Renaissance bed is my favorite. It reminds me of the romance of Venice, the magnificent awe-inspiring artwork, the warmth and friendliness of the people, and the richness of the cuisine. Its beauty is as timeless as Italy," said Pam.
"Treviso conjures up images of a hillside stucco villa with the bedroom windows open and a cool breeze gently blowing its white curtains–an ideal spot to take a nap, recharge and awake feeling pampered and refreshed," said Kristin.
Sanctuary: A True "Princess" Bed that Soothes and Comforts
The Sanctuary bed was praised both for its fairytale quality and for its soothing, comforting effect. "I love the Sanctuary bed because this bed reminds me of being in a fairytale story," wrote Audrey. Added Mj, "I've dreamed of awakening in a bed like Sanctuary ever since I read Sleeping Beauty as a child. I had a small brass bed then and pretended, calling it my princess bed. Now, as a professional interior designer, I find little time to pamper myself, and this bed would offer that opportunity."
Others commented how the Sanctuary bed truly lives up to the meaning of its name. "Every bedroom should be your sanctuary from the outside world," wrote Ida. "The gorgeous shape, the fabric and calm color would be a welcome retreat each and every night."
"I'd rather spend 1/3 of my life in the Sanctuary bed where I'm at great peace and rest," said Lisa. "My inner storm can quickly be calmed by entering into my Sanctuary."