On the fall 2015 runways, opulent brocades and jacquards meet folkloric embroidery and furry textures for a look that's Bohemian-Haute Hippie and romantically global.
These fashion styles and colors will inspire festive home updates from now through the holidays.
Prada, Balenciaga and Chanel have brought back my favorite old-school accessory: broaches! Along with Mary Jane shoes, they signal a return to ladylike looks with a liberating angle.
I'm also thrilled that still-popular blush, pale pink and lavender have broken free of their spring-only bonds and are fall's new favorites. Pantone Color Institute says that fall's fashion line-up "weaves earthly neutrals with a range of bold color statements and patterns to reflect a landscape of hope, fun, fantasy and all things natural."
"The colors are evocative of a love for nature and a timeless appreciation for warmth and security," Pantone said.
Pantone notes that, "This fall, designers pay homage to progressive moments in American history, from the seductive '20s to the bohemian hippie and modernists of the '60s and '70s, and utilizes colors and styling that are innately easy to wear by both men and women."
"Juxtaposition of color from opposite sides of the spectrum emphasizes poise and confidence on the runway," said Leatrice Eiseman, executive director of the Panton Color Institute.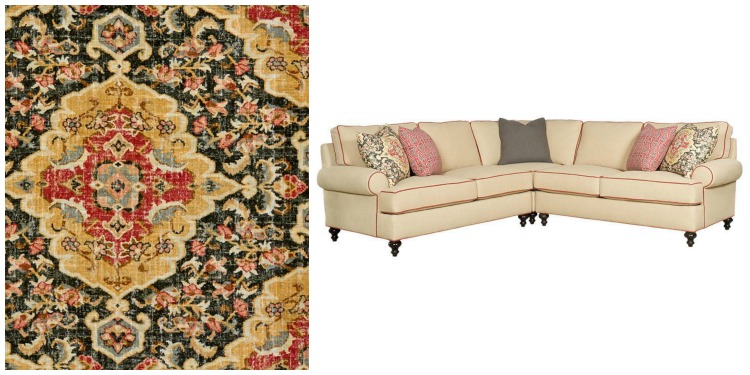 Like a sleek Bohemian look? Update your sofa or sectional with just a touch of boho as in these accent pillows in Sam Moore's Emory-Kohl fabric on the Paulina Sectional.