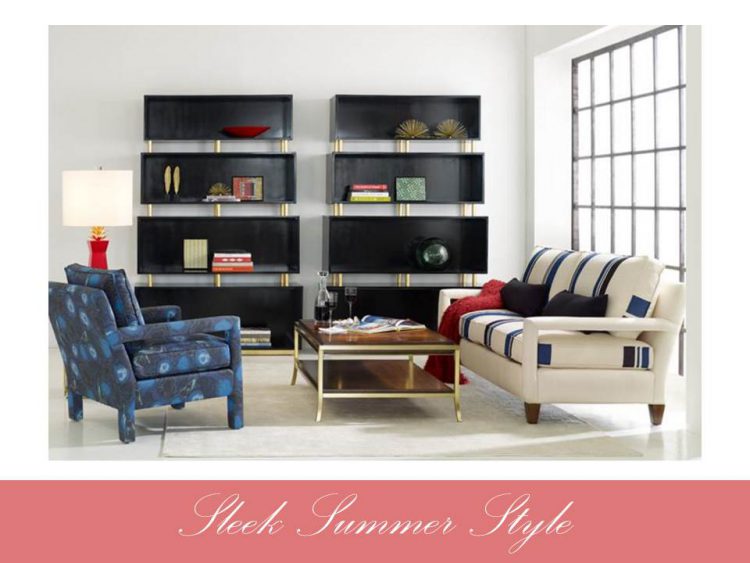 When it comes to celebrating  summer, visions of ocean-side retreats seem to reach front-of-mind.  The images of sandy beaches, crashing waves, beach blankets adorned in stripes of crisp red, white and blue, sailboats and surfers, clambakes, the scent of salt spray . . . and the desire to enjoy an easier lifestyle, all conjure up the experiences of summers past and summers to come.
As an interior designer, I've been fortunate to work with clients in some of their beach home retreats and there's definitely a desire to create fun, functional and carefree spaces. 
They want a look that is streamlined and yet, stylish.  Seaside design inspirations can come from many places, and I was so pleased to see some of the fabulous furnishings by NYC- based designer, Cynthia Rowley, who loves spending her summer in her home in Montauk, on the coast of Long Island.  You can see how this lifestyle is reflected in the Cynthia Rowley for Hooker Furniture Collection.
You don't have to reside in a coastal community to aspire to this relaxed and sleek aesthetic.  Whether it's your entire home or a single space, I'll share some great selections to incorporate into your daily living.  Grab your favorite beach chair and read along!
A great place to begin is with fabrics and finishes.  From pillows to upholstery coverings, to wood stains or painted touches, some of my favorites from Cynthia's collection are shared, below.  They have an All-American vibe with a happy, nautical twist.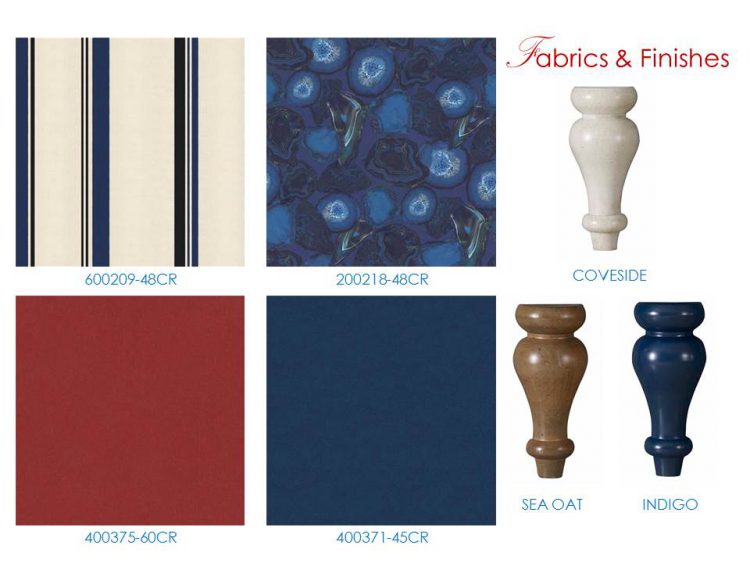 Next, think about comfort and styling.  The Varick 2 over 2 Sofa and the Ryder Chair, offer padded arms but the open design feels nice and breezy.  The punctuation of fabrics and pattern play make for the perfect pairing in a cottage setting.  Have a bit more room?  Add in the Bleecker Club Chair and the Lulu Bench for some extra seating.  The sleek designs are reminiscent of handsome yacht furnishings.  Put these all together and you're sailing towards completing a fantastic room!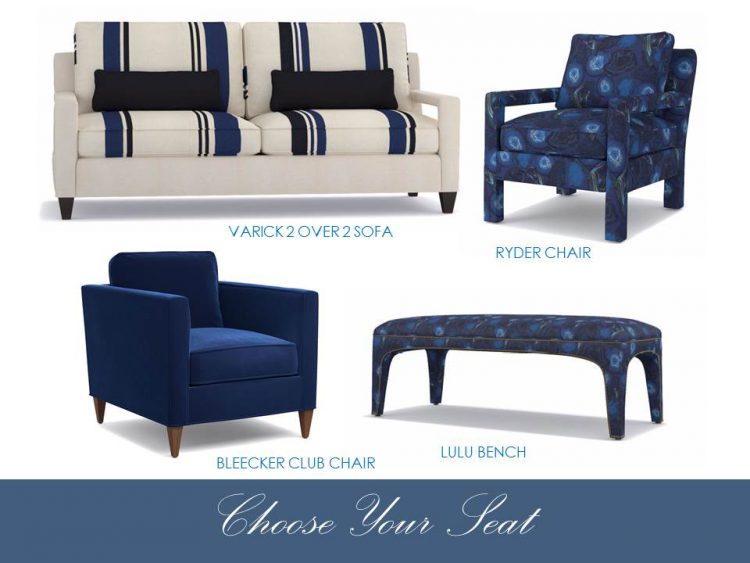 Of course, no room would be complete without a few special touches.  I've compiled a collection of original art, some new cannisters, (which look as if they were collected from a memorable voyage), and a sophisticated, white crane lamp, tossed with some lovely starfish collected from a beach stroll.  Beach décor can be both elegant and interesting.  No clutter or bric-a-brac need be included!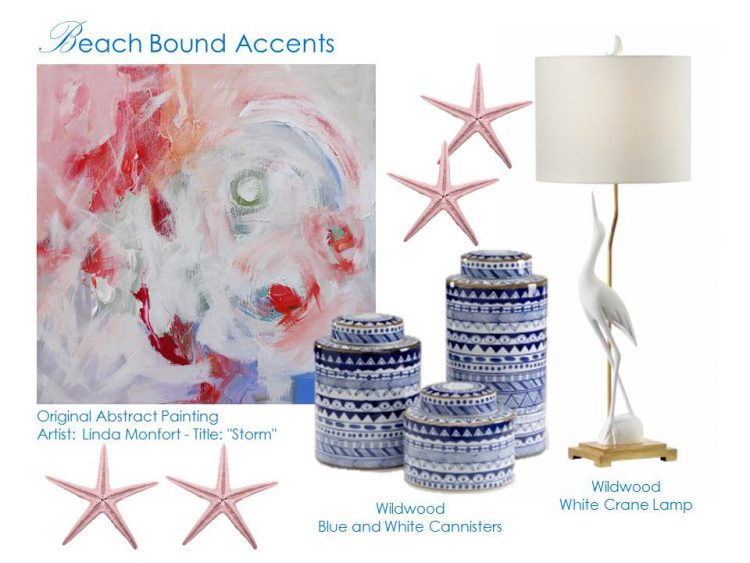 Even though there may be some beach front clambakes or oyster roasts, with guests coming for visits, having a beautiful dining space is a great idea as not all food is sand-proof.  Cynthia's dining collection, below, would fit well in either a full-scale home or in an ocean villa, or even a condo overlooking the sound.  It's a gorgeous blend of wood, fabric, and texture! The Long Board Rectangular Dining Table, featured in the room, below, begins at 78" in length and extends to an entertainment-worthy 118" with two, 20" boards.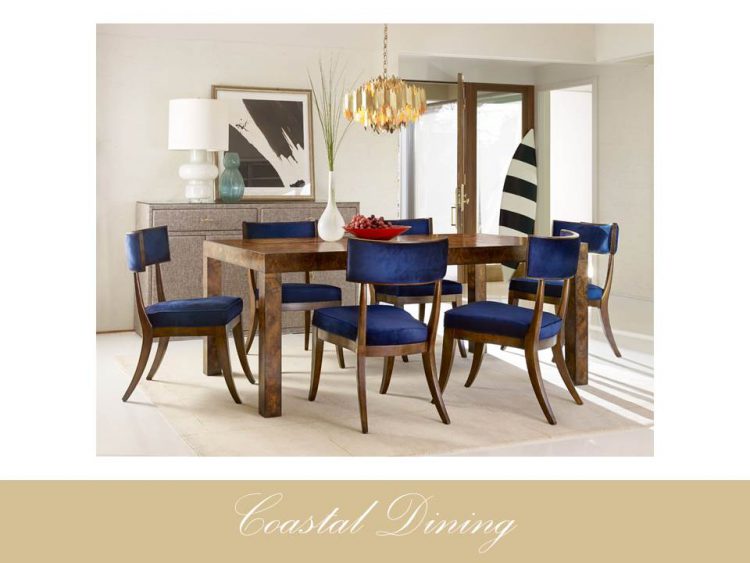 I especially love this Resort Fabric Covered Sideboard, accented with Cynthia's signature brass and glass pulls.  It's topped in glass for easy maintenance and the neutral tone makes it a great canvas backdrop to the rest of her pieces.  At 68" in width, it makes a subtle statement, provides major storage, and would be a "must-have" item on my shopping list for a dining area.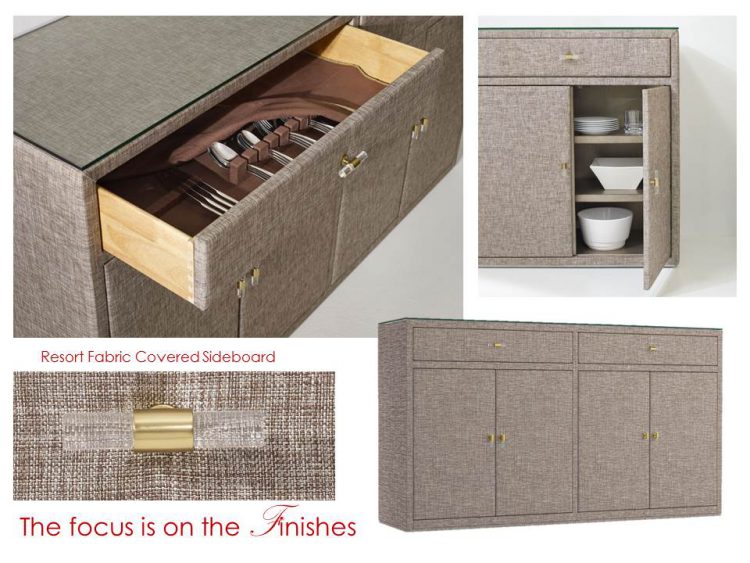 The Perch Upholstered Klismos Chair and the Scoop Wood Klismos Chair offer the same curved shaping but with the option to go with or without fabric, depending on your preference. 
To keep your dining area from feeling too precious for use, encourage gatherings with casual accents from my Seaside Sources.  A container for beverages, which feels like it's been spun out of sea glass, a ship-shape light fixture, some vintage oars to be grouped on a wall, some textured rugs . . . they bring the essence of a laid-back lifestyle.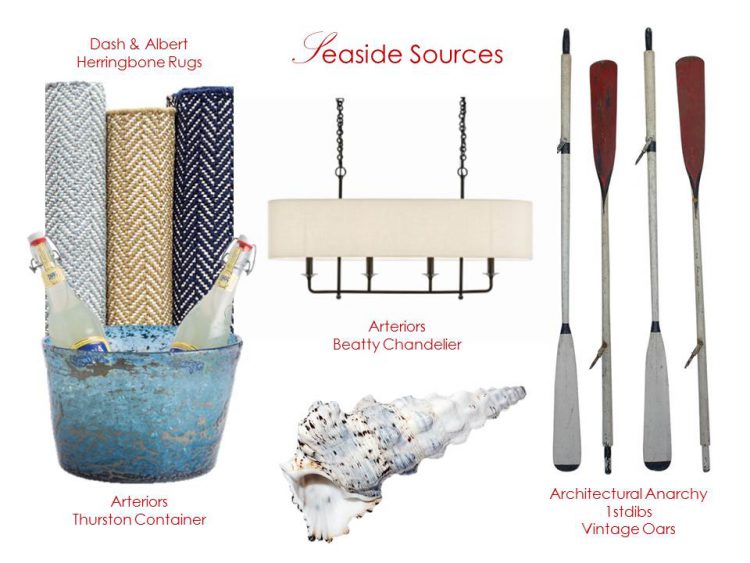 After a sun-filled day, lounging by the water's side or on a boat – or even the golf-course – it will be time to enjoy the lull of the surf to take you off to sleep.  I always think I rest better when I'm at beach, especially if the sleeping quarters are nicely designed to allow for comfort.  A padded headboard makes for a great resting spot to do some nighttime reading or planning the next day's adventure, before nodding off.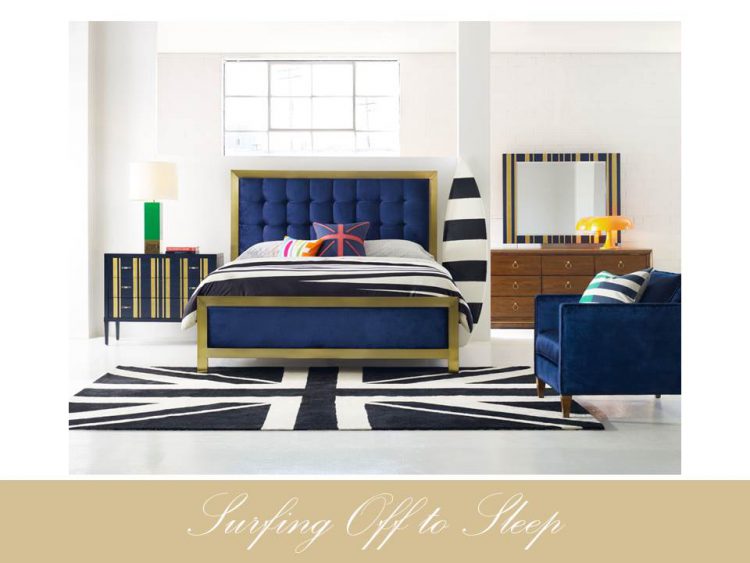 It's also a nice to awaken to some sunny, tailored pieces surrounding me in the morning's light.  Cynthia pulled together this collection with great thought and intention.  The Balthazar King Upholstered Bed, the Parker Striped Bachelor's Chest and the Roman Nine-Drawer Dresser play well off of one another – a great love of Cynthia's when it comes to her time away from the office.  It's all about family and playtime.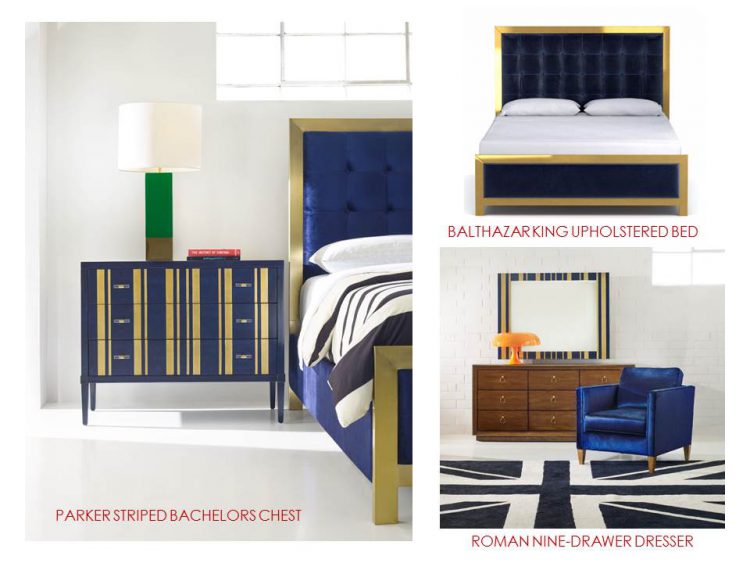 Whether it's about creature comforts for the two-legged or four-legged household members, there are many options for creating seaside interiors.  Think of what has meaning to you and the experiences you want to share with your family and friends as you make your selections.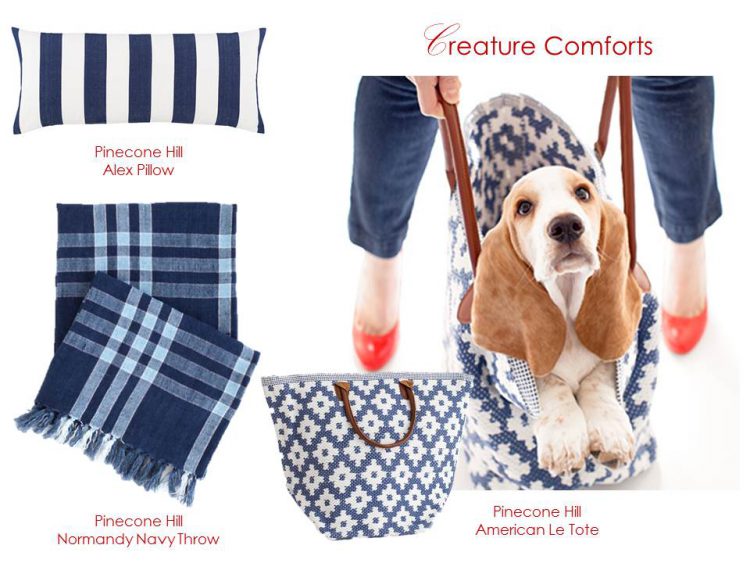 Happy summer, and safe seaside visits to you!