During the month of July, American pride flies extra high because that's when we salute our nation's independence. But why not celebrate the American spirit year-round, too? It's easy to do. Here are eight delightful (and delicious) ways to bring American style home.
With its mix of small town charm and big city chic design elements, the American Life Crafted 54-inch Round Dining Table and Crafted Leather Dining Arm and  Side Chairs create a cozy–but dressed up — furniture dining space for entertaining in the relaxed but stylish ways we Americans like. 
Crafted of walnut and hickory with showstopper reversible door panels (in wood or burlap), the American Life Roslyn County buffet evokes memories of life in America's Heartland during simpler times. Yet this heirloom quality piece is also made for how we live today. Open it and you'll find a spacious storage area which includes two drawers (one with a drop-in felt silverware tray and the other with a drop-in felt liner) and a ventilated back for use with electronics.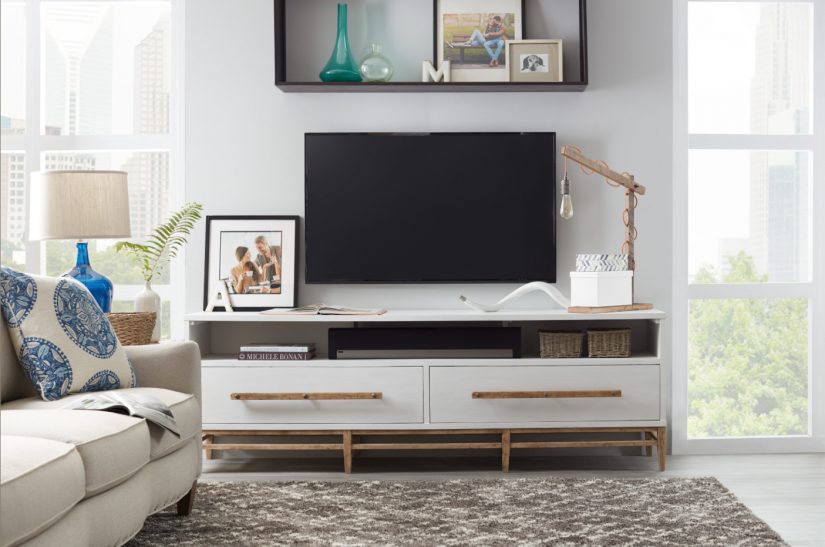 Entertain the softer side of modern. Hooker Furniture
The Urban Elevation low entertainment console goes all in on the trend of livable style—a distinct American design point-of-view. Crafted of re-sawn maple in a natural wood and creamy white finish, this is a on-trend home entertainment storage piece that's contemporary yet not cold.
Although filled with ornate carvings inspired by an antique desk spotted by Hooker Furniture designers in the lobby of an iconic Austin hotel, the Hill Country Floresville Bachelors Chest  is anything but old-fashioned and fussy. It has an airy, somewhat modern furniture feel derived from the flat-cut rustic white oak veneer from which it's made that's finished in a light hue akin to native Texas sandstone.
Red, white and blue flowering plants in rustic containers like these painted sap buckets, add pops of flag-inspired color to patios, porches and sidewalks. 
Put a twist on star-gazing, a classic summer past-time, with a DIY project that enables guests to look up -or down- on their constellation quest. Spray grass lightly with water. Place stencil on grass, then use a flour sifter to fill the shape with flour. Remove stencil and repeat.
Nothing says Summer like homemade ice cream, especially when flavored with an unexpected fruit that's picked fresh from the orchard. One taste of this ice cream will take you back to childhood days spent playing outside and sampling nature's bounty.
from "The Perfect Scoop"
by David Lebovitz
Makes about 1 quart (1l)
If you're lucky enough to live in an area where fresh apricots are bountiful in the summer, be sure to take advantage of their fleeting season by churning up a batch of this ice cream. Don't be put off by apricots that are über-soft, as plump and fragile as an overfilled water balloon, seemingly ready to burst at the slightest touch. Those are the best-tasting fruits.
1 pound (450 g) squishy-ripe fresh apricots (10 to 15, depending on size)
1/2 cup (125 ml) water
1/2 cup (100 g) sugar
1 cup (250 ml) heavy cream
3 drops pure almond extract
A few drops freshly squeezed lemon juice
Slice open the apricots and remove the pits, then cut each apricot into sixths. Place the apricot pieces with the water in a medium, nonreactive saucepan. Cover and cook over medium heat, stirring occasionally, until the apricots are tender, about 8 minutes. Remove from the heat and stir in the sugar until dissolved. Let cool to room temperature.

Once cooled, puree the apricots and any liquid in a blender or food processor until smooth. Taste a big spoonful; if there are any small fibers, press the mixture through a mesh strainer to remove them. Stir in the cream, almond extract, and lemon juice.

Chill the mixture thoroughly in the refrigerator, then freeze it in your ice cream maker according to the manufacturer's instructions.
Credit: Reprinted with permission from "The Perfect Scoop" Revised and Updated copyright © 2018 by David Lebovitz. Published by Ten Speed Press, an imprint of Penguin Random House LLC. Photographs copyright © 2018 by Ed Anderson