Nothing can spur a case of spring fever quite like the month of March. With warmer days and the appearance of wildlife returning from their travels, a revival of life begins to stir, replacing the slumber of winter with a buzz of activity and all the joy that spring can bring.
The need for feeling connected with the outdoors draws on us with enchantment; bringing inspirational ideas into the creative process, while encouraging us to become a part of the bustle!
"Bringing the outdoors in" is a great way to incorporate imagination and detail into your interior surroundings. The natural appeal and vibrant colors that spring decor offer can transition the look and feel of your home into an synergetic complement of what we love about nature.
Start by creating an entrance
The front entrance of your home can be a wonderful reference point for creating a spring theme. Textures and patterns played up with vivacious colors, natural accents, and exquisite flower combinations can bring prominence and distinction to your entryway.
Spring wreaths can add just the right amount of detail and tempo, informing company of all they need to know just in a glance.
And if you can't find what you are looking for, Sacksteder's Interiors offers custom floral design.
Bird is the word in style this season, and you can find plenty of choices in home decor with bird motifs, like this Kenly carved wood accent chair from Sam Moore Furniture. As we start to welcome back our feathered friends; consider using bird accents and configurations as part of a stylish spring theme that you will not only enjoy through the season, but even into the summer months as well.
Adding multiple layers into your design with decorative pillows and animal accents can take your combination to an artistry level; adding depth to your style. A character rich theme will start to come alive; welcoming the outdoors into your home.
House your favorite spring decor with everyday wares in an open, well lit display cabinet like this Primrose Hill cabinet from Hooker Furniture.
Having a suitable place to display your pieces to make them sparkle and shine is essential in creating a polished designer look for your home.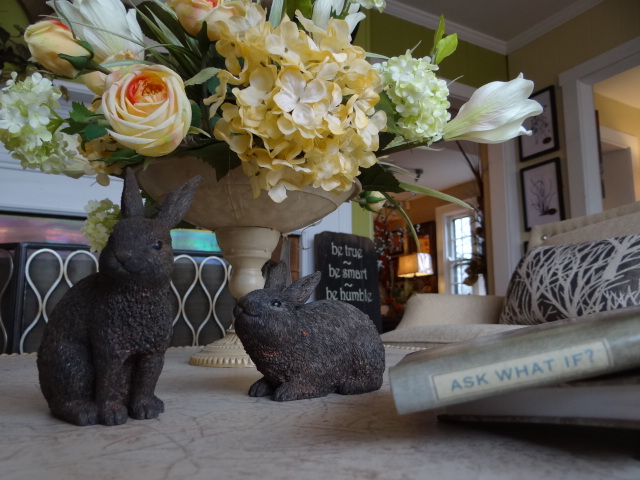 Cleaning up your flower beds and creating cozy nooks for lounging outside can be a great start to curing a case of spring fever. But be sure to include in your early spring routine a combination of floral wreaths, animal statuary, and other springy accents to help bring the sunshine in- washing away the winter woes!