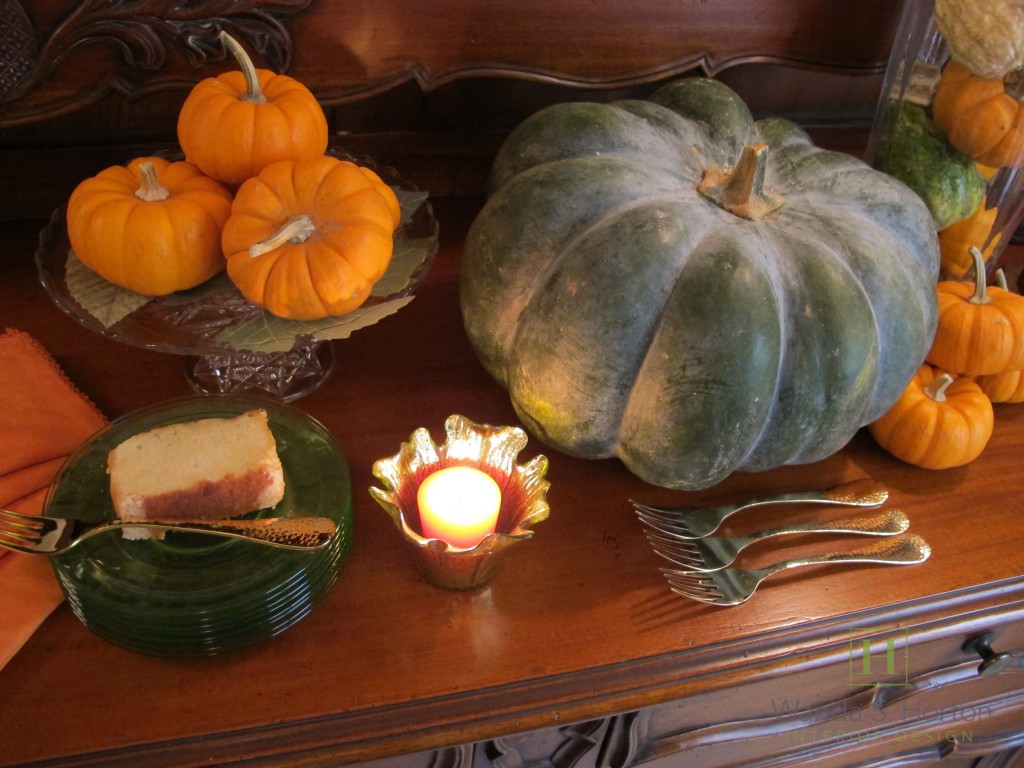 A table laden with dishes handed down from the family recipe book . . . Grandma's coconut cake or your favorite aunt's oyster dressing.  Lunch served precisely at noon.  Dinner perfectly set with heirloom china and crystal.  The kids nudged outdoors to burn off pent-up energy with a game of touch football.  For some, this may seem to be a familiar scene as family Thanksgiving traditions are carried forth from year-to-year.  For others, this could be more akin to a movie script or a scene from Norman Rockwell.
The reality of the American family has transitioned beyond these traditional and idealistic images.  There are more single heads of the household as well as extended family living arrangements.  Members have been spread across the country and beyond, so the Thanksgiving table may include more than the nucleus of just relatives.  Sometimes the meal even travels to other places.  Breaking the mold simply means a different twist on how we share our time and thanks together!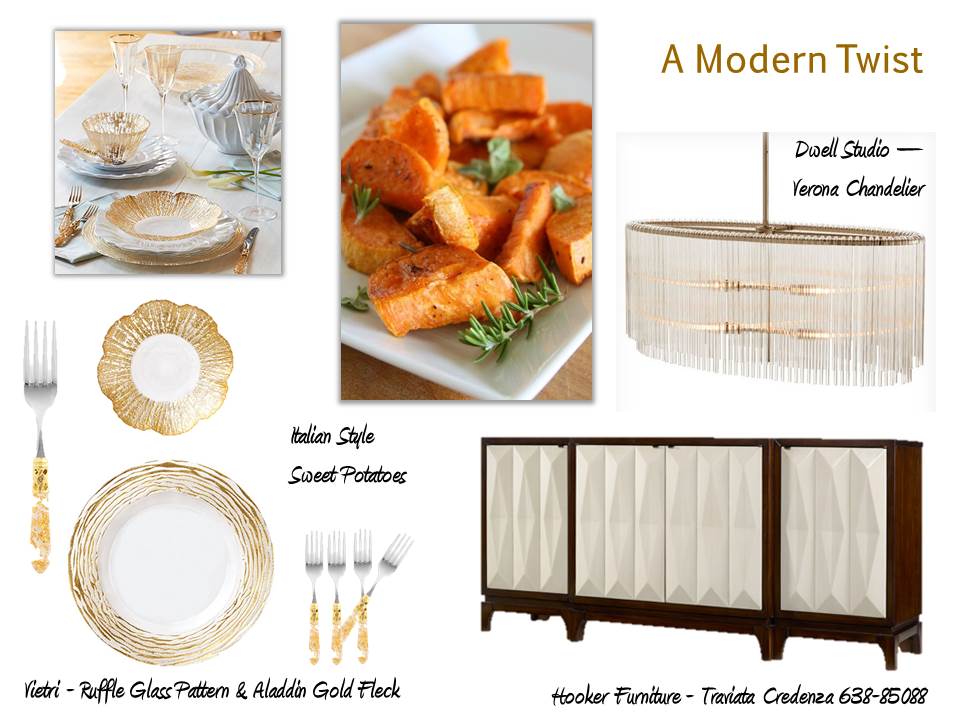 Our dwellings also are changing.  For some, a lifestyle of moving from city to city may make apartment living or rentals more appealing, allowing for less of a long-term commitment.  If you live in suburbia, this may seem a bit different, but if you're in New York City or LA, it's quite commonplace.  It doesn't lessen the desire to express oneself through interior design, though.  In fact, furniture with architectural design elements like the Traviata Credenza offers an attractive way to personalize the home.  If the square footage is limited, larger but multifunctional credenza pieces bring forth the best of both worlds.
The Traviata Credenza from Hooker Furniture is a triple-threat when it comes to design.  Stunning architectural features, ample storage and the perfect surface for serving buffet style are a few of its charms.  Above it, add a mirror, a painting or a wall sculpture to complete your look.
Because our world is different, rather than planning for a sit-down meal, think of creating a different kind of event.   Dining "stations" or places for guests to fill their plates.  Go buffet style to make it easier to invite someone who may not have a regular place to be without creating the feeling you've had to squeeze-in a last minute place-setting around your table.  You'll still be able to showcase your best china but you'll also have the option to keep it simple and to focus on the people with whom you're sharing your home and heart.
The Rhapsody Urn Console provides a stately presence for several spaces in your home.  With buffet style dining, food can be presented in multiple areas.  I personally love grouping desserts and coffee in their own spot.  I've used pieces like the Wakefield Drop-Leaf Table behind a floating sofa and when it's time for a party, the leaves are opened for expanded service.  I love the lower shelf as it can hold extra dinnerware and napkins so you don't have to run back and forth to other storage pantries.  For bottle openers and corkscrews, there's even a handy drawer!
Of course, there are many other ways you can share a special Thanksgiving with a different twist on tradition.  Look around to see if there is someone in your neighborhood who may not be able to travel, or due to their circumstances, are a little isolated from family.  If you think they may be more comfortable at home, pack a special "to-go" dinner and include a beautiful card, with place-mats and napkins, to bring a smile to their day.  Adopt a family in need and take a box filled with food for a complete dinner.  If you find yourself alone for the holiday, volunteer to spend it serving a meal at your local shelter.  While you're there, find out what their needs might be, all year-long.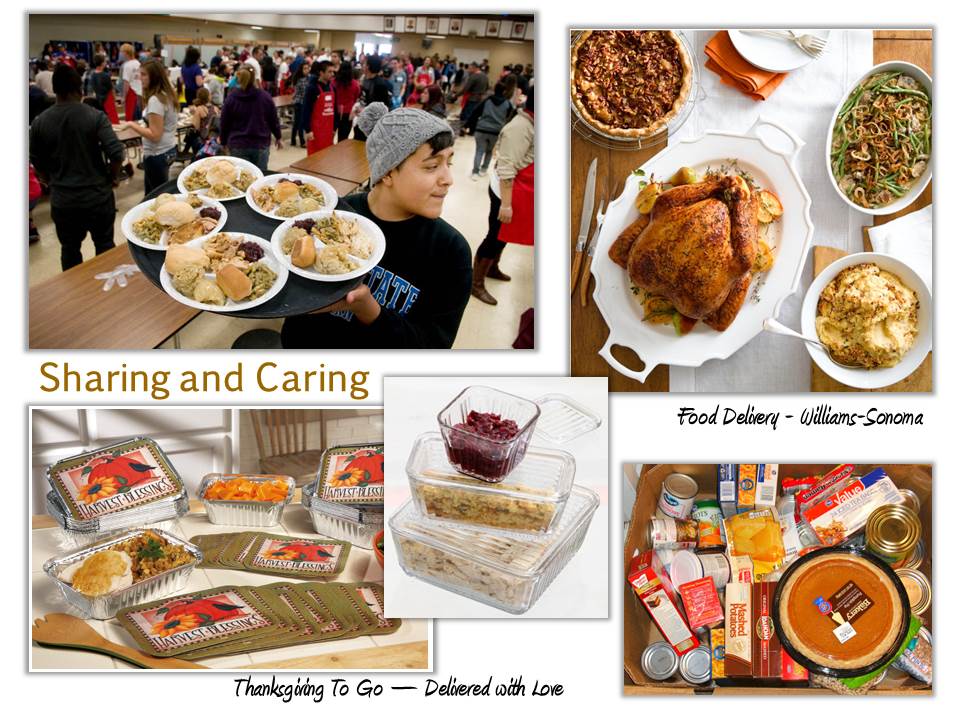 No matter where or how you plan to celebrate, may your Thanksgiving be filled with blessings and gratitude! If you're like us, you're reflecting on how to put the "giving" into Thanksgiving in fresh and new ways.  Thank you for sharing your time with us.