These days numerous people work from home. Many times a separate room in the house is preferred for just that. But who says you really need a separate, designated space? I've made do for quite a while with four standard pieces. They include my dining room table, a secretary desk, a letter box desk organizer and a file box. Don't get me wrong, I've tried the home office route in my previous home. Right now, I do not have the room for a separate office but I've made it work for me and have no regrets. I don't miss my former home office since it basically became a dumping ground for the entire household. By the time we moved out it was more of a storage closet than an office!
Having my office out in the open has forced me to become more organized and much more efficient. I use the dining room table as my desktop. As I work I have a large area to spread out and work on. When I'm done for the day everything is stored in my secretary desk.
My dining room is a typical dining room. A large buffet takes up one wall and there is an original built-in in the corner. My secretary desk is situated in the opposite corner.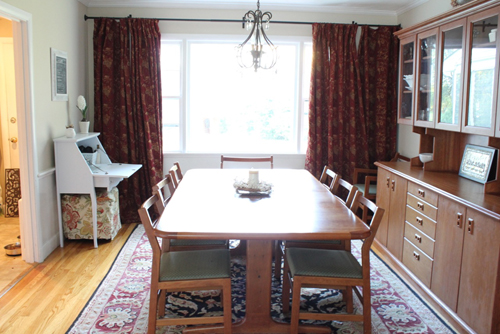 Dining room serves multiple functions
I typically work at the end of the table near the secretary desk, a yard sale find which I repainted and altered a bit to work for me. You can see more about that project on my blog, No. 29 Design. During off-hours my laptop, paperwork and anything else I'm using at the moment go back in the desk. The desk closes up and it is back to being a decorative secretary desk again.
For all the paperwork that a family of five generates, I have a letter box desk organizer on a section of my kitchen counter. The cabinets above and below the counter in this section of the kitchen hold office supplies, cookbooks, crayons, crafts supplies and paper. On the counter itself is the letter box organizer and the phone charger. It is right next to the door leading to my dining room so I'm not running all over the place filing papers!
I have a folder for each of my children in this organizer. Any active paperwork that I get for them from school, sports or other activities goes in there. If it is in that organizer it means I'm still working on it. Once I'm done with something I either throw it away or place it in the file box next to my desk. This file box is for bills, receipts, medical records, etc. It sits next to my secretary desk but you would never know that since I actually hide it behind the curtains!
I have a chalkboard to do list above my secretary desk which helps me stay efficient as well. This setup has worked well for me. I have dreams one day of redoing my kitchen and creating a built-in desk area for all my needs. Until then I am quite happy with my system.
Finding pieces of furniture that fit your style and needs can eliminate the need for a dedicated home office and let you blend work and home life seamlessly.
Start off with some storage, such as a furniture piece from the Workwell line from Hooker Furniture. A piece like the Kinsey utility cabinet can hold all your office needs but fit in nicely in a living room, hallway, bedroom or family room. With enough room to hold supplies, files, printers, fax machines, laptops when not in use… The list is endless. This could be your command central furniture piece and a great starting point in creating your office-less home office. I can easily see a wall mounted flat screen television placed above this piece in my own living room. Or, a flat-screen TV can easily sit on top of this piece as it is TV-ready.
Add the Bennett X-Base writing desk behind your living room sofa as a sofa table during non- work hours, then as a dependable desk when you are being productive. There are a number of designs to choose from to fit you needs and style. Take a look at Hooker Furniture's Home Office line for more ideas for your own home.