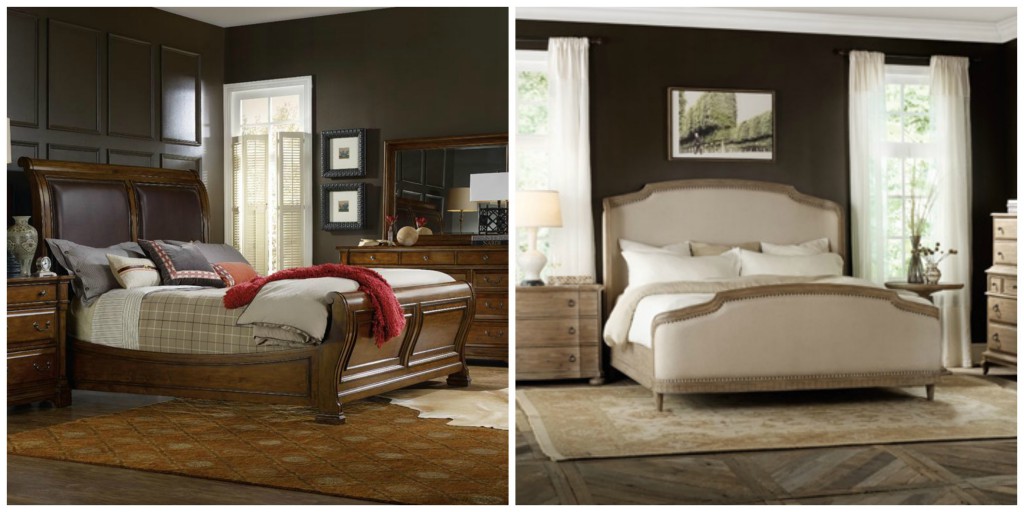 What's your style? Can you describe in a couple words what you are drawn to when decorating a room?
Do you like clean lines? Do you follow a neutral color palette with the occasional pop of color as seen in the Corsica Upholstered Bed, above right?
Or do you gravitate to traditional, rich European looks as in the Tynecastle Bed above?
How do your style preferences impact your bedroom furniture design?
While keeping to your design aesthetic, here are some bedroom ideas to create a cozy and relaxing space, whether your style is modern, traditional or eclectic.
If your design approach is minimalist, then modern design is your style.
The assortment above includes the Hooker Furniture Bukhara Bed, the Homeware Aaliyah Geometric Rug, the Hooker Furniture Bukhara Dresser, the Homeware Rendre Table Lamp, the Hooker Furniture Palisade Mirror the Bradington-Young Lola Stationary Chair and the Hooker Furniture Accent Table.
If your style is a bit more traditional, then you appreciate detailed woodwork, classic furniture pieces and symmetrical furniture arrangements, and your dream bedroom might look something like this:
Rich color is abundant in the form of upholstery and window treatments. Patterns mix and match well, from the rugs to the fabrics. You crave a calm, cozy, inviting space.
The traditional dream room assortment above includes the Hooker Furniture Corsica Upholstered Bed, the Homeware Sadie Powder Blue Tribal Rug, the Hooker Furniture Sanctuary Dresser, the Homeware Ayra Wood Table Lamp, the Sam Moore Furniture Aunt Jane Chair & Ottoman and the Hooker Furniture Melange Bella Table.
Or, perhaps your style is somewhere in between modern and traditional and you prefer an eclectic style. Eclectic is a true example of you. It is a mix of things you like best.
In eclectic decorating, a fine balance needs to be created between old and new and various styles, scale and color. If done correctly, you can create a space that speaks volumes about who you are. If done incorrectly, your space might end up looking like a yard sale!
When creating an eclectic bedroom, remember to keep in mind a relaxing space that tells a story of who you are, a space that might look something like the assortment of furnishings above. This assortment includes: the Homeware Nevelle Upholstered Bed, the Homeware Fatima Orange Stripe Rug, the Homeware Beaded Ceramic Table Lamp, the Hooker Furniture Corsica Mirror, the Sam Moore Kenly Chair and the Hooker Furniture Corsica Bedside Table.
Do you crave clean lines or tranquility? Is a more predictable space the one for you, or do you like a bit of a mix? What's your style?