To live within a short drive of one of the world's top destination cities is a beautiful gift.
While others may make extensive travel plans, I'm able to pack a few bags and head down the highway to Charleston, South Carolina for a "beauty and bliss" experience.
Whether I'm enjoying a walk on the waterfront or a stroll down the cobblestone streets with historic dwellings graced by overflowing flower boxes, it's a place where I find sanctuary.
There's a genteel and mannerly cadence within this graceful city, and many architectural details to take in.
There are also many influences from around the world due to the vast number of folks from different countries who came to settle the early colonies and continue to visit, to this day.
Charleston was founded in 1670 by English colonists, and it evolved from being mostly a seaport to become a city of great wealth, with many of the exquisite mansions having been built for tycoons of trade and agriculture.  Some of them are open for touring, and while cameras may not be allowed inside, you can take your time to appreciate the historic collections still intact within their walls.  I particularly enjoyed being able to see the Calhoun Mansion during this trip.  The current owner offers visitors the incredible opportunity to view the original Louis Comfort Tiffany lighting and painting, along with Wedgewood and Russian chandeliers.
The Sanctuary Fretwork Chest, above, brings forth a similar motif to the entry floor tile in the Calhoun Mansion.
While I was in town for some touring, I also attended a conference. Our luncheon was located in the elegant William Aiken House. Chock full of antiques, it was refreshing to see rooms adorned in crisp colors, to keep them from feeling stuffy. The South Carolina pine floors and the time-loved patina reminded me of a favorite furniture piece found in the Sanctuary Collection by Hooker Furniture –so aptly named.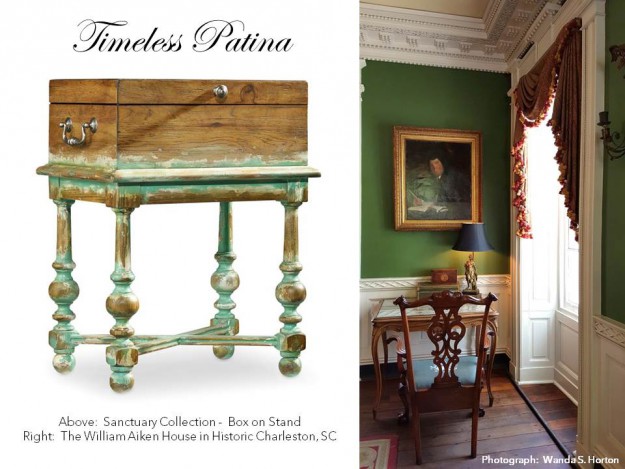 You can see how at home the Sanctuary Box on Stand side piece would be in this historical dwelling. It captures all of the elements of yesteryear while it timelessly transitions into today's homes. The legs emulate the balusters found on so many Charleston areas porches.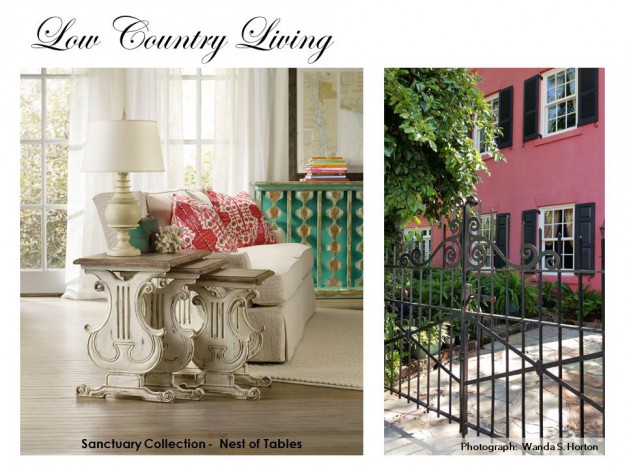 Not all of Charleston interiors are made up of family antiques. Mixing in touches of modern art and new furnishings are also part of the norm for this sophisticated city. there many be a reference to certain traditional shapes of designs, such as the Sanctuary Collection's Nest of Tables connecting back to the scrolled, iron gates, but the look is lighter and more playful.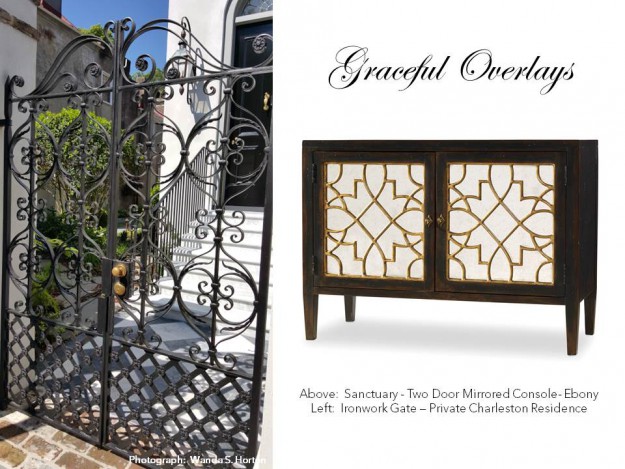 Charleston could almost be called the "City of Gates," as there are so many different varieties on display. The iron versions provide great inspiration for pattern mixes. The overlay on the Two Door Mirrored Console could easily be adapted into a magnificent entryway. Since so many residences front on busy streets, the gates give the inhabitants a bit of privacy while allowing a glimpse into their beautiful courtyards–a private sanctuary to be cherished.
After a long day of presentations and touring, the Mills House Hotel was just the place to rest. Although it's not as old as many of the other lodges or bed and breakfasts, it blends in with its style and panache. Being that it's located in the heart of the downtown restaurant  and shopping district, as well as a close walk to area neighborhoods, it made enjoying the city so fun and convenient.
 No matter how tiny the spot, Charlestonians know how to enhance every little nook.  I was able to capture the photo, above, through a garden gate.  Even the window boxes are planted to their fullest capacities.  In all of the heat of the summer, I'm amazed at the exuberance with which they bloom.  You can tell the pride of a city by its caretakers!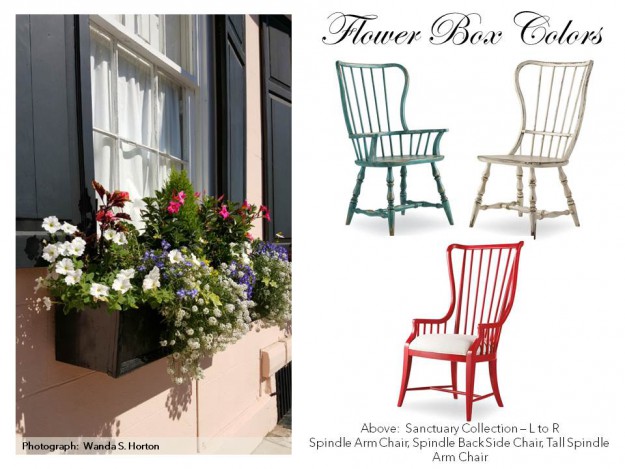 The Sanctuary Collection Spindle Arm and Side Chairs would be lovely "planted" around a dining table, don't you think?
Spring is certainly one of the loveliest times of the year to visit this antebellum city.  The gardens are at their finest and it's a bit less steamy for walking around.  Within about thirty minutes to an hour, there are many other surrounding islands and inlets to visit.  From refined to rustic, you can find yourself feeling as if you've had multiple retreats.  The Sanctuary, on Kiawah Island, not only fronts the ocean, but there is a world class spa for being pampered.  Edisto Island is further south and if going a bit more off the grid is your style, there is very little commercial development to be found.  The area is rich in history with both Gullah/Geechee and Native American heritages.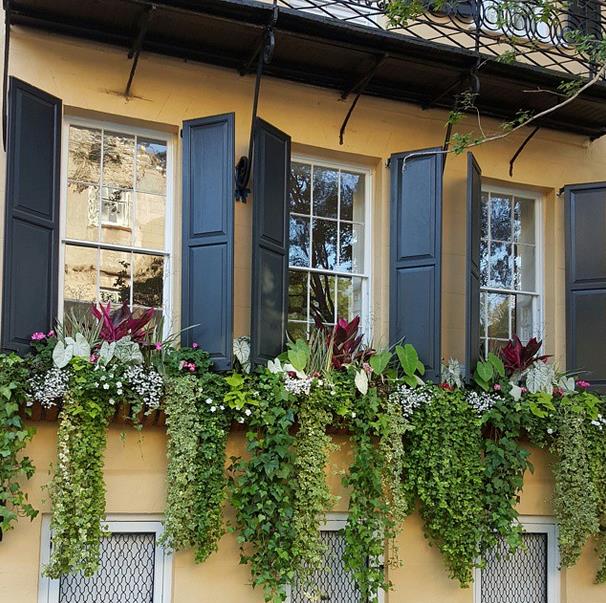 My exuberance for this city is evident and I can't wait to go back!  I'll leave you with a parting shot.  We can say "ah" together!