These days, many guys have a 'man cave'—a space in the home where they can retreat and relax among their stuff without interference from the big, bad outside world. That's something we women could benefit from as well. So let's ring the new year in with an idea whose time has come—-a man cave for her. A refuge anchored in style, this is where we and our besties can gather to watch chick flicks in peace, indulge in a well-earned snack and engage in a little fashion trash talk at the end of a long work week.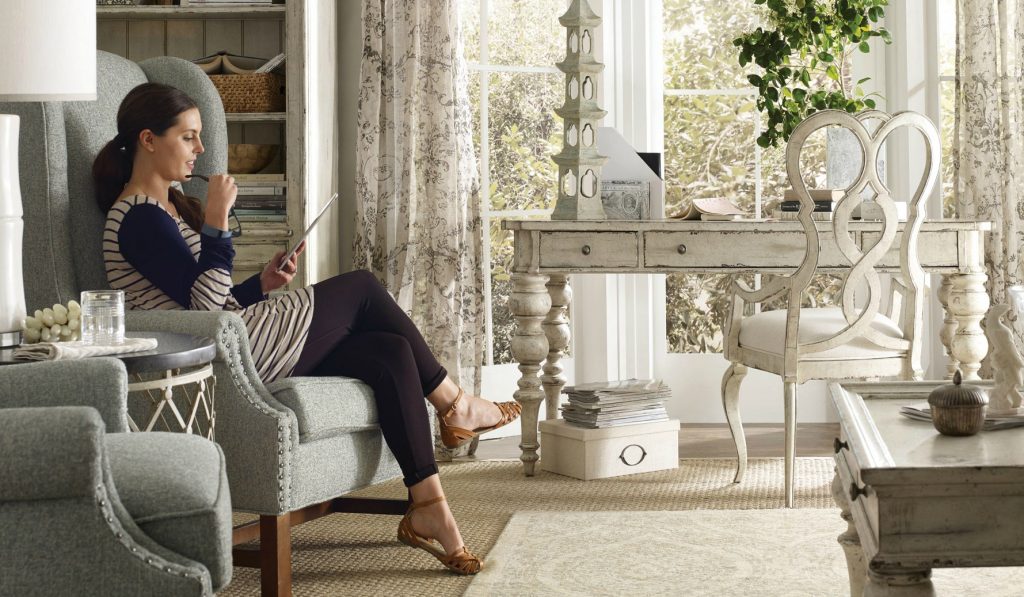 Here's what you need to create your own Man Cave for Her:
A contemporary take on a classic, the Grayston Sectional has lovely clean lines and beautiful detailing–all wrapped in luxe leather in a warm butterscotch hue.
With doors carved in a chic starburst motif, this 68″ entertainment console creates an instant focal point that draws the eye in, keeping the large-screen TV from visually dominating the room.
Upholstered in a fresh botanical print, the Kelsea wing chair invites Mother Nature to take a seat.
With its hidden swivel base, Darya  makes it easy for guests to move with the conversation without leaving their seat.
With a top comprised of four removable, reversible trays (gold-leaf on one side, all-white on the other), Cynthia Rowley's Flip Square cocktail table makes serving guests elegantly easy.
A chic space calls for a chic beverage like apple-cinnamon winter sangria.  It's made by adding dried fruit, honey, spices and brandy to a mix of red wine and club soda.
Let the guys keep their pork rinds and peanuts. Wouldn't you rather snack on something more decadent and delicious like this Caramel-Filled Double Chocolate Tartlet?
Caramel-Filled Double Chocolate Tartlets
Makes 20 (21/2-inch) round tartlets
Intensely chocolate with oozing rich caramel is the best way to describe these tartlets. A delicate cocoa pastry shell is filled with Classic Caramel Sauce then topped off with a thick layer of Bittersweet Chocolate Ganache. The first taste sensation is chocolate, followed instantly by smooth, rich caramel. It is fine to use the tip of a small paring knife or pointed small metal spatula to help release the pastry shells from the tartlet molds. To protect the smooth ganache on top of the finished tartlets, do not allow anything to touch the surface of them.
Special equipment: 36 (2  1/2-inch) round, fluted-edge tartlet pans
Cocoa Pastry Dough:
1 cup (4 1⁄4 ounces) all-purpose flour
1⁄4 cup (3⁄4 ounces) cocoa powder, natural or Dutch processed
1⁄3 cup (2 ounces) superfine sugar
1⁄8 teaspoon kosher or fine-grained sea salt
6 tablespoons (3 ounces, 3⁄4 stick) unsalted butter, chilled
1 large egg, room temperature
1 teaspoon pure vanilla extract
Briefly pulse the flour, cocoa powder, sugar, and salt in the work bowl of a food processor fitted with a steel blade. Cut the butter into small pieces and add. Pulse until the butter is cut into very tiny pieces, about 30 seconds. The texture will be sandy with very tiny lumps.
Use a fork to beat the egg and vanilla together in a small bowl. With the food processor running, pour this mixture through the feed tube. Process until the dough wraps itself around the blade, about 1 minute. Shape the dough into a flat disk and tightly wrap in a double layer of plastic wrap. Chill in the refrigerator until firm before using, about 2 hours.
Position a rack in the center of the oven and preheat to 350 degrees F. On a smooth, flat surface, roll out the pastry dough between sheets of lightly floured waxed or parchment paper to a large rectangle about 1⁄4 inch thick. Peel off the top piece of paper and brush off any excess flour. Use a 3-inch-round plain-edge cutter to cut out circles of dough. Gently lift up a dough circle and fit it into the bottom and against the sides of a tartlet pan. Place another tartlet pan on top of the dough to act as a weight as they bake. Repeat with the remaining dough circles. Gather together any scraps, roll, cut, and fit into the tartlet pan. Place the tartlet pans on a baking sheet.
Bake the shells for 8 minutes. Remove the baking sheet from the oven, remove the top tartlet pans, and return the baking sheet to the oven. Bake the tartlet shells another 8 minutes, or until set. Remove the baking sheet from the oven and cool completely on a rack. Gently tap the tartlet pans against a countertop to help remove the tartlet shells. Place them on a serving plate and cover tightly with aluminum foil.
Caramel Filling:
3⁄4 cup heavy whipping cream
1⁄2 cup (3 1⁄2 ounces) granulated sugar
2 tablespoons water
1 teaspoon honey
4 tablespoons (2 ounces, 1⁄2 stick) unsalted butter, softened
1⁄2 teaspoon pure vanilla extract
Bring the cream to a boil in a 1-quart saucepan over medium heat.
Cook the sugar, water, and honey in a 3-quart heavy-duty saucepan over high heat until the mixture comes to a boil. Brush around the inside of the pan with a damp pastry brush at the point where the sugar syrup meets the sides of the pan. Do this twice during the cooking process to prevent the sugar from crystallizing.
Cook the mixture over high heat, without stirring, until it turns amber colored, 6–8 minutes. Lower the heat to medium and slowly add the hot cream to the sugar mixture while stirring constantly. The cream will bubble and foam. Continue stirring to make sure there are no lumps. Remove the saucepan from the heat and stir in the butter until it is completely melted. Then stir in the vanilla.
Transfer the caramel sauce to a bowl, cover tightly with plastic wrap, cool slightly.
If the caramel sauce is firm, warm it until fluid in a microwave oven on low power or in the top of a double boiler over hot water. use a 1 1/2-inch ice cream scoop or a spoon to fill each pastry shell 3/4 full. Let the caramel stand at room temperature until firm or chill in the refrigerator for 30 minutes.
Bittersweet Chocolate Ganache:
6 ounces of bittersweet chocolate (66 to 72% cacao content), finely chopped
2⁄3 cup heavy whipping cream
Place the chocolate in a large bowl. Heat the cream in a small saucepan until bubbles form around the edges. Pour the cream over the chocolate and let stand for 30 seconds. Stir the cream and chocolate together with a heat-resistant spatula until completely melted and smooth. Use a 11⁄2-inch ice cream scoop or a spoon to cover the top of each tartlet with ganache, dividing it evenly among the tartlets. Place the plate of tartlets in the refrigerator to set the chocolate, for 20 minutes. Serve the tartlets at room temperature.
Keeping: Store the tartlets covered with waxed paper then tightly wrapped with aluminum foil, at room temperature, for up to 3 days.
Streamlining: The tartlet shells can be baked up to 2 days before filling. Store them at room temperature tightly wrapped in aluminum foil. Classic Caramel Sauce can be made up to a week in advance. Store it tightly covered in the refrigerator.
Photographs by Alexandra Defurio from "Caramel" by Carole Bloom, reprinted by permission of Gibbs Smith.