If you're looking for a unique way to celebrate the fourth Thursday of November this year, we suggest hosting Friendsgiving. This modern adaptation of Thanksgiving celebrates friends and encourages us to be thankful for those closest to us — friends, relatives, coworkers, neighbors and even new acquaintances. Whether you have a Friendsgiving party, a traditional Thanksgiving meal or enjoy both, these ideas will help make your event extra special. 
Try these 6 Pro Tips for the Perfect Thanksgiving:
Create a memorable invite. 

One of the best parts of an event is the anticipation, and there's no better way to build it than with an appealing invitation. Whether you choose to mail it, or go digital, your guests will enjoy opening your invite and knowing they have somewhere special to spend the holiday.
2. Gather comfortably. Once you have your guests together, the goal is to keep them relaxed, fed and entertained. Start with a dining table that fits your space and your style, then add chairs that feel both comfortable and fashionable. Our selection of friendship tables are perfect for Friendsgiving — They adjust from dining height to counter height to fit any occasion. You can even add removable leaves to expand them for the holidays and entertaining. 
A friendship table like the Crafted Friendship Table is elegant and rustic which providing a versatile dining option. Its finish is inspired by the look of a bourbon barrel burnished over time, and is accented with aluminum accents with a heavy copper patina. Adjustable in height, it's a multifunctional option designed for today's lifestyles.
3. Set an amazing table. Sure, food is the focus of Friendsgiving. But remember, a beautiful tablescape creates ambiance and lets you express your individuality. 
4. Try a new twist on a classic recipe. As you plan your menu (and remember, Friendsgiving events are typically potluck), think about new ways to serve classic favorites. Turkey: try it smoked. Potatoes: skip the mashed and roast them with rosemary. Stuffing: present it in a fun way with individual servings made in a muffin pan. 
5. Make it your own. As you plan your Friendsgiving, choose the food, music and decor that fits you and your friends. There's no right way to host this celebration — the key to making it successful is to make it your own.  Casual, formal, farmhouse or fancy … you decide what makes your event special.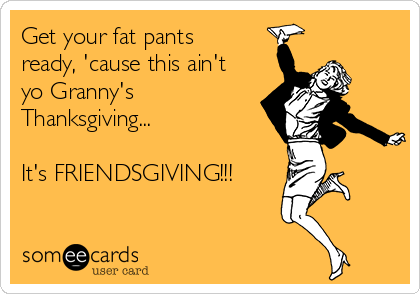 Friendsgiving, by its nature, is an alternative to the limitations of outdated traditions. Embrace your uniqueness — and that of your closest circle — by surrounding yourself with the things you enjoy most. 
6. Be thankful. Don't get so busy planning, shopping and cooking that you forget the reason for this season.