Dad and kids, it's time to turn the table on mom! Surprise her with a stylish party during the month we celebrate Mother's Day. Make the party all about her and the things she loves most– family, fun and a home filled with beautiful style.
For a fast-fix centerpiece filled with charm, go old school with a chalkboard greeting written by kids and paired with fragrant flowers in a beautiful vase.
With sturdy metal legs and a slightly distressed top, the Urban Elevation Dining Table is a modern rustic look that's both kid-friendly and party-friendly. And it comes with two 22-inch leaves, do it'll seat up to 10 guests.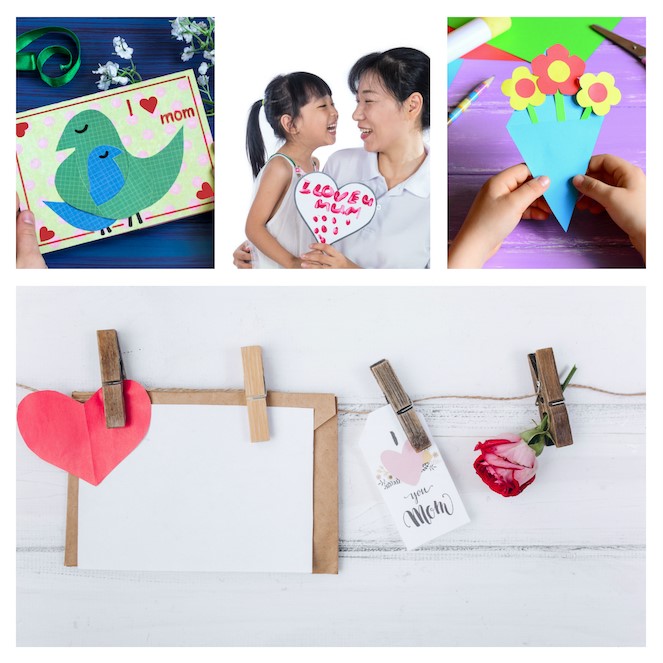 Get kids involved with top-secret DIY projects they can make in their rooms in the days leading up to the party.
With craft supplies and some creativity, kids can channel their inner decorator and give the party a true from-the-heart look. Handmade cards and bunting crafted with twine, clothespins and party keepsakes add a festive touch and are something mom is sure to adore. So are "I love Mom" signs glued to popsicle sticks which can be given to each guests to hide behind when Mom comes into the room. 
The organic shares of the Melange Nesting Tables are a nod to Mother Nature while providing a flexible amount of space for presents, cards and party snacks. 
Cupcakes evoke memories of childhood fun and are one of the trendiest desserts on the planet. No need to cook when all it takes is a quick trip to the bakery to find yummy cupcakes like these. Let kinds pretty up their presentation be placing them in a festive basket or tray that's accompanied by a hand-written note. Fast, Easy. Tasty. 
Want to also pair your party with a gift that's designed with a surprise in mind?
More than a pretty face, the Adonia Floor Mirror is also a stylish take on home security. 
The mirror opens to reveal a black felt-lined interior with several open storage compartments for jewelry, rows of necklace hooks, removable jewelry bags and ring slots which provide secret storage for mom's most treasured things. 
Who says recliners are just for the guys? The Savion Grandier is every stylish (yet tired) mom's dream-come-true because it's a chic recliner in disguise. 
Cap off the party with a bouquet of simple flowers, presented with youthful style and enthusiasm. That should seal the deal and keep Mom smiling for days to come.