[Editor's note: As we launch our hobby cabinet giveaway contest, we asked Hooker Furniture's Director of Marketing Resources, Marcia Miles, to write about how the hobby cabinet has enhanced her crafting projects. Marcia is an avid gift wrapper, and personally owns a hobby cabinet.]
As soon as I saw the Hobby Cabinet that Hooker introduced last fall, I knew that this piece of craft furniture would help me get organized, and it has! Not only is it a beautiful piece of furniture, it is a great organizer for all types of craft projects.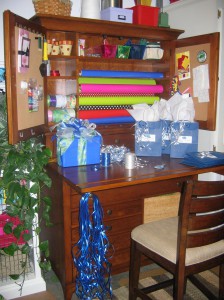 When I wrap a gift, I hand tie all of my bows.  Many of my friends ask me to make bows for them during Christmas for their wreaths or their trees. Before I purchased the hobby cabinet, I had to set up "make shift" places to wrap gifts such as the dining room table, on the cocktail table or even in the middle of the living room floor. This would mean I had to walk around the house searching through drawers and cabinets to find all of the items I needed to begin my project, since they were scattered everywhere. Then I would have to return them and pack them back up when finished.  Inevitably, I always put my scissors and tape in a different drawer every time I used them, and could  never remember the last place I put them.
The hobby cabinet has changed all that. It is a one stop station that contains everything I need. So, when I start a project, I can just open the work surface on the hutch, and everything I need is there at arms length.
It is very convenient to be able to have my ribbons and wrapping paper displayed on the rollers, and to be able to stand up and tie my bows on the nice work surface.  I do keep a straight pin in the end of the ribbons to keep them from unraveling when you pull one out for cutting.
So now, because of this craft furniture, I can spend more time on the actual craft project rather than all the time getting started and cleaning up, which means more time enjoying the best part of crafting.
Does the hobby cabinet sound like fun to you? Hooker Furniture and our retail partner Furnitureland South are co-sponsoring a giveaway contest for the hobby cabinet that you can enter here. To learn more about our hobby cabinets, browse them on our website here.