Do you recall the experience of entering one of your favorite, romantic restaurants?  While the menu and the food presentations most certainly influence makingrepeat reservations, the atmosphere plays a huge starring role in triggering memories above and beyond that of the palate.  Chances are you were surrounded by a cast of elements.  Lighting, textures, and scenery definitely provide for a few flirtations with the senses.  Perhaps this restaurant even leans toward a bit of the dramatic . . . a transportation to another place and time.
Sadly, our dining rooms have often become like a jilted suitor.  They're always on the sidelines, hoping to receive a return of affection and waiting for any "special occasion" to enjoy our company.  Those occasions can seem to be few and far between.
Whether it's for a party of one or a seating for ten, I say it's time to indulge a little!  Break out the candles and get ready for a dress rehearsal.  I'm going to hand you your script!
BEFORE: A good prologue always captures an audience's attention.  I selected Hooker Furniture's Sanctuary Collection Refectory Table and Canterbury Chairs because of their attention-getting curves.  The soft upholstery offers one the best seats in the house.  Even though the room setting is already very lovely, romantic design is always about plotting for some added"love" interest.  Let's create a few more pages!
AFTER: The same upper walls can be covered in a black, lace-like medallion pattern, honoring the scale of the setting.  Little flowers or delicate patterns would be a bit too sweet for this space.  The window treatments are staged on custom iron hardware, shaped to grace the curve of the windows as well as to follow the design of the chair backs.  The fabric, from Duralee, conjures up an exotic safari trek, complete with elephants and foliage.  A replacement chandelier, from Chelsea House, is resplendent in black and gold and the tasteful tassels could easily be from theater curtains.  Of course the furnishings are still front row and center stage.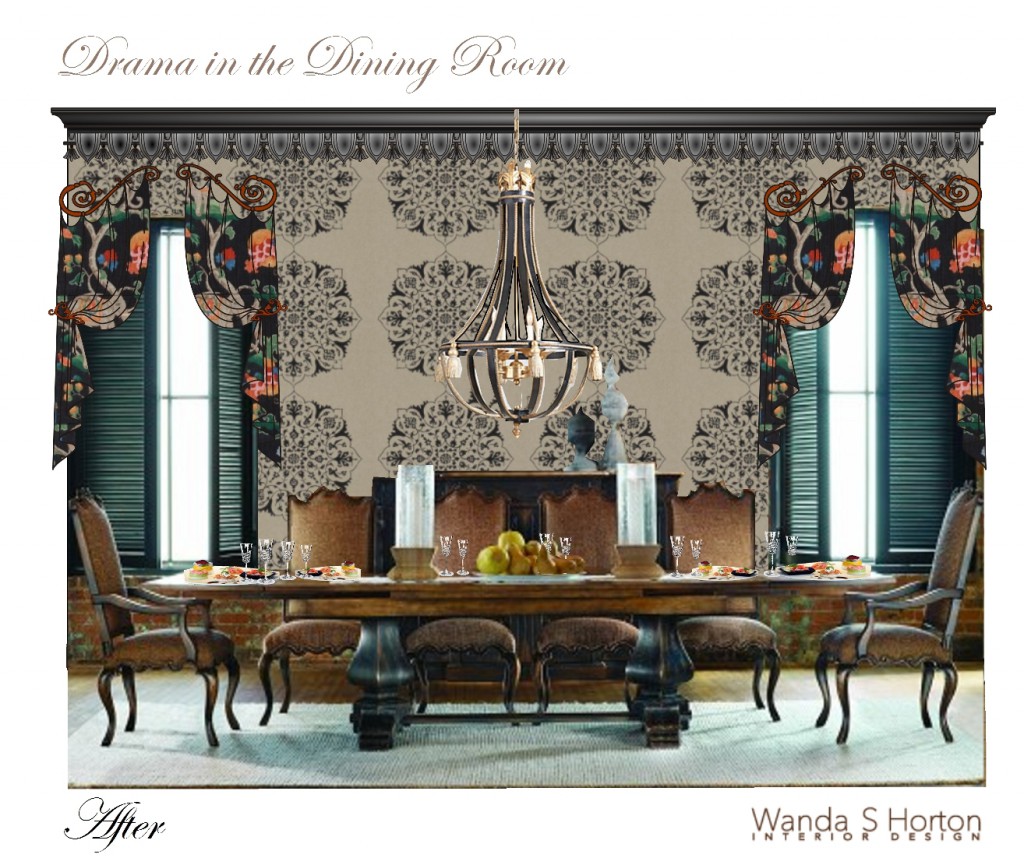 Here are some of the parts, deconstructed: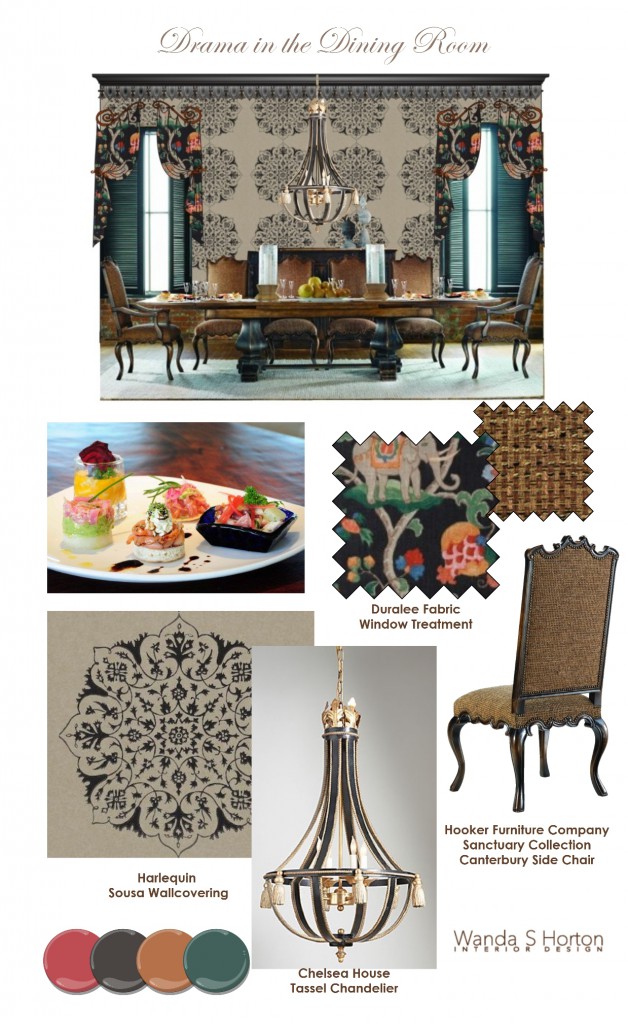 For a closer look of the elements, pop over to my Pinterest page.  Consider it a peek behind the curtain!
With the right "producer", you can always create a romantic dining room worth a standing ovation!