Sure you can!
The master bedroom is often one of the most neglected rooms in the house, usually because the woman of the house tends to focus on the common spaces for her family and guests first. At the end of the day, busy couples need a place to wind down, reconnect and recharge — and for some couples (especially those with kids), it's the only "couple time" that they share during the day.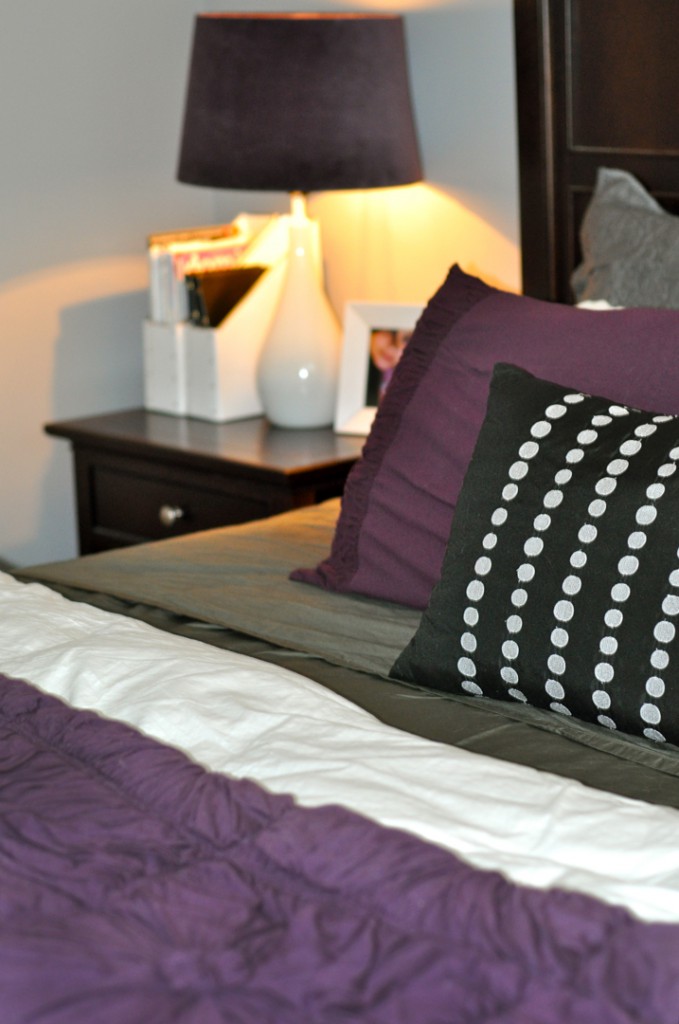 My husband and I just celebrated our 11th anniversary, and a few months ago I decided our bedroom needed an update to ensure our private space was still relaxing and romantic to both of us. The idea is to have your bedroom reflect who you are as a couple and make you both feel at home. Doing so is all about paying attention to your senses and treating that room as a refuge from the stresses of the day.
Here are 6 tips to help you create a romantic room that he can live with, too:
1. Create the mood with color.
One of the most dramatic and inexpensive ways to enhance the mood of the bedroom is to use paint to add color. Don't be afraid of it! The paint choice is a matter of color preference — you might want to choose relaxing colors, such as softer hues of blue, purple or green, or you may want something bold and sassy, like reds and oranges. Just avoid overuse one particular color in the room.
A safe bet is to put a color that is a bit softer on the walls and then introduce the more vibrant, complementary colors in the bed linens, pillows, curtains, and decorating accessories and wall art. I chose a dark grey, which is a hot trend for this year, and added bright yellow and purples as accent colors. The overall look wasn't too "girly," but it still had a lot of style.
Another great color scheme that appeals equally to both men and women is a rich navy or midnight blue, as seen in on the walls in this setting from Hooker Furniture's Harbour Point bedroom in the dark Bungalow finish. And the goldenrod or golden brown color on the walls in this setting from the Villagio collection is also warm and elegant to both men and women.
2. Make the bed the focal point of the room.
The most important piece of bedroom furniture is the bed, so don't stick it in the corner. Position it in a location that allows it to be the focal point of the room, and incorporate other pieces around it. Depending on the size of your room, you can consider adding one small table for each side of the bed, a chair or chaise for another corner of the room, a dresser or armoire, and a bench or square ottomans to use as additional seating/storage.
Layer the bed with soft bedding and coordinating pillows. Bedroom linens don't have to cost a fortune, and don't just go by thread count. Compare the way different brands feel and go with the one that is the most comfortable and inviting to the touch.
For added romance, hang a canopy above the bed or drape a long curtain on the wall behind the headboard to attract greater focus to the bed.
3. Clean up the clutter. Seriously.
A messy room is not a romantic room. There is nothing appealing or relaxing about retiring to the bedroom with your spouse, only to shuffle through dirty (or clean) clothes and climb into bed with three cats. Don't allow this room to become a dumping ground for items that belong elsewhere. Make full use of storage options such as closets, bedside stands and decorative baskets to contain and hide the clutter.
If you're serious about creating a romantic environment, the following things should not be welcome in your bedroom after bedtime: pictures of mom, electric bills, the television, pets, laundry baskets, stray socks and children!
4. Use romantic lighting.
Consider installing a dimmer for your overhead lights in your bedroom so that you have better control over the mood you wish to create. Small light sources add intimate shadows and enhance the feeling of love and romance in the bedroom. Fresh-scented candles are also great for setting a romantic mood. When using bedside lamps, change out light bulbs with low-wattage or colored bulbs (rose or amber colors work well) to offer dim and romantic lighting. You might also try a lampshade or paper lantern that's decorated to cast lovely shapes and shadows around the room.
5. Design for the senses.
Think of what pleases your senses about upscale vacation resorts or get-away retreats. What is it about those places that makes couples feel relaxed and romantic — and which elements suit you best?
Choose furnishings and specific accessories that incorporate those elements into your bedroom environment. You might not be able to change the view from your window, but with a little effort, you can create the same indoor environment to spark the romantic nature of those places.
6. Get him involved.
At least some collaboration from your partner will not only helps you get the most from selecting and shopping for your bedroom home furnishings, but also ensures you arrive at the best results for both of you. When you're both involved in choosing things that make you happy, the result will be much more rewarding and satisfying.
Men and women traditionally don't look for the same things in furniture — men seek comfort and function when it comes to furniture, while women make style a higher priority. Today, with such a variety of furniture and accessories available in all price ranges, couples can combine comfort, function and style that will suit them both.