Inspiration can come from anywhere. With the advent of HGTV and the public's great interest in home décor entertainment, we've seen designers create rooms inspired by a variety of things – from a customer's favorite painting to the colors of an artichoke. So in my daily roaming through the Internet couldn't help but be inspired by this little guy…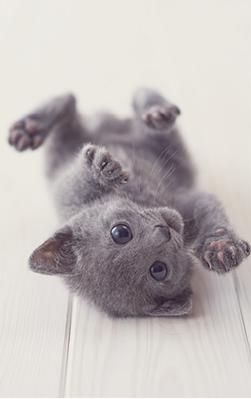 I mean – how incredibly adorable is he? Not only could he be your new furry friend, his coat is the perfect neutral to inspire your home décor – from luxurious grays to rich navy blue.
Not only is gray one of my favorite colors with which to decorate – it is this decade's hottest new neutral! It can appear sophisticated and calming at the same time, and Hooker Furniture has some fabulous furnishings in an array of gray shades. Here's how you can add the perfect touch of neutral to your rooms, whether you're just looking to add accents or establish a new focal point.
The Zinc Scalloped Drawer Chest is one of my favorite pieces  from Hooker Furniture's Mélange Collection. Not only is it a stunning piece on the outside…
… open one of the drawers to discover its beautifully-styled interior … just beautiful as it is functional!
The Celeste Display Cabinet offers a sense of style no matter where it's placed. The soothing gray exterior paired with concentric circle detailing brings an atmosphere of harmony. A great accent piece that's as versatile as it is beautiful, it would be equally at home in a Living Room housing your most precious keepsakes, in the kitchen to display recipe books and treasures, or as a fabulous cabinet for towels in your guest bathroom. The possibilities are endless!
If you like to bring color into your rooms through accents, rugs and throw pillows, there's not a better place to use neutral gray than on your larger home furnishings. The gorgeous Eaton Sofa from Sam Moore is a stylish choice.
Its' clean lines and sophisticated styling will be the perfect base for you to add your favorite pop of color.
If  you would prefer to keep color on larger pieces, consider pairing neutral gray with navy blue. I am in love with the graceful curves of the new Barth Sofa from Bradington Young.
The beautiful navy leather complimented by neutral colors through this room creates a sophisticated, tranquil space. Can't you just see our little furry friend curled up on a blanket at the end of this sofa? I think they'd make a perfect pair.
Who knew we could find so much home décor inspiration in the most unlikely of places?